Reasons Why People Love Self Storage
Self-storage facilities are the way to go if you want to keep your valuables safe from environmental conditions and theft. Here are some of the most common reasons why people love self storage Seattle offers. It pays off to learn more about it on time.
Why people love self storage solutions
Many individuals are drawn to this storage option for a variety of reasons, not just because it's cheap and convenient. Here are a few of the most important factors that have led to self-storage facilities being an integral part of most people's work and home environments.
1. Eliminating all that clutter laying around your house
Decluttering is recommended so that one may better manage their time, reduce stress, and gain organization in their life. More control over one's life is associated with improved mental health and increased productivity. Increasing productivity unquestionably pays off in a variety of ways.
You don't need to tackle a whole room at once in order to benefit from decluttering; just start with a closet or cabinet. It's true that you can recycle or throw away certain things to create room at home, but if you don't want to get rid of anything sentimental but still need some extra storage space, renting a modest self-storage unit can be a good option.
If you wonder why people love self storage and why are they so popular, the answer is straightforward. It is because customers have the option to rent spaces of varying sizes. You may have ones as big as a warehouse or as little as a locker. There are portable storage containers Seattle with which you have the option to have your stuff delivered to you whenever you need them. If you have an urgent need to access anything, you have 7 days to do so. In essence, the storage space functions as a neat and tidy addition to your existing residence.
2. Relocating a home or business
This is one of the most typical scenarios in which our customers find themselves in need of our self-storage facilities. Since it is usually impractical to transport all of your belongings at once when relocating to a new home or workplace that is situated some distance away, you may need to consider splitting up your move. Self-storage facilities might seem like an angel of mercy at this time since moving is one of the most stressful experiences anybody can go through. Fortunately, self storage may alleviate this pressure just when it's most imperative.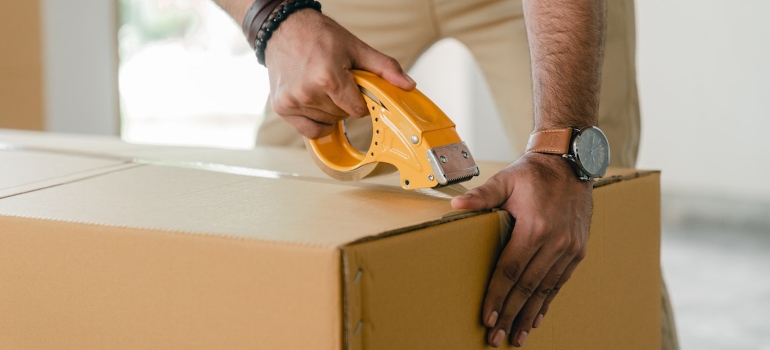 3. Storing family heirlooms is why people love self storage
When going through a period of grief, having access to a self-storage facility may be quite helpful. The loss of a close relative is a trying and emotional experience for everyone involved. When someone passes away, the last thing on your mind is usually dealing with their possessions. Even more so, no one wants to get rid of their loved one's belongings since they feel that doing so would be like giving up a piece of their soul. You may keep these treasures safe in a storage facility until you know what to do with them. It will be less of a struggle for you to go on with your life after suffering a loss.
2. Commercial and business requirements
It's not necessary that you be relocating offices for you to need our assistance. In fact, companies often use business storage Seattle, even when they are not relocating their offices. As such, we are often asked to house items like printers and advertising materials that are only used occasionally. The rising cost of business rates has made it difficult for companies to expand into larger offices, despite the fact that they would benefit greatly from doing so. Your office's inability to grow may be directly related to its location in a dense urban core. Considering the substantial cost savings offered by self-storage, an increasing number of corporations are adopting the practice.
3. Remodeling or expanding your home
Self-storage units are the perfect solution for anybody who would prefer to remodel than relocate. You see, it's not only relocating that needs storage space for the duration of the process; home additions necessitate the same kind of storage space for the duration of the construction phase as well. The construction crew would much rather work in an area free of your personal belongings. Using on-demand storage Seattle is a simple way to protect valuable business and household items during renovations. So, keep one set of assets safe while you work on restoring another.
4. Gap years or getting a job abroad
Many individuals spend time overseas as tourists or for temporary job assignments. They may be taking a year out from school or work to travel before settling down with a family, but they want to return. You may avoid making a loss on a garage sale or asking friends and relatives to store a few boxes of your possessions for you while you're gone. The most convenient choice is self-storage. Our affordable pricing and secure storage space make us a top choice among students usually studying in the United Kingdom or elsewhere in Europe.
5. Space constraints in urban areas
If you are a city dweller, you likely have to make do with less room than you would like. Living in the city center often means you don't always have access to a parking place, and the price of renting one might not fit your budget. This explains why thousands of urbanites use self-storage units to keep their furniture and other bulky valuables safe and out of the way. The typical weekend vehicle is a car, but the kids' quad bike and the family boat also fall into this category.
Self storage units are an comfortable solution
Many individuals have found success using self storage facilities. Self storage units provide an easy alternative to costly and time-consuming home improvements or expensive monthly rent for additional living space. In addition, they may be used without breaking the bank by both individuals and enterprises. Due to a lack of available space in the owner's residence, all of these goods have made the move to a self storage facility. Obviously, there are many great reasons why people love self storage today and continue to discover new ones.