Renting moving trucks vs renting storage containers
The ideal solution to moving your home or business is to hire a full-service moving company. This makes your relocation easy and stress-free since professional movers and packers handle all the work for you. But it comes at a price and it's a price not everyone is willing to pay. So what are your options if a moving company is out of your price range? If you're on a tight budget, you're probably in a dilemma between two options: renting moving trucks or renting storage containers. Both have their advantages and disadvantages. And before you make the final decision and rent a truck or sign on for portable storage Seattle, you should know exactly what you're getting yourself into.
Renting moving trucks vs renting storage containers: a closer look at moving trucks
If you're planning a DIY move in an attempt to save some cash, then the option of renting a moving truck has almost certainly come up. After all, doing it yourself also involves transporting your belongings yourself. Unless you have a really big vehicle, you'll need to rent a truck. If that is the choice you make, what can you expect?
The pros of renting a moving truck
A significant percentage of people who move rent moving trucks to do so. There's a good reason for this – moving trucks come with many advantages:
many different options in terms of sizing. Moving trucks come in a variety of different sizes, starting with only 10 feet long and going up to 26′ in length. Of course, the bigger the truck, the more it costs to rent. But you can estimate how much space all your belongings take up and then rent the truck that they'll fit in perfectly. This saves you money because you won't be paying for extra space you don't need.
typically cheaper. Overall, moving trucks tend to be cheaper than other options when moving. After all, you're only renting the vehicle, not paying for any additional services. So if saving money is your priority, renting a moving truck is definitely a good option for you.
rent by the day. Even short term storage Seattle tends to have a minimum rental time obligation (typically one month). So even if you need it for a few days only, you'll have to pay for longer. This isn't an issue with moving trucks – you can rent them for one day only.
complete control of the move. Since you don't depend on anyone else when renting a moving truck, you get to be in control of everything. You decide when to pack, how to load the truck, when to leave, when to take breaks, and more. You'll have easy access to your belongings the entire time because you're the one who decides what to do with them, how, and when.
The cons of renting a moving truck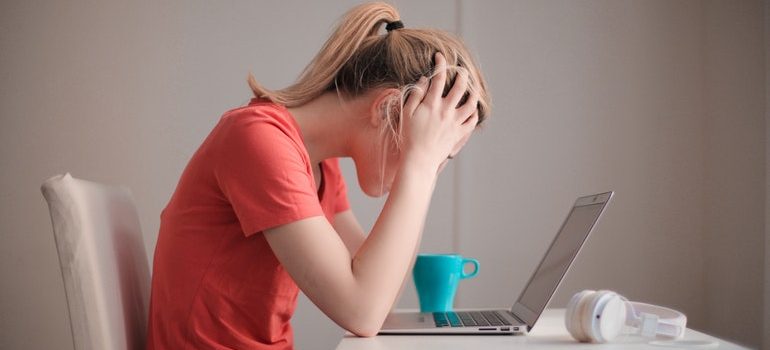 Of course, everything in life has pros and cons. So before you get excited about moving trucks and make a final decision, consider the major cons of renting a moving truck:
someone has to drive them. Moving trucks don't come with drivers – you have to drive them yourself. So you won't be able to just kick back and relax once the packing is done. Instead, you'll have to plan your route and make sure to deliver your belongings to your new address. This becomes even more of an issue if you're moving long-distance.
driving and parking a large vehicle is not easy. You're probably used to driving a much smaller and more compact vehicle than a truck. Handling a truck will, therefore, be a challenge. You'll have to learn how to drive and park it properly which isn't as easy as it is with a car.
you're liable for any damages. To make matters worse, if you damage the truck while driving it, you'll have to pay for the damages. This is an additional cost that can run quite high in some cases.
being in charge can be stressful. While it's great to be able to make all decisions by yourself, it is also undeniably stressful. Everything comes down to you – a lot of people don't like that.
Renting moving trucks vs renting storage containers: a closer look at storage containers
If you're already renting portable Bellevue self storage, we have good news: you can use a storage container for moving as well. This comes with some great benefits and some not-so-great downsides. So what exactly can you expect from renting a storage container for your move?
The pros of renting storage containers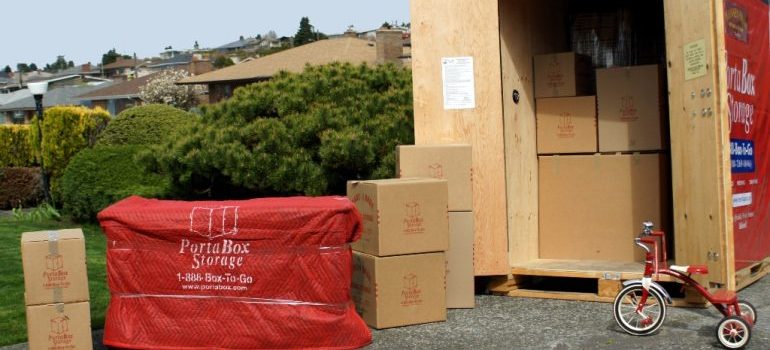 Storage containers can be a great asset when moving. They combine some of the best aspects of hiring a moving company and going the DIY route:
very convenient and easy to use. Storage containers are all about convenience. You can have them delivered to your address, keep them there for a week while you pack at your own pace, and then simply have them taken to another location – the whole process is very easy! And if you're already renting business storage Seattle, then you don't even have to worry about packing. Just have the storage container delivered to your new location and you're done!
choice of container types good for local and long-distance relocation both. The company you're renting your container from will be the one to deliver it. So you don't have to worry about driving long distances – someone else will do that for you. This makes storage containers suitable for relocations to any distance.
no additional costs. When renting a storage container, the price you pay covers everything (including delivery fees). You won't have to worry about gas, tolls, or anything else that might come up when you're driving a truck.
The cons of renting storage containers
Storage containers are a great way to relocate. But they do come with some disadvantages that you should be aware of in advance:
more expensive (on average). Because you're also paying for certain services (like delivery, handling, and safekeeping), storage containers tend to cost more than moving trucks. They're still cheaper than hiring a full-service moving company, though.
may require a parking permit. While moving trucks are street legal, storage containers may require special parking permits. This will vary by state, city, and even neighborhood so do your research if you choose a storage container for your move.
Renting moving trucks vs renting storage containers – what should you choose?
There is no simple answer when deciding between renting moving trucks and renting storage containers. Both come with pros and cons. The key is deciding what's best for you. If you choose to rent a truck, you'll probably save some money. But you'll also have to work fast, plan your route, drive to your new address, and make all the decisions. On the other hand, storage containers come with a lot less stress and a lot less work. You'll be able to pack at a slower pace and let someone else deal with the hard part of delivering your belongings.