Scaling your small business: How do mobile storage solutions support growth?
As an owner of a small business in Seattle, WA, it can be difficult to manage it in an ever-evolving economy. The situation nowadays is unstable, so no one knows what a new day can bring. Being vigilant and proactive is the only way to survive, and sometimes business owners need to take chances. Deciding to expand a Seattle business nowadays can seem daunting, when many struggle to survive in the fast-paced working environment. But as a leader, you know what is best for you and your team, so this decision is likely well thought through. Now, did you know that temporary storage in Seattle can help you do this? Today we will talk about the ways that mobile storage solutions support growth. Take a look.
What do you know about mobile storage solutions?
Storage solutions come in different shapes and forms, but portable storage containers Seattle might be the best one. Mobile storage units are large metal crates that people can keep wherever they want, and use as they please. They are the most versatile form of storage, as they can be moved whenever needed, without packing and unpacking the things. Because of this, mobile storage solutions support the growth of small Seattle businesses, by offering:
More space;
Increased productivity;
Long-term savings;
Time to make a decision;
Safety for confidential information;
Improvement in customer service.
More space is always good
Businesses always struggle with space. Once you start it, you might start in an ideal-sized office, but once the business takes off, it can get cramped fast. You will hire more people that will have to have their workspace – all in the same office as before. You can only expand to a certain point, and above that, you will notice the effects of a small office – clutter and decreased productivity.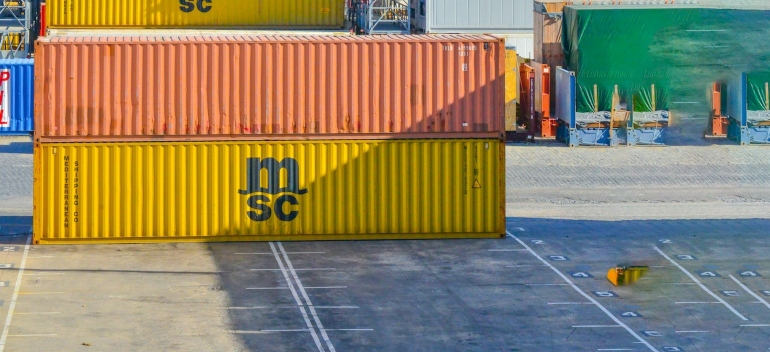 The growth of your Seattle business should not be affected by the size of your office, but luckily you don't have to move right away. Solutions for inventory storage in Seattle can help you, at least temporarily, by expanding your storage space. Your office will stay the same size, but you will have more space because the infrequently used items won't be cluttering your office.
Increased productivity
Imagine yourself going to your office job every morning. Would you be happy if you had to clean out clutter before you start working? Dealing with the required task at a job can be difficult some days, let alone doing additional work. Cleaning clutter will not only take time but also decrease the productivity of your employees. If the excess itemas is stored away with the help of door-to-door storage in Seattle, you won't have to deal with it and see it every day. It can greatly increase productivity, which will ultimately lead to faster business growth.
Mobile storage solutions support growth by offering long-term savings
No matter in which state or city you are doing business, you have likely noticed the prices skyrocket. Commercial real estate has always been on the expensive side. The average is now $38 per square foot – so the bigger the office, the more expensive the rent will be.
Many people in Seattle make the mistake of moving to bigger offices, just for the sake of having more storage space. But if you rent a self-storage West Seattle unit, you will get the space you need for a much lower price. And you won't have to move anything but the things that you already don't use frequently!
Time to make a decision
Managing a Seattle business sometimes requires making big decisions during a small time frame. The question of moving can sometimes come unexpectedly, and it is not something that you should take lightly. Mobile storage solutions also support growth in unexpected ways, by offering time to think. Sometimes the first decision that seems logical is not the best one.
If you are running out of space, the only logical conclusion in a hurry would be to move. But if you stop and take time to think, mobile storage can do the same thing, with less effort and for a lower price. And you can rent it for as long as you need. This will give you plenty of time to think, and decide what's best for your business and team.
Safety and security
Even though some things are viewed as clutter in an office, they can contain confidential information. Not many people will want to use this information against you, but it is always better to be safe than sorry. The documents with confidential information that you often use should be stored away from prying eyes in the office. On the other hand, for those that you don't need often, you can store in a mobile storage unit. There it will be safe from misuse and any other kind of danger.
Higher customer satisfaction
The satisfaction of customers should be every business owner's goal. They are the ones that keep your company alive, and give you a reason to expand it. Your customers come for the services and products that you offer – but an unsatisfied team can be easily noticed. Clutter will decrease productivity and disturb focus, which will be directly related to your customer's satisfaction. By getting a storage unit of any kind, you might help your team focus better by removing unnecessary clutter and opening up space for items that might benefit them.
Don't be afraid of growth
As you can see, there are different ways that Seattle mobile storage solutions support growth of a business. It will help you achieve this goal, but you cannot expect it to happen overnight. And one storage unit might not be enough – always contemplate the size of your office and amount of items that need storage. The same goes for the moving truck size you will need, in case a move is inevitable. In essence, storage units and containers are a handy way to temporarily increase your office space until it is time to make big decisions.
Reference: United States Commercial Property Prices Per Square Foot. (n.d.). https://offices.net/news/united-states-commercial-property-prices-per-square-foot/