Space-saving garage storage ideas
A garage can be a great way to have additional storage in your home. It is the perfect place for putting away seasonal items, random decor, and tools. Most people chuck things inside and forget about them. But it can quickly turn into an unorganized mess. If you are not careful, you can soon run out of space to park your car. A cluttered garage is a nightmare, but there are ways to free up space. The key is using the space you have to your advantage. You can turn your garage into the best personal storage solution with good organization. Before you dive into decluttering, read these space-saving garage storage ideas brought to you by PortaBox Storage experts.
Consider renting short-term storage space
If you plan on doing serious renovations to your garage, getting a storage box might be a smart idea. Renovations are messy and complicated. It is much easier to complete them on time with all of the clutter out of the way. Short-term self-storage can make any project easier to handle. You can simply tuck away all of the items you don't use daily. Think of it as an extension of your home. A safe, clean space to store your belongings. These days, it is easy to find short term storage Seattle residents recommend.
At PortaBox we offer flexible storage solutions fit for any renovation project. You can choose between several different storage plans: month-to-month, 3 months, or 6 months. With portable storage containers Seattle offers, you will never end up overpaying. Moreover, we offer storage solutions for items of any size. Whether you need to store a few boxes of miscellaneous items or the complete contents of your garage, we have got you covered. And if you need to access your items, just give us a heads-up the day before and we will arrange a viewing.
A DIY wire shelving unit can help you take advantage of unused storage space
A great way to utilize space in your garage is wire shelving. This simple storage system will utilize the walls of your garage and free floor space. It will allow you essentially double the amount of available storage space. Not only that, wire shelves are sturdy and can hold a lot of weight. In a dusty, dirty garage they are relatively easy to keep clean. As our Redmond self storage specialists can testify even a beginner handyman can easily DIY some shelving units for no more than $150. Assembling this storage unit yourself also allows for endless customization. If you need storage for extra clothes, you can simply add space for clothes hangers.
A pegboard wall keeps all your tools in one place
Another idea for saving storage space in a garage is pegboards. Similarly to wall-mounted shelves, they take advantage of unused wall space. Placing a pegboard above your workbench is a great way to store tools. It basically eliminates the need for bulky toolboxes and drawer units. Storing items on a pegboard is a big time saver as well. You will not have to rummage through multiple boxes before you find what you need. All your scissors, pliers, hammers, and saws are visible and easy to access. Furthermore, you can add a few small shelves on the side to keep other related items like nails, bolts, and such.
Overhead storage is one of the ultimate space-saving garage storage ideas
Bet you never thought of storing things on your ceiling before! This might be one of the most creative space-saving storage ideas yet. It frees up floor and wall space as well. Another advantage is that it keeps everything you store safe from pests, dirt, and dust. However, it is best used for lightweight items. It is the ideal spot for towels and seasonal decorations. Overhead storage is another simple DIY project. Our Newcastle self storage experts advise you to be careful when you are installing these types of units. You want to make sure the mounts are secure and will not give out at the weight of the items.
Corner shelves make use of awkward spaces
If you want to really take advantage of every single part of your garage, corner shelves are something to consider. After all, a few more shelves cannot hurt! Corner shelves are nifty little units that are easy and cheap to assemble. All you need is a scrap piece of plywood, supported by cleats. It is so simple that it makes for a great weekend DIY project. This tiny unit is the best place to store random knick knacks: cans, oils, glues, polishes, sprays, and waxes. It lets you organize items that would usually sit in a random box or drawer.
Bundle tools alongside walls for a simple space-saving garage storage idea
This next idea combines two issues: walls with exposed beams and long narrow tools. Tools like shovels have an awkward shape for putting in storage. Rakes and brooms get plenty of regular use, so you cannot just shove them in a closet somewhere. They need to be within arms reach. If your garage has exposed beams, you can easily accomplish this and save even more space.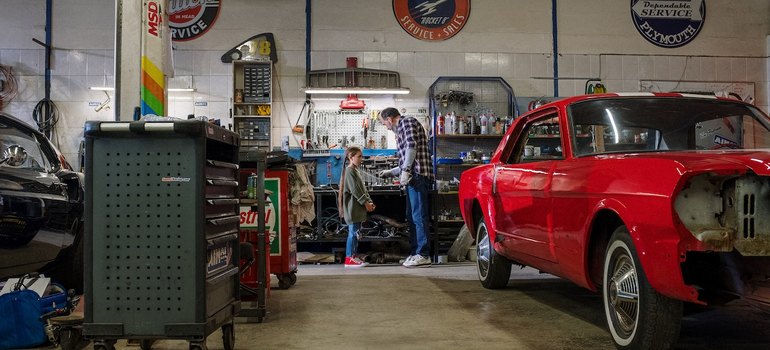 Here is what you can do:
Take a hammer and a few nails
Hammer them alongside the beams in a parallel position
Loop rope, or bungee cords through the nails
Simply slide the narrow tools under the cables
Now all your narrow tools are neatly arranged in one corner, ready for use.
Take advantage of every nook and cranny
If you are running out of storage space in your garage, we hope this article brought you some useful tips. The best way to stay organized depends entirely on the items you are storing and the shape of the room. Take advantage of high ceilings, exposed beams, and unused wall space. If you are good with tools and don't mind DIY projects, that will be extra helpful. Some of these space-saving garage storage ideas can be done in very little time with the tools and materials you probably already have. So don't wait, use the next weekend off to transform your garage into a functional spot with everything you could need.