Starting a home-based business in Seattle: Organizing your space
If you're among the aspiring Seattle business owners seeking the perfect blend of work-life balance, you're not alone. Being a city renowned for innovation and entrepreneurial spirit, Seattle is witnessing a surge in home-based businesses. As this trend persists, you might appreciate a PortaBox Storage Seattle WA guide with steps to craft a home office suited to the dynamics of home-based entrepreneurship. Organizing your space efficiently when starting a home-based business in Seattle is your gateway to success, whether you're undertaking this as a budding entrepreneur or a seasoned professional.
A guide to organizing your Seattle home-based business space
Let's break down the process into manageable steps to ensure you're on the right path. Here's a concise roadmap to guide you:
Understanding Seattle-specific Regulations – Ensure you're aligned with the city's legal requirements.
Evaluating Your Space Needs – Customize your workspace according to your business demands.
Designing Your Home Office – Foster a space that enhances productivity.
Organizing Storage and Inventory – Manage your inventory seamlessly.
Designing Client Meeting Spaces (if needed) – Reflect professionalism and build trust.
Maximizing Technology in Your Home Business Space – Stay ahead with the right tech tools.
Creating a Work-Life Balance in a Home-Based Setting – Achieve equilibrium for sustained productivity.
Maintaining Flexibility and Scalability – Ensure your workspace grows with your business.
This step-by-step guide should assist you in creating an efficient and effective home workspace. Let the vibrant entrepreneurial energy of Seattle fuel your business aspirations!
Understanding Seattle-specific regulations
The city's urban composition, with its rich mix of residential and commercial zones, brings forth distinct regulations tailored for each area.
Zoning laws and business types
At the heart of Seattle's regulations are its zoning laws. Not all residential zones permit business operations, and even among those that do, the permitted business types and activities can vary. For instance, certain zones may allow for small-scale tutoring centers but not retail operations. Before you set up shop and clutter your living space with business inventory, consult Seattle's Department of Construction and Inspections. After you clarify the zoning of your residence, research 'portable storage containers for rent near me' and delegate excess items for safekeeping.
Delivery protocols in residential zones
Deliveries are a vital component for many home businesses, be it raw materials coming in or products going out. However, frequent deliveries can sometimes blur the lines between residential and commercial activities. Always ensure that your delivery frequency and scale align with Seattle's residential guidelines.
Signage regulations in Seattle
Signage, an often overlooked aspect, is also regulated. The city has specifications on the size, location, and type of signs that can be displayed in residential zones. Avoid potentially costly oversights by understanding these guidelines, especially if you're thinking of putting up a sign to denote your business.
Researching homeowner association rules
Neighborhood dynamics further add a layer of consideration. Homeowner associations (HOAs) in Seattle often have rules that go beyond the city's mandates. From restrictions on noise levels to regulations on outdoor business displays, it's imperative to be well-acquainted with your HOA's bylaws if you're part of one. Moreover, if these regulations limit your ability to store inventory at home, exploring external inventory storage Seattle options becomes essential to ensure seamless business operations.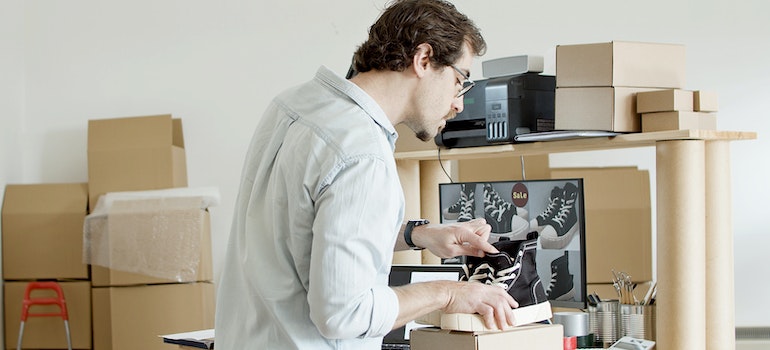 Understanding Seattle's business tax structure
Lastly, Seattle's tax structure for businesses is worth noting. The city imposes a Business & Occupation (B&O) tax on the gross receipts from business activities. As a home-based business, you may qualify for certain exemptions or deductions, but regular reporting is typically required. Seek advice from local tax consultants or utilize resources from Seattle's Office of Economic Development to ensure compliance.
Evaluate, organize, and design before starting a home-based business in Seattle
At the very beginning, assessing your space correctly saves you from future hassles. Consider the nature of your business. Will you be shipping products? If so, you might need an organized packing station. For those in the digital line of work, such as freelance writers or graphic designers, a quiet space with minimal distractions is essential. On the other hand, if you're into crafts or artisanal production, ample table space and storage for tools and materials become a priority.
Designing your home office
Ergonomics and functionality should drive your office design. Avoid the allure of fashionable furniture if it doesn't serve a clear purpose. Adjustable chairs, anti-glare screens, and monitor arms can dramatically improve your work efficiency. Lighting plays a crucial role, too. Natural light boosts mood and productivity, but also consider investing in quality artificial lighting, like LED desk lamps with adjustable brightness.
Organizing storage and inventory
Storage solutions need to be both space-saving and efficient. Use wall-mounted shelves or pegboards to free up floor space. Transparent storage bins can help you quickly identify contents. However, businesses with substantial inventory, like apparel or handmade goods, consider local storage solutions. Options like Seattle mini storage are both convenient and practical, especially if you're working out of a compact home.
Designing client meeting spaces
If face-to-face client interactions are a frequent occurrence, make their experience memorable. A clean, organized space speaks volumes about your professionalism. Invest in a quality conference table, provide comfortable seating, and consider elements like indoor plants or art pieces to create a relaxed ambiance. Also, ensure this space is relatively secluded from potential household disturbances.
Maximizing technology in your home business space
In a city that's home to tech giants like Amazon and Microsoft, leveraging technology is non-negotiable. Ensure a stable high-speed internet connection; nothing disrupts workflow, or client calls more than an erratic connection. Regularly update your software and back up your data. Cloud solutions can be invaluable, ensuring you have access to your work from anywhere and providing a safety net against data loss.
Grasp opportunities of Seattle's home business landscape
In the midst of Seattle's technological boom, starting a home-based business in Seattle presents an unparalleled opportunity. However, as the city continues to evolve, grasping its intricate regulations is vital. As a well-informed entrepreneur, you will not only successfully navigate the local compliance intricacies but also position your business for a competitive advantage in this ever-changing market.