The advantages of using portable storage when moving with kids
Using portable storage when moving with kids is one solution that can significantly alleviate stress. Portable storage solutions offer a convenient and efficient way to handle the logistics of packing, transporting, and storing your belongings during the moving process. With portable storage by their side, parents can tackle the unique challenges of moving with children strategically. read more and learn why mobile self storage Lynnwood WA locals recommend may be the best option for you!
Moving with kids presents a set of unique challenges that require special attention
Kids thrive on routine, and disruptions to their daily schedules can lead to stress and anxiety. Moving often involves significant changes in their environment, such as a new home, neighborhood, and school. It's crucial to minimize disruptions to their routines as much as possible during the moving process.
Also, they have a multitude of belongings, including toys, books, clothes, and furniture. Organizing and packing their items can be time-consuming and overwhelming. Moving involves potential hazards, such as heavy furniture, sharp objects, and busy moving crews. Parents must prioritize the safety of their kids throughout the process. Hence, mobile storage containers Seattle provides offer a safe and secure space to store delicate or dangerous items out of reach of curious little hands.
What are portable storage solutions?
Portable storage solutions are convenient services that provide storage containers that can be delivered directly to your location, making them easily accessible during the moving process. These storage units are typically made of sturdy material, designed to withstand transportation and protect your belongings.
The facilities where units are stored are designed to protect your items from external elements, such as dust, rain, or extreme temperatures. The containers are equipped with a lock, providing security for your stored belongings. However, don't forget to check out how to prepare your items for storage and make your relocation even more safe and stress-free.
Advantages of using portable storage when moving with kids
Flexibility: Short term storage Seattle offers provides flexibility when it comes to scheduling the delivery and pickup of storage units. This advantage minimizes disruption to children's routines during the moving process. Parents can coordinate the delivery and retrieval of the storage unit based on their specific needs and schedule.
Safety: Keeping the storage unit outside the home helps reduce the risk of children coming into contact with packed boxes, disorganized items, or potentially hazardous materials. Parents can securely store these items in the portable storage unit, keeping them out of reach of children and ensuring a safer environment for them during the moving process.
Ease of Access: Portable storage units offer convenient and easy access to belongings during the moving process. Parents can pack and unpack at their own pace, providing flexibility in managing their children's needs. This advantage is especially valuable when it comes to locating essential items for children. By having quick access to these items stored in the Everett self storage storage unit, parents can ensure their children's comfort and routine remain intact, even during the transition period.
Space Management: Portable storage units help in effectively managing and decluttering living spaces during the packing process. As parents pack items into the storage unit, it frees up space in the home, creating a less chaotic environment for children. This advantage not only ensures a safer environment but also promotes a sense of calm and order during an otherwise busy time.
Vital factors to consider
Evaluate the number of belongings you need to store and choose a Kirkland self storage unit that offers sufficient space. Consider the size of furniture, toys, clothing, and other items that will be stored. Having enough room ensures that you can pack everything in an organized manner and easily access the items you need.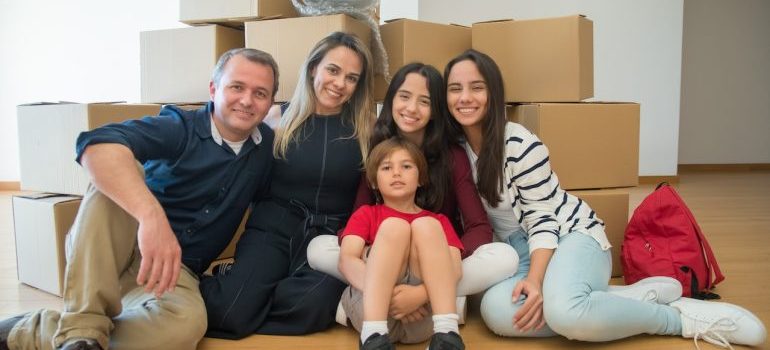 Look for a portable storage company
Find a company that offers reliable and convenient delivery and pick-up services. Ensure they can accommodate your preferred delivery date and time, allowing you to plan the packing and moving activities around your children's schedule. Prompt and efficient pick-up services are equally important to ensure a smooth transition and minimize the time the storage unit occupies your property.
Consider safety and accessibility features
Look for units that have durable construction, weather-resistant materials, and reinforced doors. Ensure the unit has a reliable locking system to protect your belongings. Choose a portable storage solution that offers easy accessibility to your belongings, too. Look for units that have double doors or doors that open wide, allowing for easy loading and unloading. Additionally, consider whether movers can place the storage unit conveniently on your property for easy access during the packing and moving process.
Assess the company
Research customer reviews and feedback about the portable storage company you are considering. Read about other customers' experiences with their services, including delivery, pick-up, customer support, and overall satisfaction. A reputable and reliable company with positive reviews is more likely to provide a smooth experience for your move with kids.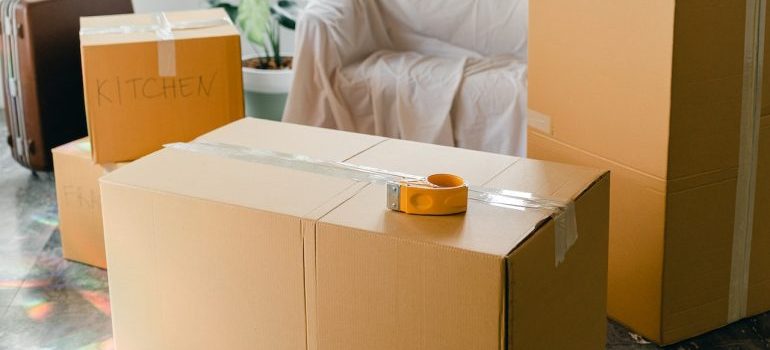 Make your family relocation easier
Using portable storage units when moving with kids helps in decluttering living spaces, creating a less chaotic environment for children during the packing phase. Choosing the right portable storage solution that meets your size requirements, offers reliable delivery and pick-up services, and prioritizes safety features, helps you streamline your family's move and minimize stress.
If you're planning a family move, explore further how portable storage solutions can aid your specific needs. When using portable storage when moving with kids, you can experience a smoother transition, keep your children comfortable, and ensure a more organized and efficient moving process for your entire family!