Tips for determining the size of storage you need
If you are looking for a temporary or long-term storage solution, you should choose the right size of the storage unit. Depending on your needs and the size of your inventory, you should look for safe portable storage units that are both affordable and spacious enough. Before you pay a deposit for a unit, you should focus on determining the size of storage. We made a list of useful tips and tricks that will help you save time while looking for storage solutions. Here are some factors that should help you make a decision, save money and keep your belongings safe.
Importance of choosing the right size of storage
Whether it's during the move or home renovation, a good storage unit can help with dealing with excess inventory. By decluttering your home and putting some items into a storage unit, you will save space and clear out your home with ease. Also, if you are in the middle of the move, a temporary storage solution can help you save your belongings before moving in.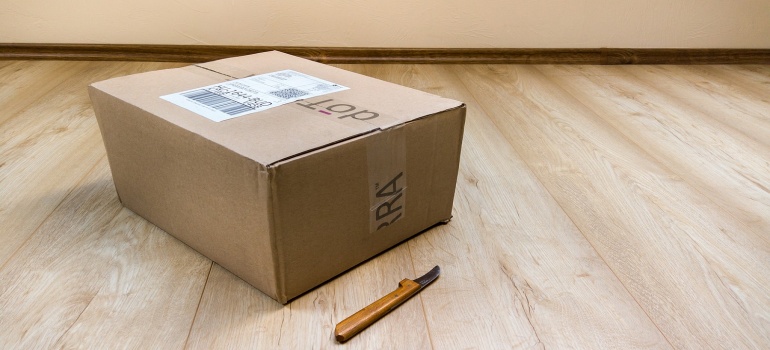 Determining the size of storage depends on many factors. First, you should access your inventory and determine its size and weight. Second, you should calculate the amount of time your inventory will be in the storage. A storage unit that is too small might do the job short-term, especially if you don't need to move stuff around a lot. However, you should keep in mind that larger units also have more space to move around, making it easier to keep track of your moving boxes and take them out if needed.
Whether you choose a smaller or a larger storage unit, it's important to rent a quality unit. Your storage space should be clean, dry and have enough space for safekeeping.
Determining the size of storage for a household move
The storage you choose should be the safest option for keeping your belongings safe. Choosing a storage unit that's too big might cost you extra money. On the other hand, choosing a unit too small for all of your belongings is also not a good option. Overcrowding your storage with boxes can make sensitive items fall on top of each other and break. Also, getting through your stuff can be difficult if you don't have much space to move around.
If you are moving your household to a new location and need to find storage for some items, there is an easy way of determining the size of storage you'll need. Here are some examples of choosing small, medium, and large storage units.
Smaller units (25-75 sq. ft.). These units are as big as a home closet. They are perfect for moving a few of the moving boxes or a studio apartment. In the best case, you could store a one-bedroom apartment worth of belongings. The best packing supplies for using in this type of storage are cardboard boxes since they're easy to stack on top of each other.
Medium units (100-200 sq. ft.). For a medium-size move (or a medium-size inventory) 100-200 square feet of storage should be enough. If you have trouble determining the size of the storage you need, a medium unit should do the job. In this type of storage, you could easily pack and store a 2-4-bedroom apartment.
Larger units (200-300 ft.). The biggest storage units are also convenient for storing more than just household items. With over 200 square feet of free space, you could store large vehicles, a grand piano, large furniture pieces, and other bulky inventory. Keep in mind that this type of unit is usually the most expensive one, but it often pays off in the long run.
Self-storage containers
When determining the size of the storage you need, conventional warehouses are not the only option you have. If you need a temporary storage solution during the moving process, you should consider a convenient self-storage West Seattle has to provide. Moving companies who offer these containers usually bring them to your home and include all the packing supplies.
The best time to consider renting self-storage units is during the move since they are a temporary solution.
Pack your inventory safely for storing
After determining the size of storage you need, you should prepare for the safe packing of your inventory. If you choose a smaller unit, a few moving boxes and a protective wrap should work just fine. However, you should consider getting professional packing materials for fragile and sensitive inventory. This is a particularly good idea if you plan to store them long-term.
How to choose a reliable storage company?
Good moving and storage companies specialize in providing safe and secure storage solutions. If you are not sure how to find the right unit, hiring storage experts will offer a piece of advice depending on your needs. A reliable storage company will offer a few different options and help you with determining the size of storage you need. If you choose a full-moving service, you might get a better price for storage, especially if you need it for a longer period of time.
If you are in the middle of the move, you could consider renting Newcastle self-storage units. These are the most convenient option for people looking for easy access to their unit.
Determining the size of storage you need might be tricky, but this decision can make your move way easier. The storage solution you choose will determine how safe your belongings will be.