Tips for loading a storage pod safely
Portable storage containers are nothing new. They first appeared back in the 90s and revolutionized moving. It is a great option for anyone looking to save a bit of money during their relocation. While using a storage container or pod can be a convenient option, loading them can be a daunting task. Not only do you need to pack all of your items correctly, but you also need to load the container in a way that maximizes space inside, and prevents damage to your belongings. In this blog post, PortaBox moving experts will share some professional tips and tricks for loading a storage pod safely. By following our advice, you can navigate the process with ease and peace of mind, bringing you one step closer to your move.
How moving pods work
Moving pods, you've heard of them and you want to use them but do you know how they work? You will see the process is incredibly easy, as our self storage Seattle experts can testify. First, you will have to contact your movers and tell them how many moving pods you need. After that, the moving company will deliver your storage containers right to your doorstep. The great thing about moving pods is they are on the ground level, which makes for easy loading.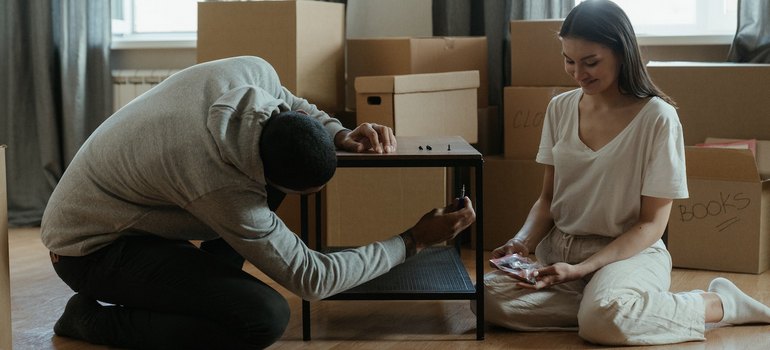 There is no rush to pack your items, as pods can remain on your property without limitations. However, there are monthly fees that vary from company to company. Once everything is loaded, your moving or storage company will transport the pod to its destination. That can be your new home, a pod warehouse, or a storage facility. Some companies allow you to track your pod in transit and access it in their storage warehouses. Just contact your Seattle mini storage professionals and they will arrange a viewing.
Loading a storage pod safely is easier if you have a plan
According to advice from Bellevue self storage pros, the easiest way to load a storage container is by creating a plan. How you go about this will depend on the number of items you have, and how much time you've got. One great technique involves making a visual floor plan. While it seems like a bit of a hassle, it can save you time and money in the long run.
All you need for this is measuring tape, duct tape, and your boxes. Measure the size of your moving pod on the floor and map it out with duct tape. That's it! This simple visual will be your guide on how to properly pack your moving pod. Now you can easily figure out how to stack your belongings without losing any space. After you "packed" everything be sure to snap a few pictures of the layout, so you don't forget it by the time moving day arrives.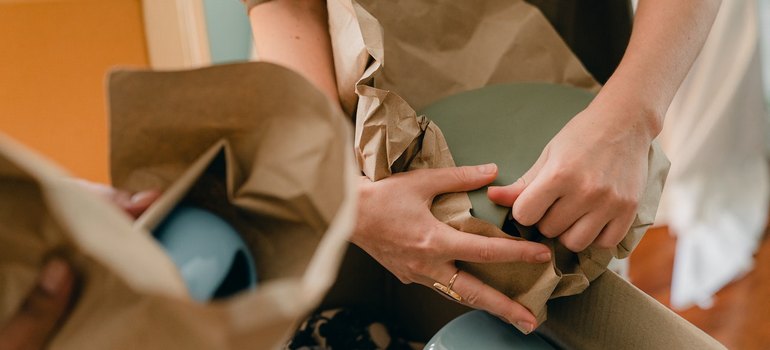 Packing your items for safely loading a storage container
How you pack your individual items matters too. This is a crucial step that will prevent damage further down the line. Moreover, it also works to maximize space inside the pod. To prepare your items for the journey, use boxes of similar sizes. This will make it easier to stack and create a more stable load. Additionally, remember that you should never overload any of the boxes – you risk them collapsing or breaking. Instead, try to pack items snuggly together. Our Everett self storage experts advise using sufficient quality materials to ensure a tight fit.
Clear the path
As we all know, moving can get messy. It can leave your house in a state of complete chaos, with random items and boxes lying around everywhere. Keeping everything in order is tough but essential. Experts specializing in mobile storage containers in Seattle advise creating a clear moving path. You surely don't want to trip while lugging heavy boxes to the front door. Additionally, pad the corners of the walls and door frames with moving blankets. This will prevent accidental dents and scratches. If you have hardwood floors, it would be a good idea to cover them as well.
The importance of what goes where
To ensure that your items are protected during transportation, it is crucial to create a stable layout when loading your moving container. Here are some tips to help you do it:
Put heavy boxes on the bottom: Heavy furniture and other items should go on the bottom, to prevent lighter boxes from being crushed. Loading the storage container this way will distribute the weight and save your items from getting damaged. Just make sure to secure the top boxes so they don't move around.
Build a barrier: Start by packing your items in a way that creates something of a wall structure on one side of the container. It should go all the way to the top of the container. This will prevent your items from rattling around the pod and moving during shipping.
Pack containers tightly: This is the time to show off your Tetris skills. Make sure to pack boxes and other items as snuggly as you can to keep them from moving. You can also use ties and moving straps.
Fill empty spaces: After you finished loading a storage pod safely, you will probably be left with a few empty nooks and crannies. This is a great way to reuse old clothing, towels, or newspapers while creating more stability and structure inside the container.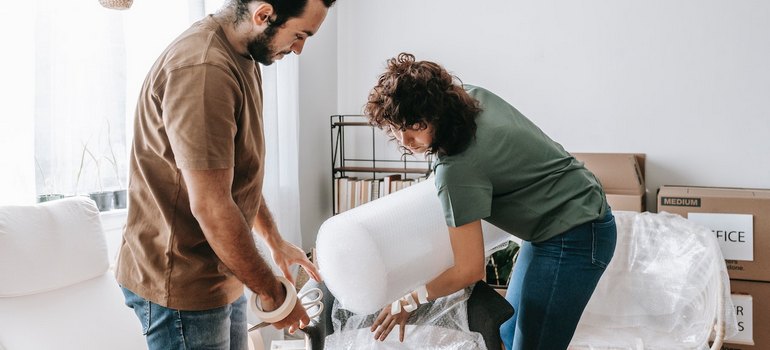 Planning equals safety
In conclusion, loading a storage pod safely requires a bit of planning and prep. By following the tips from Portabox packing pros, you can easily navigate the process and ensure that your belongings are protected during transport. Create a plan, pack your items correctly, and utilize the space in your container efficiently. Remember to clear a path, protect your walls and floors, and pay attention to the weight distribution of your items.