Tips for packing during bad weather
Moving home can be a stressful and tiring process. Especially if you are moving when it's raining or snowing. However, moving and packing during bad weather doesn't need to be a nightmare. You should follow our tips to protect your belongings and have a safe and successful relocation. Remember that you can control many things during your move, but the weather isn't one of them. Instead of focusing on things you can't change, think about those you can control. Prepare for the worst-case scenario ahead of time. Think about every detail – from organizing your move and packing your belongings to renting our Kirkland self-storage containers.
What problems can you expect when moving and packing during bad weather?
Moving during the winter can be quite a challenge. There are many problems you can anticipate such as low temperatures, snow, rain, difficult driving conditions, etc. Your safety is the top priority so drive carefully if there is snow and ice on roads. Make sure to buy several umbrellas to protect yourself, your movers, and your belongings.
Seal your boxes to keep the moisture out – you don't want to risk damaging your things. Also, adjust your clothing to the weather conditions. Wear sweaters, jackets, hats, gloves if you are moving during the winter. If you are moving in the rain find non-slip shoes. Remember that moving in the rain makes you more prone to injury. Don't forget that proper clothing can also prevent moving injuries, which are quite common.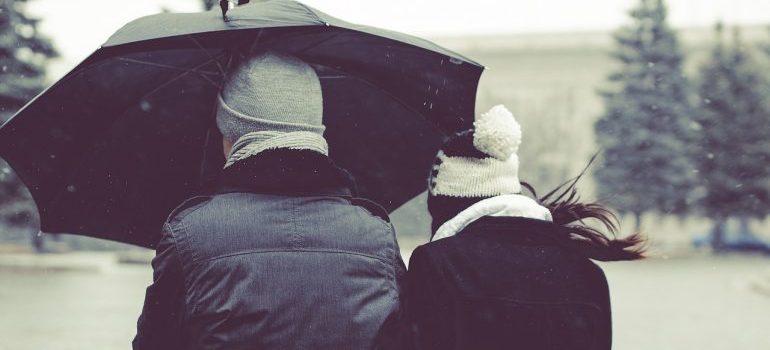 Gather moving supplies well in time
Preparation is the key to a successful move. You have to carefully plan all your activities well in time. Remember that the moving process doesn't start on a moving day, but weeks or even months ahead. Think about the self-storage option in Bothell if you are moving to the Seattle metropolitan area. All PortaBoxes have weather-resistant vinyl covers, so you don't have to worry about the safety of your possessions in detrimental weather conditions.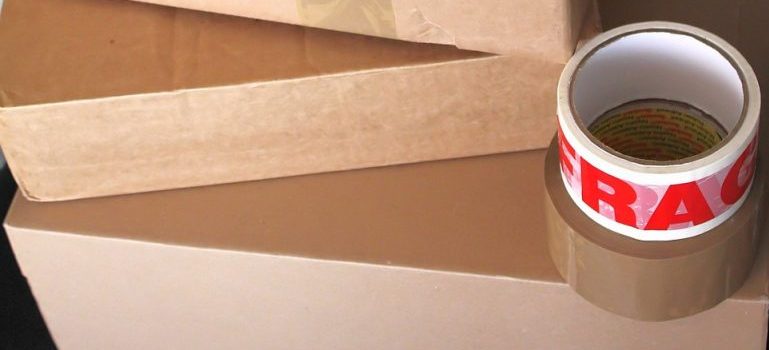 Check the weather forecast for your moving day and gather the necessary packing materials such as:
Moving containers
Packing paper
Tape
Bubble wrap
Scissors
Furniture blankets
Plastic coverings
Plastic bags
Our tips for packing during bad weather
One of your biggest priorities when moving during bad weather is protecting your belongings from water damage. We have several tips that will help you prevent any damage. Put small electronics in waterproof plastic containers – gadgets are usually very expensive and you don't want to arrive in your new home with ruined electronics. As a matter of fact, use plastic, waterproof containers to pack as much of your items as possible. If you need quality packing materials, look no further – contact PortaBox.
Large electronics, furniture, appliances, and artwork should be wrapped in tarps and plastic wrap. You can also use tarps to protect the floors in your old and new home against mud and water. Cardboard boxes are fairly durable when it comes to light exposure to rain. If they have holes or rips, reinforce them with packing tape. However, if you don't want to take any risks, put your boxes inside plastic bags. Even if you follow all these tips, remember that accidents can happen especially if you are an inexperienced mover. That is why we recommend hiring a reliable moving company, especially if you are moving and packing during bad weather.
How to find a reliable moving company?
Finding good and experienced movers is the key to a successful move. It takes some time, and it might cost more than moving on your own, but it's well worth it. Not only will professional movers save you time and energy, but they have the tools and knowledge necessary to keep your belongings safe and dry during the move. A reliable moving company should be licensed and offer moving valuation coverage. Well-trained professionals can even help you pack your items and offer valuable advice.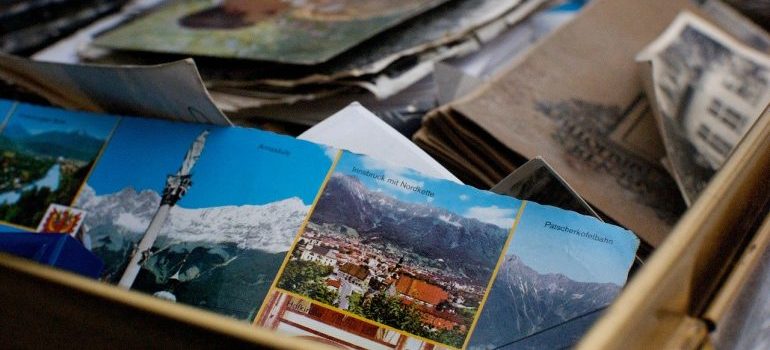 When it comes to finding good movers, the first thing you can do is ask your friends and family members for a recommendation. Those are people you trust so you know their feedback will be honest and objective. Next, check specialized moving websites such as the Better Business Bureau. Here you can find general information about a particular moving company, company's rating, overall mark, comments, previously submitted complaints. All this information will help you get a clear idea about the quality of service the company offers and make an informed decision.
Prepare your new home for the movers to arrive
One of the items you should include in your moving schedule is preparing your new home before the movers arrive. Put an old mat or rag at the entrance for people to wipe their feet before entering your home. Prepare plenty of towels so that movers can wipe their hands, face, and even to dry off the items they are moving. The fewer people have to move and enter the house, the better.
In this way, you will have less water in the house and less risk of someone slipping and falling. It's best to designate somebody to stay at the moving truck and set up an assembly line for the process of unloading, carrying, and unpacking. Remember that safety comes first so, if the weather conditions are too bad, postpone your move. Be prepared for bad weather but also be prepared to stay a couple of extra days at your old house.
Conclusion
Good organization and a solid plan are crucial when it comes to relocation. You should know exactly what you should be doing before, during, and after the move. Of course, there are some things you can't plan or control, such as weather conditions. However, you can do your homework, prepare for adverse weather, and protect your belongings. Use quality packing materials to avoid any damage. Wear proper clothing to protect yourself from any possible injuries. Find good movers who will facilitate and accelerate your move. We wish you a happy and safe relocation.