Tips for storing antique items long-term
Finding storage for stuff that we don't use on a daily basis is always a good idea. But what happens when the things that you want to store require more care and attention? For instance, storing antique items long-term is not as easy as storing your seasonal clothing. The same goes for old, fine china pieces; relocating them pretty much anywhere can be quite risky, which is why a lot of additional care is required. Don't worry, though – PortaBox Storage offers excellent facilities for even your most delicate items – and we've got some advice on how you should store them as well! 
Disassembling Antiques
Before you look for mobile storage containers Seattle offers and decide on transporting and storing antique items long-term; you need to carefully think about all of the details of this process. Obviously, furniture requires a decent level of care and attentiveness while you store or transport it; otherwise, you risk it sustaining damage. But considering that is true for ordinary furniture; you can imagine just how much effort goes into doing the same with antique items.
Simultaneously, you need to be both careful and brave. For instance, many people would be scared at the thought of disassembling antique furniture. However, this is very much a necessity. Just like any other furniture, it can be quite bulky. And while you may think that you're preserving it when you transport and store it assembled; you're just increasing the chances of something going wrong and the furniture losing value due to damage.
In reality, you need to disassemble it before storage to ensure that there's minimal pressure on all of the joints; that way, you're taking the fragility of the furniture into account. Plenty of chairs and tables (even antiques) allow disassembly, as long as you know what you're doing. If not, contact a specialist for furniture disassembly who can do the job for you. At the end of the day, wood will simply last longer if you do this properly. Just make sure that you put all of the hardware and screws in a single bag, and clearly mark it so you know what the parts are for. 
Treating wood properly
So, you've decided on storing antique items long-term properly. In that case, disassembling your furniture pieces won't be enough to ensure their protection. If you've got any antique pieces with metal, leather, or wooden materials; you will need to treat them properly before you store them. Even if you store them in perfect conditions, chances are that they will start deteriorating if you don't provide them with ample coating.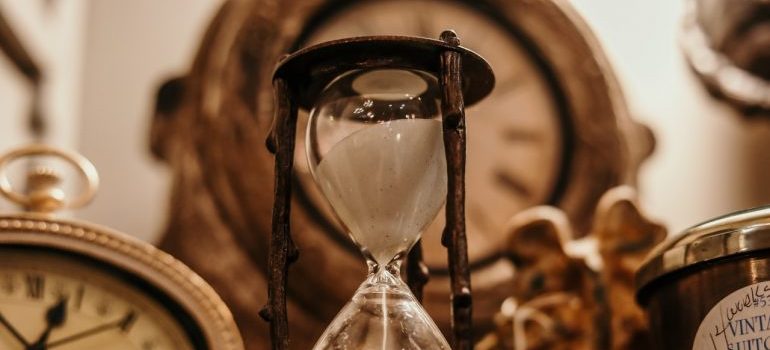 As such – if we're talking about wooden pieces, you will probably need to find a great polish. Treating wood with the right polishing finish creates a protective film on its surface, preventing any cracking after a while. Also, when it comes to leather; you will have to find the proper conditioner, which will keep the leather from becoming dry after being in the same closed storage unit for a long time. Finally – metal furniture is prone to rust and oxidization.
Luckily, there are polishers and metal cleaners that you can use to stop damaging residue from forming and tarnishing your precious antique. Before you find self storage Lynnwood WA offers and put your items there – you will need to make sure your antiques are prepared for that.
Avoid stacking
Naturally, storage units are never as spacious as we'd like them to be; especially when we start filling them with all of our stuff. At some point, you need to get creative with how you place all of the items; for instance, you might need to stack boxes or furniture pieces on top of each other to make the most of the free space. However – if you want to preserve antique furniture, you must absolutely never do this. It's quite easy for this stacking to put too much pressure on the furniture joints – and the fabrics and finishes will also suffer over time. For instance, if you've got tabletops, make sure to lay them on one of their sides – that should free up some space. But stacking is still out of the question. 
Other storage advice
In the end, if you're truly interested in storing antique items long-term without damaging them; you can see that the process requires quite a lot of forethought. And there are quite a few things you can do here – like wrapping them with proper fabrics to provide ample protection. You can use moving blankets if you've still got any leftover from a relocation; in the absence of those, ordinary blankets or quilts will do just fine. Not only will this protect the antiques from abrasion – but it will also reduce moisture as much as possible. 
And while we're on the subject of wrapping – you must never use plastic wrapping to cover antique furniture pieces. This will inevitably lead to mildew and mold, and that's definitely something that you don't want! Also, once you've covered them; ideally, you should find some wooden pallets, and use these in the storage unit.
Once that's done, place the antiques on the pallets instead of the floor itself; this will provide some air circulation at the bottom, ensuring that you've got less moisture there as well. Plus, it's a great way to protect any antique furniture in case of spillage or flooding. If you do all of this stuff on time, you can be sure that your antiques will last you for generations to come!