Tips for storing dishes and kitchenware
There are many situations in our lives in which we can find ourselves in need of some extra space in our homes. In these situations, there are only two options – we can either get rid of the items (even though we are still using them) or we can rent a storage unit and simply store the stuff we don't currently need. Well, we can all agree that the second option sounds way better than the first one. But, before you declutter your home and get a storage unit, you need to know that every item needs to be prepared for storage differently. And, in this guide, we have decided to talk a bit more about storing dishes and kitchenware.
So, what's there to know? You simply pack everything in a box and take it to your storage unit, right? Well, it is not that simple. There are a couple of unwritten rules you will have to follow before renting self storage in West Seattle. Keep reading and you will learn how to store the right way.
The many advantages of storing household items
Before we proceed to some storing tips, let's talk a bit more about storage units and why they suddenly became so popular. Renting storage units isn't a new trend. People have been renting  Ballard self storage for decades! And, since there are so many benefits of storing, people are still doing it, now more than ever. Because of this, we simply have to mention some advantages of storing items away from your home. Trust us, as soon as you read them, you will ask yourself whether you too should get one storage for yourself.
Guaranteed safety
Increased living and working space
Getting rid of clutter
Convenience and flexibility
If you find a reliable storage company, you won't have to worry about a single thing. You will get rid of the clutter in your home and/or office and you will place your items in a safe place. It's a win-win situation!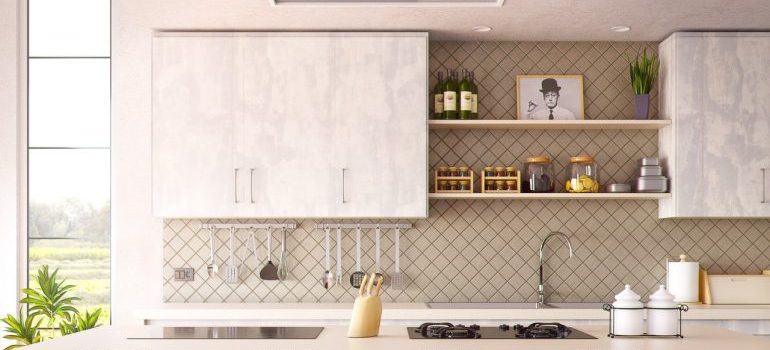 How to store dishes and kitchenware properly?
Now that we have explained to you why storage units are so popular, let's proceed to the main reason why you came here in the first place. In the following text, we are going to guide you through storing dishes and kitchenware. Beware, these are only some of the things you need to know before renting a self storage. As we have already told you, every item is specific and you will need to learn how to prepare properly every item you want to store.
So, what are the steps to storing your kitchen items? How to do it the right way?
Declutter before deciding what to store
Whether you are in search of a storage unit because you are merging two homes into one or you are in the middle of a renovation project, you will need to deal with the first and probably most boring step – decluttering. There is no point in storing a damaged item or an item you don't need anymore. Instead of keeping these items in your homes, offices, and storage units, you should get rid of them. Keep in mind that this doesn't mean you should just throw away your unwanted items. In fact, this should be your last option! If you want to get rid of an item that can still be used, consider giving it to someone in need or try to sell it.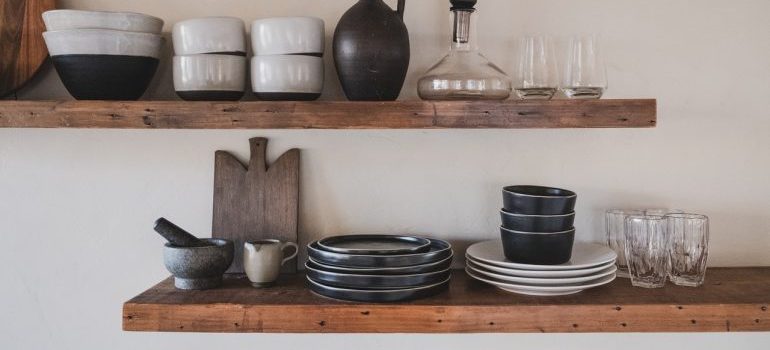 Create an inventory list and come up with a plan
Once you get rid of the items you don't need, you will be ready for the second step – making a plan. You should find the time to create an inventory list. Write down every item you want to store. You can even create an inventory list in Excel and print it if that's simpler for you. By writing things down, it will be easier for you to calculate how many boxes and other packing materials you need to get. Also, in this step, you should start your search for a storage unit that meets all of your requirements for storing dishes and kitchenware.
Gather boxes and other packing supplies for storing kitchenware and dishes
Keep in mind that you will need more than a couple of cardboard boxes and plastic bins for packing the items you want to store. You need to get packing tape, wrapping and cushioning materials. Kitchenware and dishes are very delicate and can easily get damaged if you are not being careful. This is why when packing glass items for storage, you need to have a lot of wrapping materials. You can even use some alternatives to traditional packing materials, such as towels, old t-shirts, blankets.
Follow the most important packing rules
If you want to save time while packing, you will want to learn some simple and useful packing and storage tips. Here are a couple of them!
Items you want to store need to be clean and dry;
Breakables should be wrapped separately, before placing them in the box;
Avoid using newspaper as wrapping material since the ink could transfer to the surface of your belongings and ruin them;
Label those boxes that contain fragile items;
When stacking boxes with your items, make sure to stack lighter ones on top of heavier ones. 
Secure your boxes with a parking tape – seal all openings and check whether all of your boxes are sealed.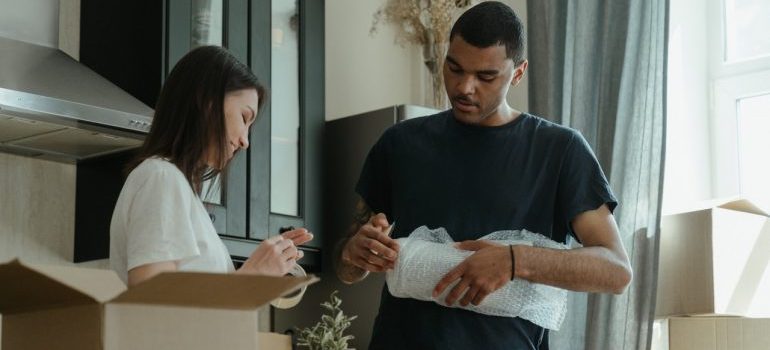 Of course, there are many other packing tips regarding storing kitchenware, dishes, and other household belongings. However, these are the most important ones. If you want to learn more about storing, make sure to go through our blog. Right there, you will find all the information you need. And, if you have any questions, feel free to contact us at any time and we will answer all of them.