Tips for storing musical instruments in Lynnwood
Music is arguably the greatest invention of mankind. It can lift you up, bring you down, make you ecstatic, or soothe your soul. That's why taking good care of your instrument is an absolute priority. Fortunately, this isn't too difficult to accomplish. All it takes is a bit of preparation and a good self storage Lynnwood WA company to see it all through and meet your expectations. So, let's see what you should pay attention to when storing musical instruments.
Proper preparation is the key to storing musical instruments safely
Storing your instrument isn't a risk-free task. Even if you're using high-end facilities such as PortaBox Storage, leaving them in there for prolonged periods of time can have negative effects. Your instrument can warp, crack, or suffer a plethora of other disasters. However, it's important to note this isn't because of the nature of storage. It's because of the delicacy of instruments and outside factors, usage being the main one.
Now that we scared the bejesus out of you, it's time for the silver lining. You can negate these negative effects with a bit of planning. Two major things you have to pay extreme attention to are:
Choosing the right storage, and;
Proper preparation of your instrument.
Both are crucial for the well-being of your instrument, especially if you're storing it long-term.
What type of storage should you choose?
When it comes to storing musical instruments, your best bet would be to rely on temperature-controlled storage facilities. Your instrument is delicate and fragile – regardless of type. It's sensitive to drastic temperature variations and extremes (both ends of it). Temperature-controlled storage provides ideal conditions for your instrument. Of course, extra security and regular maintenance included in storage services are always a welcome addition.
Getting your instruments ready for storing
Now, this is a bit of a tricky part. Preparation and storage methods vary from one type of instrument to another. Therefore, we'll break it down into categories, purely for convenience.
General guidelines
Some rules are common for all instruments, regardless of type:
Use the original case to store your instrument;
If you can't use the original one, it's best to get a hard case. Just make sure it fits your instrument like a glove;
You can use a soft case (gig bag), but only for short-term storage;
Even if the case you bought is brand-new, clean it thoroughly before placing your instrument in it;
Clean and (if possible) disassemble your instrument before storing it. Avoid common household cleaning products as they can damage the instrument.
Layer the case with acid-free paper (such as glassine paper) and wrap your instrument in it. It's an effective, yet inexpensive extra precaution;
Don't use packing tape to secure wrapping in place. It can damage both the case and your instrument. Instead, opt for painters tape;
Never leave your instrument lying on the floor or leaned against the wall. Rent a shelf and/or wooden pallets to keep them off the ground and out of the way.
These guidelines cover a large part of methods for storing musical instruments. You should always apply them, in addition to the specifics we'll cover next.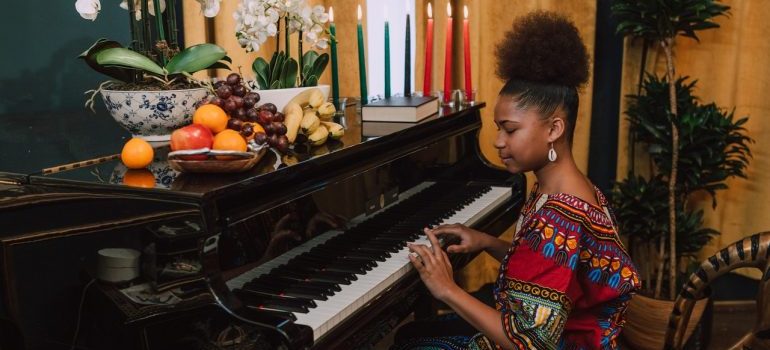 Piano
The main problem when storing a piano isn't storing, per se. It's moving it to and from the facility. This gorgeous instrument presents the ultimate moving challenge. So, with this in mind, you should always have professional movers helping you. But, once you get it there, the rest of the process is pretty straightforward:
Choose a storage unit large enough to fit a piano in the upright position;
Wrap every part of it in several layers of protective cloth. Clean cotton bed sheets are a good choice;
Finish protecting the piano by wrapping it in plastic foil.
You can apply the same principles for electric pianos and electronic keyboards.
Guitar
As the guitar is one of the most popular instruments in the world, it deserves a section of its own. However, you can apply these guidelines to other string and wood instruments, too.
While cleaning, take some extra time to condition the wood. This ensures it doesn't dry out and crack while stored;
Relax the strings to avoid neck warping;
When cleaning your guitar, and wood instruments in general, be sure to use dedicated products. Avoid alcohol and oil polishes, as well as household cleaners. These can dry out the wood, causing it to rot.
Drums
Drums and percussions in general, aren't demanding when it comes to storage. Of course, that doesn't mean you shouldn't show them the same attention as other instruments.
It's best to disassemble the drums, and pack the pieces in boxes;
Ziplock bags are your best friend when it comes to storing screws and small pieces;
If you don't want to remove the membranes, be sure to loosen them up;
Oil the leather drum skins before packing to prevent them from drying out.
Be aware that storing your drums without disassembling them will result in a bigger space requirement. On the flip side, a dismantled set you can easily fit into two or three boxes.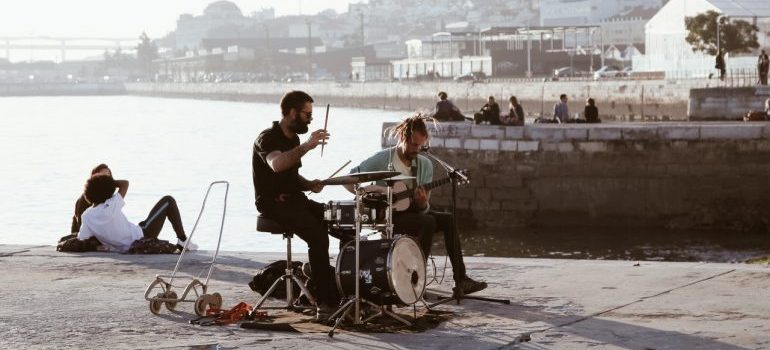 Brass Instruments
One of the main reasons brass instruments deteriorate in storage is due to improper cleaning before storing. So, take some extra time to detail them to perfection.
Clean valves and valve caps;
Remove mouthpieces and clean them, too;
Use brass instruments cleaning brushes to get inside the tubing, and into every nook and cranny;
Protect your instrument with brass polish, to keep it shiny and safe.
Visit your instruments every once in a while
Storing musical instruments in a good facility will keep your precious instrument safe. But, only you can keep the magic alive. So, don't forget about it. Make sure to check in on your mobile storage containers Seattle every now and then to make sure it remains in great shape. Maybe even break it out of the casing, and show them some love. After all, no one will ever mind a small jam session and you will leave the storage with a smile. And that's exactly what music is for.