Tips for storing tires long-term
Whether you are changing your tire set because of a new season, or simply need additional space for storage, we are here to show you basic tips for storing tires long-term. Once you take off your tires from your car, there are various weather elements that will still affect their aging process. Therefore, it is important to store tires properly. In this article, we are going to show you the essential tips for safely storing your tires long-term. Furthermore, we will cover the reasons you should always do your research and find reliable Renton self storage solutions before storing your items.
How to store your tires successfully – Step by step
Clean all your tires first
The very first step in the process of storing your tires should be to clean them. Detergent, water, and a clean brush are enough to make your tires clean for storage. Why is this important? Well, first of all, it will help remove any road grime and similar things from your tires. While cleaning your tires, make sure you also clean the wheels as well. Before you continue to other steps, be sure your tires are all completely dry. When it comes to dressing, tires really do not need any dressing or gloss applied before storage.
Bag your tires up
So, now that your tires are clean as well as the wheels, it is time to carry on with the storage procedure. The next step is to bag up your tires. The best solution here is airtight plastic bags that can hold each tire separately. Make sure the bags are moisture-free and of high quality. There are different ways you can choose storage packing supplies but the most important thing is to make sure they are of a high quality so that they provide the right protection. Remove as much air from the bag as possible before putting it over your tire. If possible, use your vacuum cleaner and tape the bag shut.
Choose the right location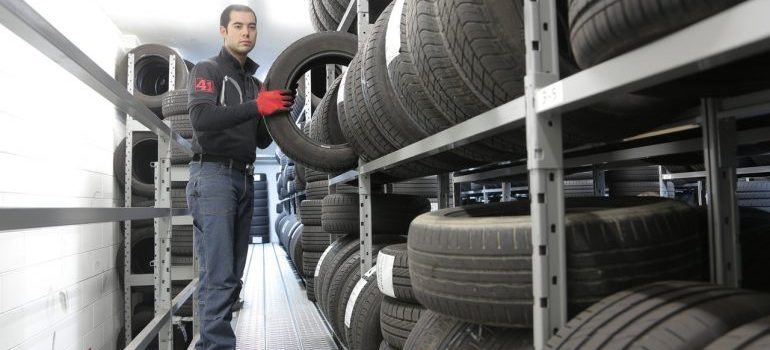 Outside temperature, weather effects, and UV light all impact your tires when in storage. Never store your tires in an open area even when you have protective coverings such as airtight plastic bags. Look for dry, cool, and moderately ventilated areas such as storage pods Seattle that will keep your tires at an optimum temperature and protect them from external elements. 
When dealing with self-storage, make sure you try to avoid places that constantly and significantly vary in the temperature range. This can only lead to potential damage to your tires. Avoid temperature fluctuations in areas such as attics, garages, sheds, etc. If there is a heat source in a room where you are storing your tires, they have to be shielded from it.
Should you stack, stand or hang your tires in storage?
After you've secured the right packing equipment and found a good location for your tires, the step that follows is determining how to put these tires in storage. Generally, there are three most common ways of placing your tires in storage. These are the following:
Stand tires upright,
Stack tires on their sides,
Hang tires on hooks or racks.
The options you choose are entirely up to you. There are, however, some factors that you need to take into consideration when making this decision. The stress you put on your tires should be the very first thing you look into. Make sure they are not stacked too high. When it comes to hanging on hooks or racks, this should be done with tires that have rims on. If your tires do not have rims, there is no need to put them on hooks and racks. This will only damage the tire. Standing tires upright is probably your best bet when it comes to long-term storage. However, keep in mind that tires will age regardless of the way you place them in storage.
Keep your stored tires away from any kind of chemical exposure
Your tires are obviously going to be prone to damage from various different elements. One of them is ozone. To avoid ozone, make sure you avoid storing tires alongside electric motors that use contact brushes that generate ozone. A number of different generators, compressors, furnaces, switches, etc. fall under this category so make sure you do not put them alongside your tires. In addition to this, it is extremely important that your tires are clear of any kinds of solvents, fuels, or lubricants.
Hire professionals to help you with storage services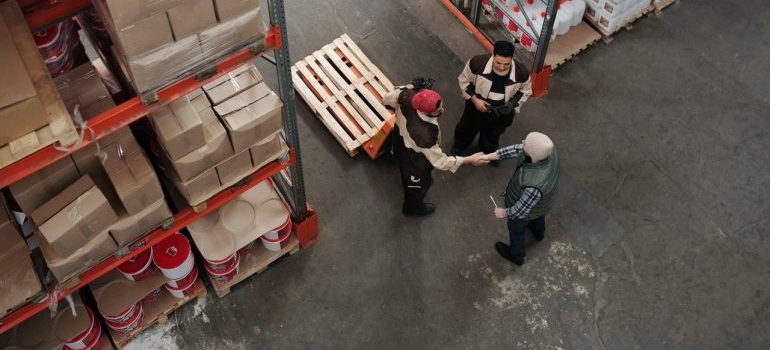 Finding the right storage unit is not easy. Securing your own self-storage unit can be even harder. However, we are here to help you out. With the professional, portable storage services that we provide, you can safely store any kind of inventory. We offer secure, portable on-demand storage Seattle solutions that are both safe and reliable alongside various shipping options that make the moving and shipping of your inventory a lot easier. Use innovative storage and shipping solutions to your advantage, and safely store or move your inventory without any complications.
Conclusion
To sum up, there are a few important steps that you need to take in the process of storing tires long-term. Make sure all your tires and rims are first thoroughly cleaned and dried. Bag them up properly for protection. Choose a good location to store your tires so that they are not influenced by external. Remember to contact professionals who can help you with different self storage Seattle solutions and you are in for a safe and successful storage process.