Tips for storing your pool table in Lynnwood
A pool table is an excellent addition to any room in your house. However, if you renovate or relocate your house, you may need to move and store your pool table. A pool table is difficult to store due to its size, shape, and weight. Moreover, a minor slip can be extremely costly. If you are planning to store your pool table on your own, you need to have your tools by your side. Set aside a wrench, screwdriver, staple remover, and drill, in case you need to disassemble the pool table. However, if you think this is too hard for you to do, why not seek help from a professional. PortaBox Storage is a reliable company that will help you with storing even the most complicated items. Read more to find out that storing your pool table in Lynnwood doesn't have to be difficult.
Separate all the parts from your pool table
The process of storing your pool table should start with separating all the parts. Since pool tables are massive, they contain a lot of pieces. Once you separate the slate, you can continue with other parts, using tools and equipment. It is not easy to disassemble the pool table, so be careful not to hurt yourself or destroy the item. Reading a manual is a useful thing you can do, as it provides tips and tricks for proper disassembling. If you don't have it, you can email your retailer to provide it for you. Once you successfully separate all the parts, wrap them in paper and put them in special containers or boxes. In case you don't have the original box, you can hire a moving company that can provide the best self storage Lynnwood WA has to offer. Forget about packing, wrapping, and storing. Your Lynwood self-storage has all it takes for successful packing and storing your pool table.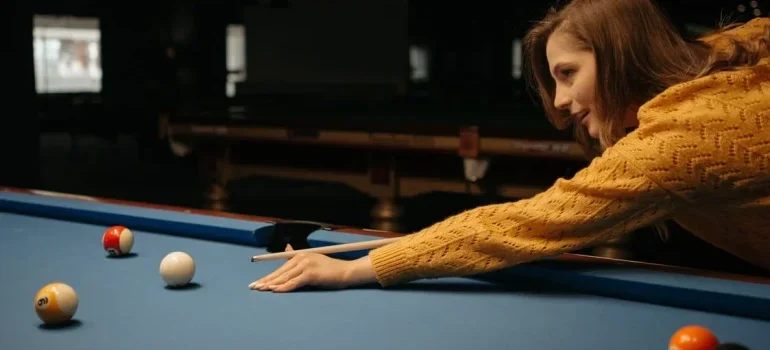 Use proper storage units to keep your pool table safe
Storing a pool table in the house will occupy a lot of space. This means that you will be out of room for some other important things. As a result, people usually rent storage units North Seattle. We know how much you care about your pool table, and you want to keep it in a perfect condition. You can rest assured that your pool table will be safe, clean, and dry in any of the Seattle storage units you choose. All of the storage facilities are well-equipped, spacious, and have video surveillance. The best thing is that you can take your item back when you need it, and choose short term storage rent as well.
Make use of storage containers for storing your pool table in Lynnwood
If you have decided to store your pool table out of the house, then you need a place to have it safely stored. This is the moment when you should think about renting a portable storage container. Using containers has become increasingly popular nowadays. It is a very effective solution when it comes to decluttering and renovating a house. Many residents of Lynnwood are happy to use mobile storage containers Seattle. Furthermore, you don't have to go to the site of your portable storage container- it will come to you. If you are still wondering whether this is a good idea for storing your pool table, check the following arguments:
Storage pods are the most convenient storage solution in Seattle
You are offered flexible short-term storage plans
Portable storage containers are safe and easy to use
You are not obliged to keep your item for an extended period of time
Don't forget to elevate your pool table
Even though pool tables are big, they are very sensitive to high temperatures, mold, and dampness. If you decide to store your pool table in a garage or basement, try to adjust the temperature, and ensure that there is enough lighting. Moreover, don't forget to elevate the slate of your pool table, as this is the most sensitive part. If you place it directly on the floor, you risk making it wet or being attacked by pests. Instead, elevate your pool table and wrap it with a blanket, or put it on a pallet board, to avoid sudden temperature changes or other influences. If you follow these tips, you can rest assured that your pool table will stay in a good condition for a long time.
Lynnwood is the place that people like
If you are looking for a perfect Pacific Northwest vacation, than Lynnwood in Washington is the right place for you. Located only 16 miles north of Seattle, Lynnwood is an excellent starting point for exciting outdoor activities, wine tastings, casinos, one-of-a-kind shopping, and much more. Float a river, hike a mountain trail, or go shopping at Alderwood, the region's premier shopping center. Lynnwood has beautiful city parks, public art, the historic heritage Park, hiking trails, an aquatic center, a golf course, and a wide variety of dining options. Start your adventure in Lynnwood today!
As people have many things in their homes, the problem with lack of space occurs. Large items, such as pool tables, are very difficult to store. For this reason, most people tend to rent storage, while some prefer to disassemble the pool table or keep it in a garage. Whatever you decide to do with your pool table, you need to be aware of its delicate nature. There are plenty of storage facilities in Seattle that offer modern and high-quality storage units. This is a perfect opportunity to declutter your home or prepare for an important event. Storing your pool table in Lynnwood does not have to be hard if you follow useful tips. You don't need much to turn this event into an enjoyable activity.