Tips for storing your summer clothes
With summer over and cooler days coming, it's time to tackle your summer wardrobe. We are sure that this summer you renewed your summer wardrobe, which means that you now have a lot more things and a lot of work awaits you. If you lack space in your wardrobe or in your home, Portabox Storage Seattle can be your excellent choice. Renting a storage unit will be the smartest move you will make at that moment. And also, one of the most common purposes of storage is storing seasonal clothes, equipment, and other things. But storage doesn't just mean packing things in boxes. In fact, it's somewhat like that, but there are several useful tips and tricks when it comes to storing your summer clothes that can be of great help to you. We will reveal them to you. Take a look!
Find a perfect storage unit
If you don't have a rented storage unit, now is the time to find one. But before that, determine your needs. Therefore, you need to decide whether you will store anything else besides your summer wardrobe. If, in addition to the clothes, if you plan to store some furniture, devices, or something bulkier, look for a more spacious storage unit, according to your needs.
Storage offers you many options, including short-term and long-term storage. Also, one of your best options could be mobile storage containers Seattle. Your clothes will be in a clean, dry, and safe place until it's used again.
When storing your summer clothes, start with sorting
Sorting is one of the mandatory steps that will make everything easier for you. And before you start sorting, make sure that all your wardrobe is washed, dried, and ironed. Also, storing wet things can cause moisture to appear and permanently damage your things in the form of spots and stains. So, check it all out!
During the sorting, you can also do a "big cleaning", which means that you can get rid of things that are small, that you no longer wear, or that have been damaged and taken out. Also, you can always separate things that you can donate. But, separate only those things that can be worn again, and which are clean. And now, sort your things before packing them for storage. Separate dresses, t-shirts, shorts, summer shoes, hats, etc. It will be much easier for you to pack things separately. And at the same time, you will make it easier to find them when you need them again.
Packing tips and tricks
There are many tips and tricks that will make packing your things easier at any time. Whether you're going on vacation, moving, or just want to store your belongings for a while, sorting is key. Now that you have sorted your things, start packing. But before that, you need to get the right packaging. And packing materials Seattle can be a good choice. We advise you to choose a vacuum bag for T-shirts and trousers. They will preserve the freshness of your things and protect your things from dust and moisture. Also, boxes are a good choice for shoes, bras, etc. And when it comes to dresses, jackets, and capes, you can always use a storage bag and hang such things on the hangers.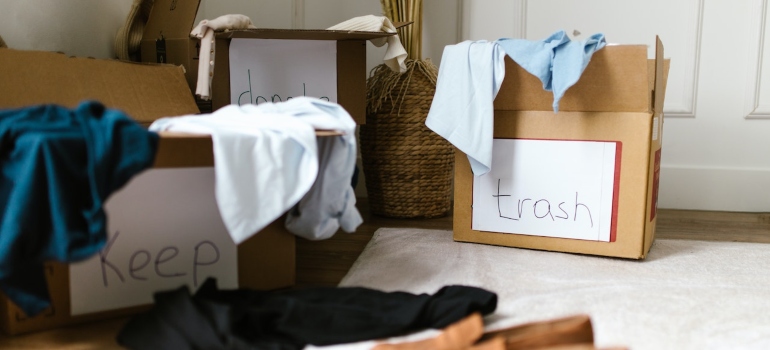 When you start packing, one of the oldest tips isn't to mix your things, but to pack them separately. For example, choose boxes for shirts, pants, shoes, dresses, etc. And what is very important is that you have a marker next to you to mark the boxes. And be sure to write on them what is inside.
Don't forget moth repellents when storing your clothes
One of the important things that you mustn't forget is the means against moths. They usually come in small bags, tablets, or plastic cards. These products usually contain some chemical ingredient that prevents the appearance of moths among your belongings. But, you can always find something on natural wood such as lavender or cedar wood. At the same time, this can give you freshness and a pleasant smell to your clothes, but also prevent the appearance of moths.
You can simply insert the means against moths among your things, or at the bottom of the box. Also, if you have shelves in your storage unit on which you will place boxes directly, it would be desirable to hang some anti-moth agent somewhere near the boxes. If you don't prevent them, they can make some small holes in your wardrobe and permanently damage it.
Make full use of the space in your storage unit
If you choose Issaquah self storage, you have many storage options available. You can choose between short and long-term storage. And also, you have at your disposal the help of professional staff who will make sure to provide you with the best service. But the most important thing is to make the most of the space you have available.
Therefore, carefully consider how much space you have available as well as the number, quantity, and size of things you want to store. If you have shelves, try to make the most of them by packing things or boxes on them. Also, in the hanging area, try to hang as many clothes as possible so that they are neatly stored and ready for reuse at any time. And now, finally, we note that when storing your summer clothes, you must always be aware of the way of storing and packing your things. Don't forget the regular maintenance of your storage, as well as checking the humidity level. Check whether your belongings require climate controlled storage if you aren't sure.