Tips for storing outdoor cushions and hammocks
Having a garden or patio where you can spend time is one of life's greatest pleasures. When the weather is nice, you can simply sit in front of your house or behind it with a cold drink in your hand and soak up the sun. But what happens when the season is over? Fall and winter will bring rain and snow, wind, and other bad weather. Neither you nor your furniture will welcome that. You can escape to the comfort of your home. But what will you do with your tables, chairs, sofas, and hammocks? Winter storage with PortaBox Storage is the solution to this problem. But there's definitely a right way and a wrong way for storing outdoor cushions and hammocks. And if you want to use them again after, you'll want to learn the right one.
Before storing outdoor cushions and hammocks, clean them thoroughly
Before you put anything in Redmond self storage (especially if you're planning on leaving it there long-term), you want to make sure that it's in the best possible condition. Well-maintained, clean, pest-free storage units shouldn't do your belongings any harm. But a time comes for everything and dust is unavoidable even with regular cleaning. So to make sure that your outdoor cushions and hammocks live to see another summer, you need to clean them and mend any tears. That way, there will be no dirt or debris to stain or damage the fabric. Even though you'll probably have to do some cleaning after you take your items out of storage, they should go into it clean.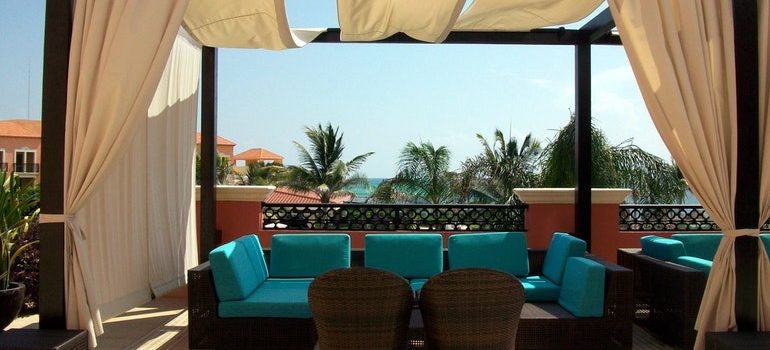 How to clean outdoor cushions
Most cushions on outdoor furniture are detachable. So the first step will be to take them off whatever frame they're on if possible. Then follow these steps:
Start by sweeping off leaves, branches, dirt, and other debris.
Find the manufacturer's cleaning instructions on the tag and let those guide you on how to clean.
Take the removable cushions covers off and wash them in the washing machine according to the manufacturer's instructions.
For cushion covers that can't be removed, use a soft cleaning brush and a mild detergent to scrub the outside fabric.
Remove stains, mold, and mildew using white vinegar or a mixture of water and bleach. Remember to test the solution on a small patch of fabric first to make sure you don't ruin it.
Rinse thoroughly with water.
Air-dry in the sun for as long as necessary – the cushions must be completely dry before you continue packing them.
It might be a good idea to waterproof your cushions before putting them in Newcastle self storage. Even if your cushions are already water-resistant, they will require treatment to keep them that way. And what better time than before storage? Even the best-maintained storage units run the risk of humidity and mold. If this happens to your unit, you'll be glad your cushions are waterproof.
How to clean hammocks
Hammocks are significantly easier to clean than cushions. However, the exact process will depend on the type of hammock you own. You'll want to shake it out first to get rid of the worst of the debris. Then machine wash with mild detergent it if it's made of fabric. Follow the manufacturer's instructions and you'll be fine! If your hammock is made of something that is not machine-safe, use a soft brush and soapy water to scrub it clean. Do not machine wash hammock cushions as this will cause them to lose shape. Spot clean as necessary instead. Finally, air dry in the sun by laying on a flat surface or hanging.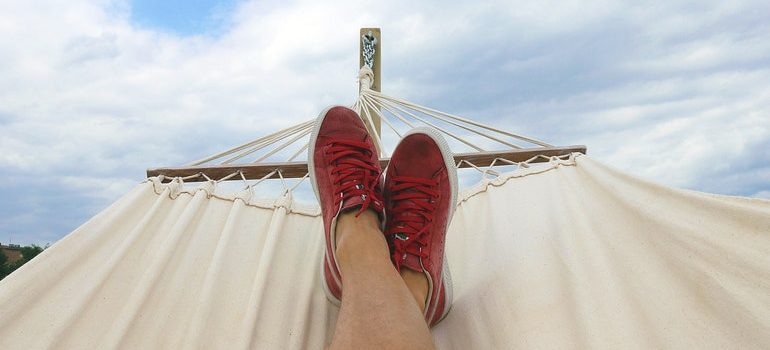 What to use for storing outdoor cushions and hammocks?
Before you put your cushions and hammocks in storage, you'll need to protect them. You cannot just put them in storage without packing them first. You have several options when it comes to packing materials for outdoor cushions and hammocks:
store them in air-tight containers: Air-tight containers come with some serious advantages and disadvantages. On the one hand, they will protect the cushions and hammocks from moths, other insects, pests, and even dust. On the other, you want any fabric you're storing to breathe. So use air-tight containers only for short-term storage. Make sure to put a few moisture-absorbing packets in as well.
use fabric storage bags: Fabric storage bags are designed specifically with keeping fabrics safe in mind. They're ideal for storing outdoor cushions and hammocks if you can find them in the right size. They're especially recommended for humid climates where air-tight containers are not a good idea even short-term.
wrap in tarps or blankets: For a more budget-friendly solution, you can always use tarps and blankets wrapped around the cushions or a rolled-up hammock. They will provide a layer of protection from dust, debris, and insects. Again, be careful with using plastic wrapping especially in humid climates or long-term.
Choosing the right type of storage unit for storing outdoor cushions and hammocks
How well you prepare your belongings for storage will not matter if you're not using your storage right. You need to have a good storage unit in order for your belongings to be safe. The main things you'll have to decide are the following:
the number of containers you will need,
the frequency of access you will need, and
if you're going to use storage long-term or short-term.
The number of units will depend on the amount of stuff you're storing. If you're not sure how much you need, it's better to get an extra unit since you won't be  charged for it if you don't need it. When it comes to access frequency, you need to consider if the items you are storing are just for seasonal use or if you need them regularly. Long-term storage assumes you will not be accessing your belongings until they are ready to be moved out of storage whereas short-term storage and portable storage assumes you will be accessing your belongings while in storage.
Utilize your storage space properly
When storing outdoor cushions and hammocks, how you store them matters. You want to keep them off the ground to protect them from dust, pests, moisture, and other perils. Think about placing your cushions and hammocks on top of something. Finally, keep your cushions and hammocks out of sunlight. Sunlight can cause fading and even damage to fabrics. If you stick to all this, your cushions and hammocks should be fine in storage!