Tips and tricks for packing books for storage
Any book lover understands the frustration of a bent cover, ripped, or a wrinkled page. No wonder they get anxious just thinking about the process of packing books for storage. Having to pack all books before placing them in self storage Seattle might sound challenging, but it doesn't have to be that way. Sure, some challenges might appear during this process, but our guide is here to help all of you pack your precious book collection and store it in the safest possible manner. You only need to follow the tips we have prepared for you in this article.
Things you will need for a good start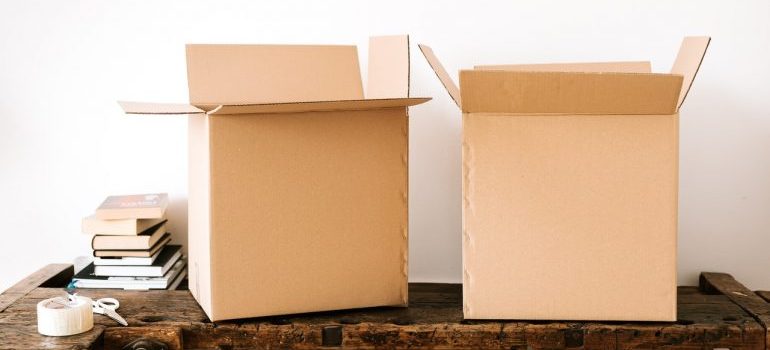 Before we start listing the steps to placing books in Bellevue self storage, we will mention a couple of things that are necessary for a good start.  If you want to avoid problems while you prep your books for storage, this is what you are going to need.
A good plan and a schedule. Plan the entire process and you will manage to store your book collection in a timely manner.
Secure storage facility. Finding a well-maintained storage unit from a trusted company is a must. Also, if you plan to store books over a longer period of time, consider getting a climate-controlled facility. Books are delicate and this type of facility can keep them safe.
The necessary tools and supplies. Before you start packing books for storage, make sure you have gathered all materials and tools. There's nothing worse than having to go back to the store to buy more boxes when you are in the middle of a packing process.
Help from professional packers or a good packing guide. In case you are not sure whether you will be able to pack your books properly, hire professionals. They have the skills and experience that allow them to take care of packing in next to no time.
How to pack your book collection for storage properly?
One of the reasons why packing books for storage can be so overwhelming is because they can easily get damaged during this process. Books have a great impact on our lives and many consider them as a real treasure. Because they are so important, the least we can do is do our best to pack them properly.
That's how we can ensure their safety during transportation and the storing period. So, let's learn how to do this! Here are the key steps that will allow you to safely store your book collection for as long as you need it. Follow them and you will have nothing to worry about.
Optimize your book collection before packing it for storage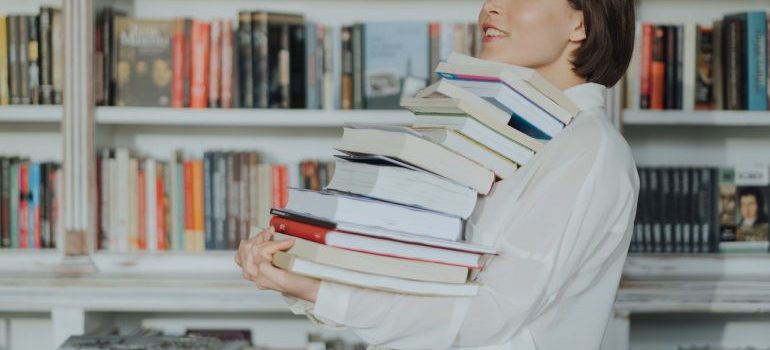 We will be honest with you. This will be the hardest step of packing books for storage. Although you don't have to go through it, we strongly advise it because it will make packing cost-effective. What you can do is weigh the pros and cons of this and see whether you are going to go through this step or not.
If you are not sure what's this step all about, here's the explanation. If you are like any other book lover, then your home is probably drowning in all sorts of books. Packing and moving all of them will not only take a lot of your time but it will also be pricey. That's why you should go through your collection and look for books you can get rid of. That's the painful part of this step. We are not saying you should get rid of your favorite pieces. You should look for duplicates or books you didn't like. There is really no point in storing these books! Instead, you can donate them, sell, trade with a friend, or give them away to one of Washington's public libraries or one of Idaho's public libraries. These are actually quite great options, so you should opt for the one you like the most.
Prepare your books and containers for packing
So, did you separate the books you want to keep from the ones you are going to give away? If the answer is yes, congrats! The hardest part is over. Now, all that is left are preparation and packing. Keep in mind that you will have to prepare both your books and boxes for storage. And, here is how to do it.
If your books are dusty, clean them. One of the measures for protecting belongings in storage includes cleaning every item you plan to store.
Make an inventory list. Write down the name of every book you are going to store.
Strengthen your boxes. Use a strong packing tape to reinforce the joints and edges on your boxes.
Buy or make a repellent. Just in case, you should place a repellent in your home to keep pests away.
Start loading books into boxes
One of the most common mistakes people make when they start packing books for storage is that they pack them as if they are on the shelf. This is the wrong way. What you should do is lay the books facing flat, and pack them in columns. Start with the bigger books and place them on the bottom of your boxes. The spines of books should support each other and that's why you need to pack binding to the binding. If there are any empty spaces, fill them with crumpled paper or foam peanuts. Do your best to fill any empty space in your boxes.
In case you have old and fragile boxes, handle them with extra care. Wrap them in packing paper and pack them separately in smaller boxes. Learn from other people's mistakes, look for tips that can tell you how to save time while packing, and hire professionals if necessary. These are some of the ways that will help you take care of storing books like a pro. And, in case you need quality self-storage, reach out to us.