Versatile storage solutions across the Pacific Northwest
From bustling urban centers to the charming small towns nestled among the region's lush forests and rugged coastlines, the need for practical and adaptable storage options is ever-present. Whether you're looking to maximize space in your cozy city apartment or seeking the perfect way to organize your sprawling rural property, we've got you covered. Join us at PortaBox Storage as we uncover storage solutions across the Pacific Northwest and share expert tips to help you transform your living and working spaces into organized, efficient, and clutter-free havens.
Maximizing Your Space: A Guide to storage solutions across the Pacific Northwest
Versatile storage solutions are becoming increasingly important in our modern society. As we accumulate possessions and our living spaces become more limited, finding a secure and convenient place to store our belongings has become necessary. Fortunately, storage solutions offer an efficient and practical solution to this problem.
By renting a safe and accessible place to store items outside the home or business, people can free up valuable space and ensure that their belongings are well-organized and easy to access. If you're looking for a practical and reliable storage solution in the Pacific Northwest, look no further.
In addition, storage solutions can also be beneficial during times of transition, such as moving or renovating. They allow people to pack and store their belongings at their own pace without worrying about the logistics of moving everything at once.
Portable Storage: On-the-Go Storage for Your Convenience
Portable storage containers are an excellent solution for individuals who need storage on the go. The company specializing in storage solutions across the Pacific Northwest will send a portable storage Boise unit to your nearby home, where you load up all your belongings and leave them safely locked away for as long as you want.
Having this option is particularly helpful if you live far from the center of town. One of the main advantages of portable storage is that you can use it for various purposes, including moving or temporary storage needs. When moving, portable storage containers allow you to pack and store your belongings at your own pace.
Time and cost-effective solution
The convenience of having your belongings stored nearby is the greatest advantage of using portable storage. You can save time and money by avoiding unnecessary trips with your belongings. Since they come to you, all you have to do is pack everything into the container, get free boxes, and label them. The job will be done when the containers are full and ready to travel. You won't need to invest much time, and thankfully, you will have no travel costs.
Most versatile storage option
In addition to moving, portable storage containers are useful for a wide range of temporary storage needs. For example, suppose you're renovating your home or business and need to move furniture and other belongings out of the way. In that case, mobile storage containers in Seattle offer a convenient and secure solution. Moreover, students often switching dormitories or flats benefit greatly from having access to a portable storage solution. Students can save time and effort each semester by keeping their possessions in a container during the summer. When it is time to transfer again, the container is sent to the new location.
Self-Storage: Your Secure Space Away from Home
Self-storage, however, has become more than simply a place to keep your possessions safe. Because of costs, many families are unable to upgrade to a bigger residence. Therefore, self-storage units serve as a de facto perpetual extension of their house instead.
Long-term storage options
Additionally, there are other ways to use storage for extended periods of time. Whether your home renovation is a long-term process, or you are a student who wants to avoid the hassle of moving everything back home during summer break or someone who is relocating the business. Self-storage for extended periods of time is a convenient solution for everyone's needs:
Yearly solution
Semiannual solution
Quarterly solution
Monthly solution
Potential clients who consider using their services will easily select the storage solution they need. If there is an unforeseen circumstance and you have to change your plan, remember they are versatile. So they can always modify your storage plan to meet your new requirements.
Storage for a variety of items
Another advantage of self-storage is that you can store a wide range of items. From furniture and appliances to clothing, and documents, self-storage facilities can accommodate a variety of items. If you have seasonal items like holiday decorations or sports equipment, Bainbridge island self storage can provide a safe and convenient place to keep them until you need them again.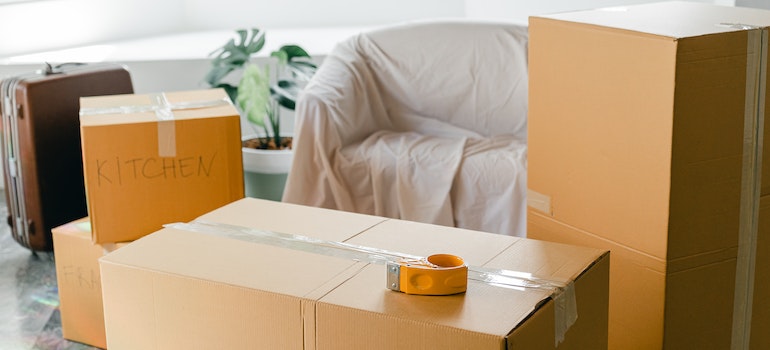 Business Storage: Professional Storage Solutions for Your Business Needs
Storage solutions are becoming more popular among businesses of all sizes because they are accessible. Also, they are tailored to meet the specific needs of individual businesses. Mobile containers are the perfect solution for business inventory, equipment, or documents. Also, these most useful storage containers come in various sizes to accommodate your goods, which is an additional benefit. Furthermore, the convenience and security of business storage Seattle services are topped up only by competitive pricing and excellent customer service.
Stash It with Confidence: Choosing the Best Storage Solution for Your Needs
Selecting the perfect storage solution for your needs is a crucial step towards achieving a clutter-free and well-organized space. By carefully considering factors such as available space, budget, accessibility, and security, you can confidently choose a storage option that meets your unique requirements. Remember, it's not just about stashing your belongings; it's about creating a functional and efficient environment that enhances your daily life. With the wealth of versatile storage solutions across the Pacific Northwest, you can rest assured that you'll find the ideal option to streamline your space and keep your possessions safe and secure, no matter your needs or preferences.