What are the risks of moving by yourself?
If you are about to relocate, you may be tempted to conduct a DIY move. However, performing a self-move isn't as easy as it may seem at first. Moving is one of the most challenging events one can experience in life, and it brings a lot of stress, especially if moving on your own. There are a lot of risks you can face while trying to complete the relocation tasks. That's why you should think twice before deciding to perform a self-move. Wonder what the risks of moving by yourself are? PortaBox Storage prepared the list of risks you may encounter when moving without professional help. Stay with us and find out more.
Everything you should know about a DIY move
Performing a DIY move requires detailed planning since you never know what unpredictable situations you may face. This means you have to start preparing for the move a lot in advance. Here's what you should pay attention to. First, you should gather all the necessary documents for the move. Don't forget that obtaining those documents requires some time, especially if you don't know which ones you need. Next, you should plan the packing. Usually, a DIY packing lasts at least three weeks before the moving day. Yes, it may sound like a long time, but with everything else you have to do, it would be impossible to manage everything in a short period of time. Once you've determined the date of your DIY move, you should set deadlines for your tasks day by day, week by week. While planning your moving timeline, consider the following things:
Consider the type of transportation: You can use a personal vehicle or rent a truck or trailer. In some cases, you may need a moving container.
Think about what kind of packing supplies you need: Plan what kind of packing equipment to buy and consider using the things you have at home, such as original boxes, suitcases, and other containers.
Check whether you need a moving permit
Think about what to do with your car: If it's possible, drive it yourself, or if not, find a shipping company.
Think about whether you need storage: Find portable storage for rent near me to store your belongings.
There are more things to think of when moving by yourself. No matter how well you plan the move, you cannot avoid risks. That's why you should hire professionals to help you with the relocation. If you still want to move by yourself, try to avoid the risks.
Common risks of moving by yourself
Moving by yourself seems to be the best way to be in control of the process. However, it is not as easy as it seems. There are a lot of risks that come with planning, packing, and moving without professional help. So, before you make this brave decision to move by yourself, make sure you're very well acquainted with the potential risks and think twice about whether a DIY move is worth the risk. Here are the most common relocation risks you may face if you decide to relocate without professional assistance:
Higher costs
Damaged items
Damaged property
Not enough time
Getting injured
Wrong or excessive equipment
When moving by yourself you risk damaging your items and property
The first and the most common risk you may face is definitely the risk of damaging your items and property. This can happen anytime – when preparing your items for packing, while packing, when carrying the boxes from one floor to another, when loading the boxes into a moving truck, but also when unloading the truck. Most damages happen due to improper packing and wrong packing supplies. When things aren't properly packed and loaded, they are likely to break during transportation. Besides, most relocations require some place for storing your items. DIY storage is definitely not a good idea since your belongings are prone to damage and theft. So, to avoid this risk you should consider finding adequate storage such as Bainbridge Island self storage and keep your items safe and secure.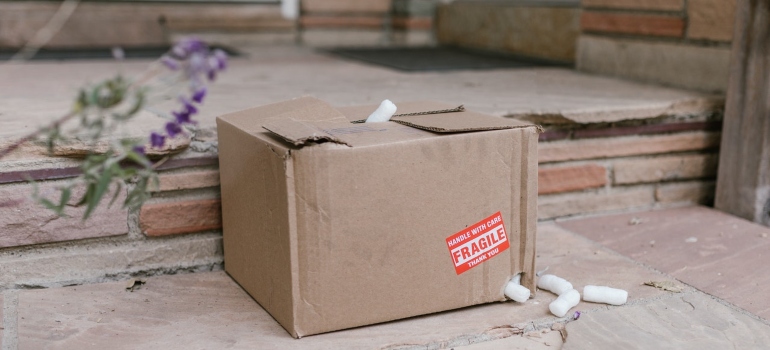 DIY moves may cost you more than expected
The biggest risk of  DIY moves is the one concerning the costs. Although it may seem that you will save money by moving by yourself, many hidden costs are waiting just around the corner. When moving by yourself, you actually have more expenses to cover than if you hired a professional moving company. You'll have to pay for packing materials, such as different-sized boxes, bubble wraps, bubble foams, tapes, etc. And what's more, you may buy the wrong ones or more than you actually need. However, these are not the only expenses you may have. Self-move requires separate expenses, such as renting a moving truck, hiring laborers to load/unload your boxes, and purchasing or renting packing equipment.
Besides, you may need storage to keep your items safe. If you don't hire a professional storage company, you risk paying more for storage services. So, choose smartly and use Seattle mini storage. These and many other additional costs may surprise you when moving by yourself. So, think carefully and plan your budget thoroughly.
You may get injured when moving by yourself
If you don't have professional help, you're risking injuring yourself as you lift and carry your furniture and boxes. Also, if you are not physically well-prepared, you'll get injured more easily. Without proper lifting techniques, you are more likely to get injured. You may sprain your back, damage your shoulders and knees, or you could drop a heavy box or piece of furniture and injure your feet or hands seriously. So, prevent moving injuries and hire professionals to handle your moving tasks.
Avoid the risks of moving by yourself and hire professionals
Although a DIY move has some advantages, you should avoid it. The best way to avoid all the risks of moving by yourself is to have professional help. With moving professionals by your side, your relocation will be organized better, your items will be packed safely, and you'll avoid or at least lessen the risks of damaging your items. Besides packing, loading, and transporting your items, you should pay special attention to where you keep them before and after the move. Luckily, finding proper storage is easy. Just contact us and use premium self-storage for all your needs.