What is the best storage for Marysville students?
Marysville is located in Snohomish County, WA. This city is home to some of the best colleges in the state, such as Everett Community College, Edmonds College, and known Washington State University Everett. When it comes to student life in Marysville we can say that this is a very interesting place, where students can find several housing options, like on-campus and off-campus life. So, if you are a student and plan to move to Marysville, but you at the same time need additional space in your student apartment you can use PortaBox Storage WA. Storage is always the best option when you need additional space, regardless of whether you live in a house, apartment, or student dorm. So, now we will help you to choose the best storage for Marysville students!
How to find the best storage for Marysville students?
Crowding in your student apartment, your belongings, belongings of your roommates, can be a very big obstacle to normal functioning. Even though you moved with you a minimum amount of only necessary things for your student life, over time the amount of things increases. And that unconsciously. It's enough to buy, for example, new glasses, new bedding, or new decorations, and there you have it, you'll already have the first problem. Where to put the old things that you no longer use?
In that case, you will try different space organizers, cabinets, and shelves. We can already tell you that it will be a waste of money, but also this isn't a suitable solution. Because those things are still in your apartment. That's why the best option would be to start looking for portable storage containers for rent near me. And now, we will help you with that.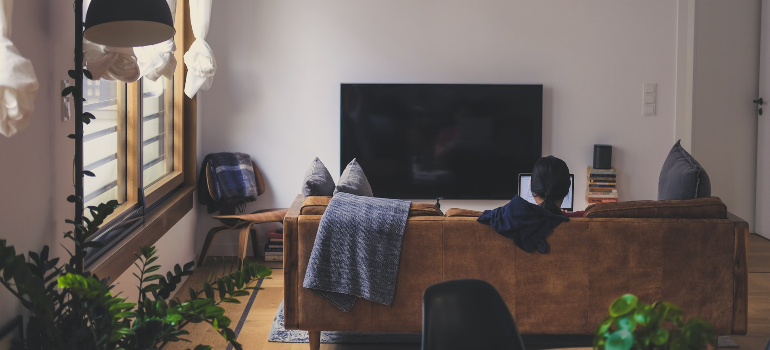 To find the ideal storage solution first you need to determine your need. That is the size of the storage as well as the rental period. You can determine the size based on the number of belongings, while you determine the rental period based on your stay in Marysville. After that, consider your budget. Storage is always the best option. Renting storage units is around $180 per month while renting a storage box ranges from $75 to $200.
What is the best storage option for students in Marysville?
Renting classic storage units is a good option when you need a large space. Therefore, they are mostly used during the period of moving, as a warehouse, for renovation, but also when it comes to storing things that you don't use that often. But even the search for a classic storage unit can take some time. Therefore, if you have decided to look for an ideal storage place, self storage Marysville WA tops the list. For students, this can be one of the best options, because renting is simple and it offers many benefits such as:
Saves time and money
Quick and easy access at any time
Fast delivery and pick up
Availability throughout the entire state
As you can see, everything works quickly and easily. There is no time wasted, considering various offers and looking at storage units. This is a quick solution, which will not take much of your time as a student.
How to rent the most convenient storage option?
One of the reasons why this is the best storage option for Marysville students is that they are available to you instantly. All you need to do is call and fill out a simple online form. You need to specify the number of containers, after which you will be able to schedule the date of delivery of the storage to your address. After that, you can start storing your things. To speed up storing your items, you can use packing services in Seattle relying on quality packing supplies and expertise.
Marysville is a great place for students!
Marysville is an ideal destination for students, thanks to its thriving academic environment and diverse cultural offerings. Known for its strong focus on education, this close-knit community ensures students receive a well-rounded experience that prepares them for future success. The city boasts a variety of extracurricular activities, fostering students' creativity and leadership skills, while its safe neighborhoods and ample green spaces provide the perfect setting for a balanced lifestyle.
Places to explore as a student in Marysville
Marysville's commitment to inclusivity and its vibrant local scene make it a welcoming hub where students can explore their passions and build lasting friendships. In addition, Marysville is about 35 miles from Seattle, which offers a variety of pastime activities. For example, you can visit the Space Needle, Pike Place Market, and Seattle Art Museum.
The Pacific Science Center is another excellent destination for students, offering hands-on exhibits and interactive displays related to science, technology, engineering, and mathematics. For those with an interest in aviation, the Museum of Flight showcases an extensive collection of aircraft, artifacts, and educational exhibits on the history and future of flight.
The Seattle Public Library's Central Library is an architectural marvel and a treasure trove of knowledge, offering a diverse range of books, resources, and public programs. Literature enthusiasts may also enjoy visiting the Hugo House, a center for writers and readers to attend workshops, readings, and other literary events. Finally, the Burke Museum of Natural History and Culture provides students with insights into the Pacific Northwest's natural and cultural heritage, featuring exhibits on regional archaeology, ethnology, and paleontology.
And if you decide to study in this city, you can also count on short term storage in Seattle. Our storage boxes are universal sizes, and you can pack a room in them. Also, you can always choose the number of boxes, and we will deliver them to you. The standard sizes of our boxes are 4′ 6″ wide and 7′ 6″ deep and 7′ tall (inside) and 5′ wide and 8′ deep and 7′ 6″ tall (outside).
Hurry up and rent your storage!
The key to finding the best storage for Marysville students is to evaluate your budget, desired location, and the features that matter most to you. Remember to prioritize safety, accessibility, and temperature control when making your decision. By following these guidelines, you can confidently select a portable storage facility that offers the perfect balance between convenience and affordability, allowing you to focus on what truly matters – your education and future success.