5 simple Seattle home improvements that will reinvent your way of life
Every home needs some change after a few years. We all tend to save more things than we use or need at this moment. Of course, its fine to be attached to the items that mean something to us, or that we use occasionally. But if you are wondering about some simple Seattle home improvements that you could benefit from, we have some ideas for you. You can use storage for all those things that you don't use at the moment. We strongly suggest you find the best storage company you can, and PortaBox Storage Seattle is just one of them. Hopefully, the right one for you and your particular needs.
What kind of storage is best when doing a home remodel?
The best you can do, if you are wondering about a kind of storage unit that is right for you, is to consult your storage company. This market is growing as well as the offer. So feel free to check with with your storage provider before you decide. You can explain the specifics of the items you want to put in there and they will come up with some ideas. And know that you can always ask for on demand storage Seattle. So keep your options open.
Since companies are trying to find the best solution for you, ask until you find what works. You can also ask them for storage pods Seattle based. It is the most logical thing to look for a storage company in a place where you live. That way you can get in contact easier and it can be cheaper for you to get your belongings to a safe and secure warehouse until you undergo your home reparations or some remodeling..
Here are 5 simple Seattle home improvements you can easily do
The spring is coming and it wakes up the need to reinvent our way of life.  We are here to show you that it doesn't have to be expensive or last very long. With a few tricks, you can make a  change. The first thing is to get rid of all the things you don't need this season. One of the ideas you can try is to start with storing your winter sports equipment. Make a list of everything that you can put to your unit and start decluttering.
Use that spare paint that is in your garage for some time
The majority of us have an extra can or two of paint that lies around. So this can be a perfect time to use it. Small changes can have a huge impact, so you can use them for painting your front door. You can be really surprised by the dramatic difference that one freshly painted door can make. There are also other options. You can use that spare gallon to paint an old piece of furniture and make it modern again. You can also paint that accent wall that waits for you in a while.
Spring is just the perfect time to start experimenting with colors. You can make some bold choices finally. Even if you find out that you don't like it, you can always change. If you have left only a small container of leftover paint, you can touch up scuffed paint and trim it around your house. A fresh coat of paint can make the whole home look cleaner in a minute.
Begin with weeding
Everyone who has a backyard should take advantage of it with the first sunny days. So start with clearing off your lawn. Remove any branches or debris that has been piling during winter months. After that, check all the weeds in the lawn and garden beds. You may need some specially designed metal weed scraper for that pesky weed that grows between patio pavers or bricks. If you have enough time for this, the weeding can be relaxing and even cathartic.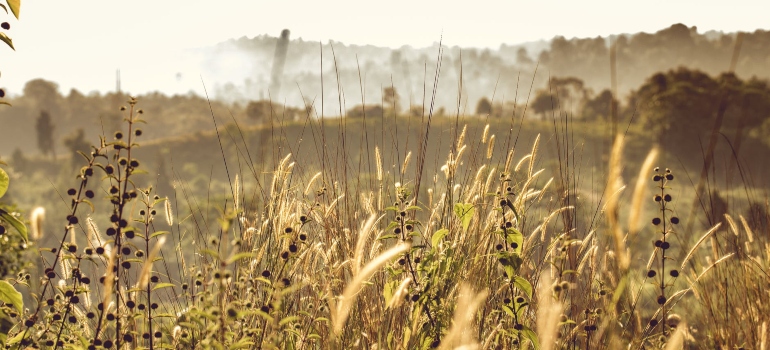 Start your own garden
The interest in growing our own food is growing. Whether you have a huge backyard or just a sunny windowsill, you can start your home garden now. If you don't have any previous experience, start with something easy to grow, like rosemary, mint, or parsley. If this is the first time you are doing something like this, find some help. Or you can read a month-by-month gardening guide for the vegetables you can plant during the year. You can start transplanting some crops that enjoy early spring, like radishes and spinach.
Hang up artwork on your wall
One thing that we all tend to postpone is to put artwork on our walls. Yes, we all know that this is not essential and this is the reason why all procrastinate within infinity. But if you made a choice to make some simple Seattle home improvements, you know that this is the time to finally do it. Take your artwork or photographs to the glass cutter to frame them all and then finally take some time to decide where they will make the best impact on your space.
One of the simple Seattle home improvements is to fresh up your furniture
Among home maintenance tasks that we all know that should do regularly, there are those that we all tend to put off.  Dry wood furniture needs some special care and cast iron skillet that should be repeatedly done every season.  You can oil your wood cutting boards and furniture and clean and condition leather pieces.
We listed for you five of our favorite yet simple Seattle home improvements that will fresh up your home and your life. As you can see, you don't need much money or even time to make a difference in your space. Even small changes will have the effect of reinventing your life and you will get some new energy. That is really appropriate for springtime, so you know you will enjoy it. So start planning as soon as possible.