The benefits of self storage when moving out of state
There are many situations where one would need to rent storage. Of course, keeping excess items that cannot be stored at home is the most common reason why people rent self storage. People also use it short-term during home renovations and similar situations where a home needs to be emptied. Relocation is also one of the most common situations where people look for storage. But what are the benefits of self storage when moving out of state? In what way can renting self storage help you during such a process? PortaBox Storage Seattle will show you. Keep reading to learn more.
Stage your home for sale by putting excess items in self storage
Selling a home is not an easy task. If you want to do it right, meaning that you do it fast and get the right amount for it, you need to make sure that your home looks as appealing as possible. Still, staging a home for sale is not something that everyone knows how to do properly. That is why you have professionals that you can hire to help you prepare your place for potential buyers. However, not everyone is ready to pay professionals just to make their home more attractive to buyers.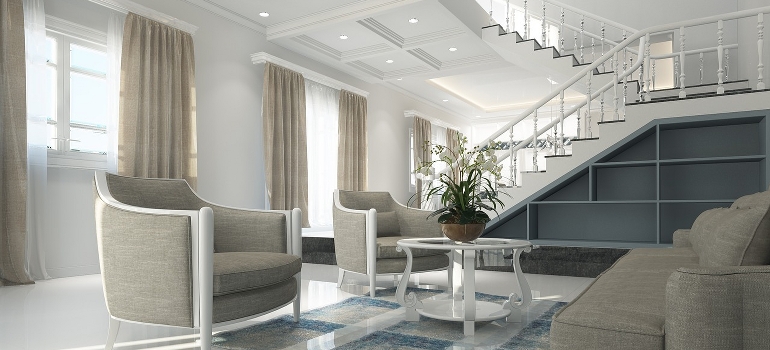 If you are feeling the same, do not worry. There are a few easy things that you can do to make your home look nicer than it already is. Of course, the most important part is to declutter. Not only that your home will look nicer but it will also look more spacious. But what to do with all the items that you need to get out of your home? The answer is renting self storage.
If you are living in the Seattle area or anywhere in the Puget Sound area, rent a reliable Kirkland self storage and keep the excess items there until you manage to sell your home. Once you do it, pack your home and arrange with your movers to pick up the stuff from storage and you are ready to go. That is one of the benefits of self storage when moving out of state.
Keep your items safe until you find a new home
Another benefit of renting self storage when moving out of state is that you can keep your items there until you find a new home. Unfortunately, during a move, things are not going perfectly all the time. Sometimes it can happen that you sell your home before you find a new one. Where will you keep your items until you buy or rent a new place? The only solution is to use some of the PortaBox storage services. Pack your home, call a storage company to pick your stuff, and get it once you find a new place for yourself. Of course, make sure that you find a reliable storage company that has a modern facility in which your items will be safe.
Put your most valuable and fragile items in a safe place until you are ready to move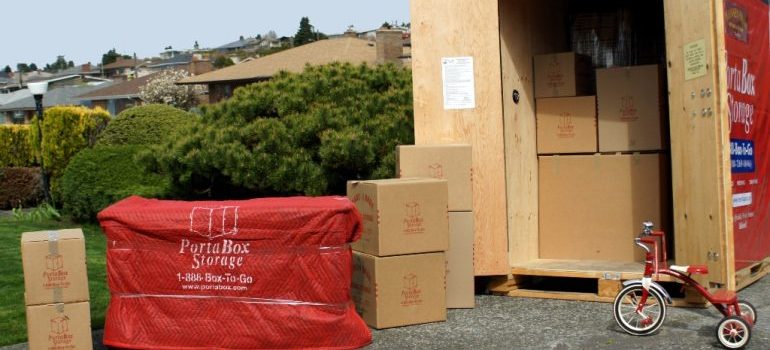 Moving is often a chaotic process. And in such situations valuable and fragile items can easily be damaged. To ease the process of packing and keep the most valuable and most fragile items safe you can rent Seattle mini storage. Deal with those items first, get them out of your way, and you can pack the rest of your home without thinking and worrying about the items that are most valuable to you.
Put away your most private items if you are hiring professional packers
There is another advantage of renting a storage unit when moving out of state. If you are hiring packers to pack your home for a move, maybe you are not feeling comfortable with strangers going through all your items even if they are professionals. In this situation, renting a portable storage containers and getting your items there before packers arrive is a perfect solution.
Move your items to storage first and then take your time arranging your new home
When you are moving out of state,  many times it happens that you haven't really seen the new place with your own eyes. In that situation, it can be difficult to make furniture arrangements and see what fits where. If that is the case. The best solution is to move your items to storage first. This way you will have more time to slowly arrange your new home and find a perfect place for every item.
Moreover, if you see that certain items are not good for your new home, you can leave them in self storage until you figure out what to do with them. And there are many ways in which you can get rid of old items. You can organize a garage sale, sell them online, sell them to used furniture retailers, donate or even recycle. The good thing is that self storage will provide you with enough time to make the right decisions.
Just make sure that you are putting your items in a good storage facility
The only problem using storage during an interstate move is that you do not have a lot of time to search for reliable storage companies. Unfortunately, there are many inadequate storage facilities in the state of Washington. And you need to be very careful when renting storage space.
You need to make sure that they offer dry and clean conditions. And you need to make sure that they have a good security system. Of course, the easiest way to find good storage companies is to use the internet and read a lot of reviews. However, it would be best if you could visit the facility in which you plan to keep your items and see them for yourself. Unfortunately, that is not always possible during a move.
Self storage is beneficial in many ways
As you can see, there are many benefits of using self storage when moving out of state. Of course, it all depends on the situation you are in. And whether you manage to find good storage within a short amount of time. Nevertheless, if you pay your cards right renting self storage can make your moving process much easier.