Guide to storing away winter clothes
The spring equinox has passed, which means warmer weather and the summer are just around the corner. Of course, a change of season also means some changes in our lives. From clothes to duvets, hot weather will force us to switch to a completely new wardrobe. This change is often difficult when you are limited in space. Having winter items for months when they are not needed can cause a lot of annoying clutter. And some people simply don't have room to sacrifice. That is why it is really important to know what is the right way of storing away winter clothes.
How to store winter clothes and items
Although this may seem like a lot of effort, storing your winter clothes can save you a lot of space. And not to mention that it can greatly simplify your daily life. Instead of constantly moving sweaters to the side to get to your t-shirts, you will find that you have much more space and organization in your wardrobe and PortaBox Storage.
It is also important to make sure that all your clothes and other winter items are stored correctly. Fabrics may fade, discolor, and lose shape if stored improperly. Not to mention dust, mold, and damage caused by moths and other storage problems. To keep everything in good condition and ready for use next winter, here is our simple winter clothes storing guide.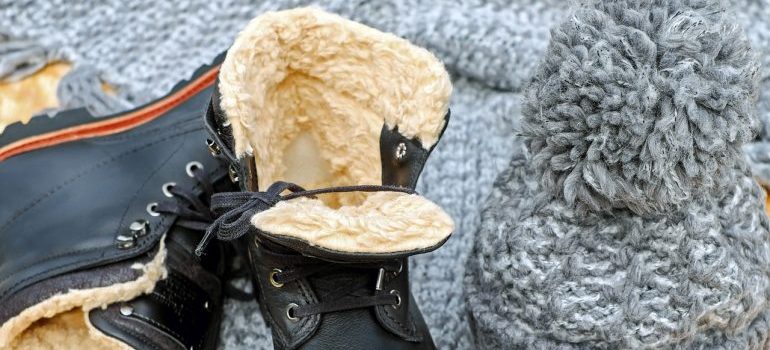 Make an inventory list
Before you begin, it's important to take an inventory of all your winter items that you won't need to access for the next few months. An inventory of all your winter clothing and accessories means that you can plan the time and storage you need. Choosing the right storage container and dedicating enough time are probably the most important parts of storing winter clothes. Without a plan, you run the risk of running out of time or storage and leaving work halfway.
Clean everything
Washing and cleaning all your winter storage items is extremely important. Keeping something dirty is a one-way ticket for mildew and even mold, and moths love unclean fabrics. Even clothing that is mostly clean can contain residual oil from deodorants and perfumes that can discolor objects and leave them smelling stale when it comes time to unpack them again. In addition to washing clothes, make sure they are completely dry before packing them.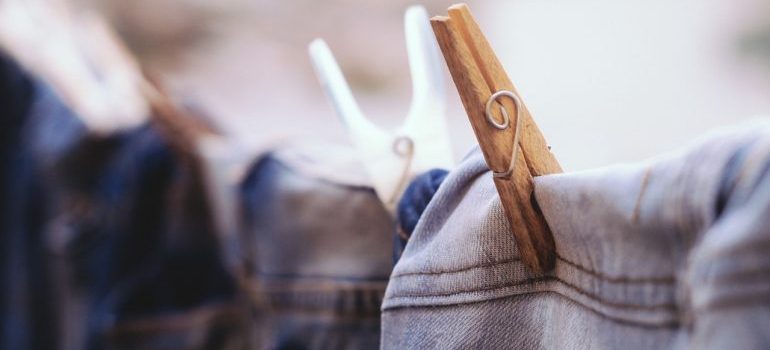 It is also a good time to sort out your clothes and declutter your wardrobe. Get rid of everything you don't wear anymore, and make a donation box that you can leave at your local charity. If you find anything that is damaged, either set it aside to fix it or dispose of it.
Extra tip: Cleaning is good, ironing is bad. Although this may seem like the logical next step, avoid ironing or starching anything before storing it. You risk loosening fibers that can become deformed or even torn.
Get the right storage for storing away winter clothes
Sealed plastic storage, whether it be solid plastic containers or plastic bags with zippers, is usually the best choice for Newcastle self-storage. While plastic vacuum bags can be attractive because of their compact design, many fabrics, such as wool and natural fibers, need air to breathe. When it comes to packing, do not overdo it and leave a gap for air circulation.
If you store something particularly delicate or want it to be stored for a longer period of time, it is ideal to use natural fabrics, such as cotton storage bags. However, in the short or long term, try to avoid wooden, paper or cardboard boxes. All of these materials are more susceptible to water and moisture. And may also contain chemicals that are harmful to some fabrics.
Extra tip: use opaque storage boxes, because transparent ones will let in light that can damage, fade, and discolor your clothes.
Get extra protection
It may be tempting to hang delicate and expensive items in plastic bags for dry cleaning, but this type of storage can damage your clothes. Plastic can retain moisture and prevent fabrics from breathing, which can lead to yellow spots. Instead, use cotton bags for everything that needs to stay hanging.
For delicate items and other fabrics, such as natural fibers, that need to be folded to maintain their shape, you should place a layer of acid-free tissue paper between them. Ordinary acid-free tissue paper will do, or buy some specialized scented paper to help keep your clothes smelling fresh.
Finally, get moth protection for all your clothes. Instead of traditional mothballs that may contain harmful insecticides, you can easily and affordably make your own moth repellents with some cotton or muslin bags and lavender. You can also buy lavender sachets or cedar balls as an alternative. Bonus: they smell great too.
Keep the clothes cool and dry
Once you have packed everything correctly, make sure that you store everything in a cool, dry place. Direct light and a bright environment can lead to fading and discoloration of clothing, while dampness anywhere leads to mold and mildew. Keep the area clean and free of dust to prevent stale clothing from appearing during the winter season.
Extra tip: keep your clothes off the floor and away from wood that contains acids that can damage fabrics for a long period of time.
Short on the storage place?
After some winter shopping and a bunch of Christmas presents, you may have more items than last year. If you are especially short of space in your own home, then a small storage unit is the perfect way of storing away winter clothes when you don't need them. At a surprisingly affordable price, you can free up much-needed space in your home, from short-term seasons to long-term seasonal needs. Contact us today to find out more.