Guide to optimizing your work-from-home space
Working remotely is certainly not a new concept. It has always been on a slow rise, but in the past few years, it really saw rapid growth. And, working from home is very appealing as well, for many reasons. First, it offers more flexibility and saves you time in terms of your daily commute. And then there's the fact that you can feel more comfortable in your own surroundings. This, in turn, was shown to largely boost productivity at work. This is one of the main reasons why most employers agree with allowing their employees to work remotely. However, productivity is only possible after fully optimizing your work-from-home space. PortaBox Storage is here to help you out. With a good mindset and surroundings, it is very easy to get those creative juices flowing. So, let's see what you can do to set yourself on the path to success!
Optimizing your work-from-home space begins with understanding your needs
When it comes to working from home, everyone has different wants and needs. The main question you have to answer is what is it that inspires you? What really gets you going on a creative marathon? The answer lies in your surroundings. The first thing to do is to set up a dedicated office space in your home. Even if it is just a corner of your room, it is a good start. This space needs to reflect who you are. It needs to be a place where you feel at peace and a place where you want to go daily. Now, everyone has their own idea of a perfect office, but these are some general things to keep in mind:
Always keep everything neat and organized
Try making different "workstations" for different types of work
Let in plenty of natural light
Decorate your space with items that inspire and relax you
You should also make sure that you aren't limited in your home. It's important to have all the essentials of your office at hand. This includes things such as a reliable computer, a stable internet connection, and a functional desk. If you don't have room in your home for these items, you can leave some of your household goods in the safe hands of Mill Creek self storage. The good thing about creating your own space is that you have full freedom to decide exactly how it looks like. Optimizing your work-from-home space to its full potential is a great way of staying inspired and creative.
Limiting distractions improves focus and boosts productivity
One of the biggest problems of working from home is all of the distractions that may catch your attention. Even though comfort is very important, getting too comfortable can have a negative effect on your productivity. Household chores, family members, and personal emails are all things that can easily divert your attention from work. Even though optimizing your work-from-home space away from all these distractions can be a good idea, you still need to go further and limit their chance of sidetracking you. Together with a minimalist office design, you can set yourself with specific working hours. Dedicating a certain amount of time exclusively to work leaves you with plenty of free time later. This way, you can focus on your work with enough flexibility and determination, and make sure that nothing makes you go off course.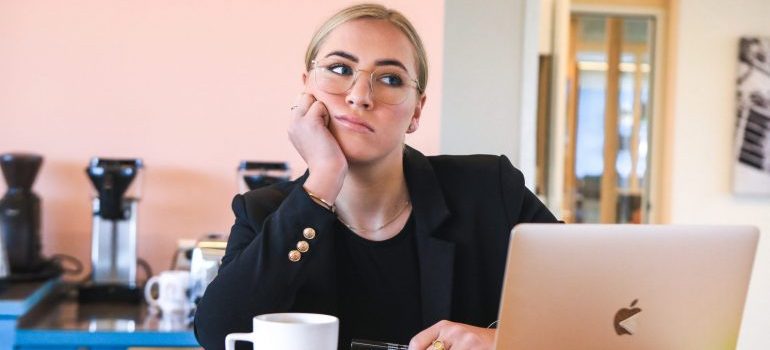 Now let's look at what you can do to limit distractions in the workspace itself. The first step is to maintain a clean and organized work area. Although it is good to surround yourself with a few personal items that calm you and bring happiness, don't fill your workspace with too many trinkets. Having various non-work items may lead you to often reach for them, causing distractions and damaging your productivity. To limit your access to these items, consider moving them to another part of the home, or better yet, into a Newcastle self storage unit where they will be safe.
Lastly, add natural colors to your home to boost creativity. Bright colors such as teal, light blue, gray, or blue-gray are good for motivation. Paint your home with them, or add them to your office as decor.
Use nature and scents as a source of valuable inspiration
Unless you find ways to always stay inspired, comfortable, and relaxed, working remotely can quickly become quite stagnant. Especially if you're trying to isolate yourself from family members or roommates, or if you are easily distracted. The best way to reignite your creativity and de-stress is to draw inspiration from the nature around you. There are plenty of ways to do this, and having a few live plants in your workspace to make you more energized and calm is one of them. Not only is having plants in your home good for the air quality, but it also provides you with a surprisingly calming effect. With plants surrounding you, you can easily boost your productivity by up to 15%, according to performed studies. With a bit of calming greenery, your mood will greatly improve, and with it, your performance.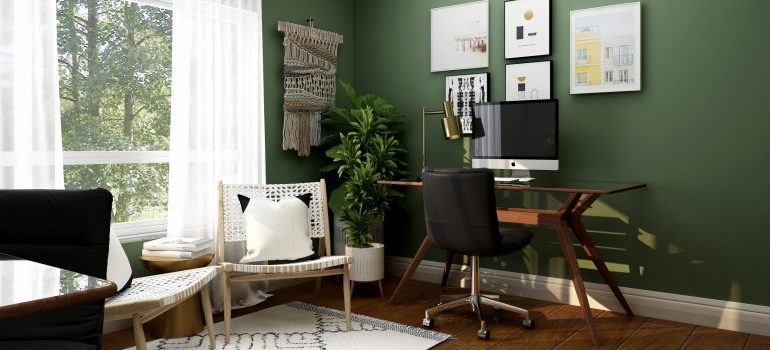 Another great way to calm yourself and maintain focus is the aid of various scents and smells. If you chose to enrich your office space with plants and flowers, you can boost this with various oil diffusers, incense burners, scented candles, and wax melters. Your sense of smell can play a big role in optimizing your work-from-home space. Naturally, you may have to experiment with scents in order to find the ones that work the best for you. Vanilla and lavender, for example, can provide a calming effect. Citrus scents such as orange and lemon can be a great energy boost. Alternatively, you can simply wear cologne or perfume you like. Your favorite scent can have a very positive impact on your mood, which will in turn boost your creativity and productivity immensely.