Guide to storing work tools long-term
If you're someone who uses a lot of tools at work, one thing is certain; you'll need a proper place for storing them. And that's particularly true if you're moving to a new home; after all, you'll probably need some sort of safe place to keep your tools long-term, regardless of where you're living. Plus, if there's a lot of them, they're probably taking up way too much space in your home. But don't worry – storing work tools long-term isn't as difficult as it seems; you just need to prepare for the process properly. After you find the best portable storage containers Seattle has, you'll need some tips on properly preparing your tools – and that's why we're here! 
Getting ready for storing work tools long term
So, you've decided  – you're going to keep your work tools in your storage unit. And you intend on storing work tools long-term, which means that you'll probably need to make some adjustments, right? As you're probably thinking about right now – you're going to need to set your priorities straight if you want to ensure that nothing bad happens to your tools. Is there anything that you need to do in order to keep those tools in proper condition? Certainly. And it starts with renting proper Bainbridge Island self storage.
The last thing you want is to keep your tools in subpar storage; that's a surefire way to quickly degrade them and leave them exposed to the elements. Instead, you need to be certain that you're dealing with the very best facilities that you can find, such as those provided by PortaBox Storage. Of course, a quality storage unit will only get you so far. Apart from that, there are certain preparations that you need to make for the tools themselves. 
Cleaning and drying thoroughly
Before you begin packing your stuff for storing work tools long term, there's one thing you'll need to do first; and that's cleaning them thoroughly. And this is something you absolutely must not forget to do. If you disregard the cleaning and leave any plaster or dirt on the tools, it won't be long before the metal parts of the tools become rusty and useless. Also, after the cleaning process is done, you need to completely dry the tools before proceeding to store them. And this is true even if you're only using Seattle mini storage temporarily; if you don't dry out your tools completely before storage, rust can be an issue even after a couple of days. 
Sure, there are tools made from materials impervious to rust. But even those should be cleaned before storage; do you really want to have to go through thorough cleaning after taking them out? If you store work tools long-term without removing dirt, it will only harden over time. Soon enough, that job will be far harder than it has to be. And you don't need any special chemicals to do this either. For starters, a damp rag will be enough to wipe off any surface dirt. And if there's already hardened dirt on the tools, find some vinegar and rub it in; it'll do a great job of breaking it up. Finally, absorb leftover moisture with a clean, dry cloth. 
Provide thorough lubrication
Once you're done cleaning, you're not ready for storing work tools long-term just yet. There are a couple of other things you need to do first. If you want to maintain your tools for a long time, you should separate all of the tools that have metal parts (which is basically all of them) and apply a small layer of lubricant to them. There are plenty of (quite literal) bumps in the road to storage. You don't want your tools to be scratched or damaged. Interestingly enough, a small amount of lubricant will help a lot in that regard. And when it comes to the actual storage process, the lubricant will shield your tools from any pesky moisture, if it finds its way into your storage unit.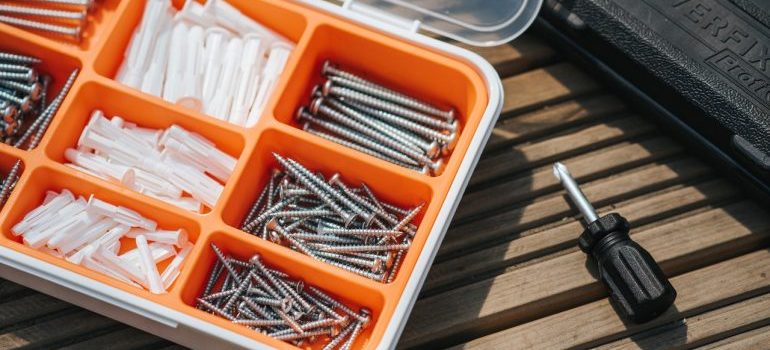 Find some spray lubricant or good old-fashioned machine oil, and apply them to a soft cloth. Then, start wiping down your tools generously until you create a layer on all of the metal parts. Finally, lay the tools on clean rags once you're done; you don't want any dirt sticking itself to the lubricant.
Use clean cloths
Okay, so your tools have been lubricated, cleaned, and dried – all that's left is to actually pack them. But storing your work tools long-term means that you need to provide them with ample protection; even if they're going in a secure storage unit. Sure, you could just leave them on the floor of your storage unit; but we probably don't have to tell you that this is a bad idea. Heck, even a cardboard box isn't sufficient protection when we consider longer time spans.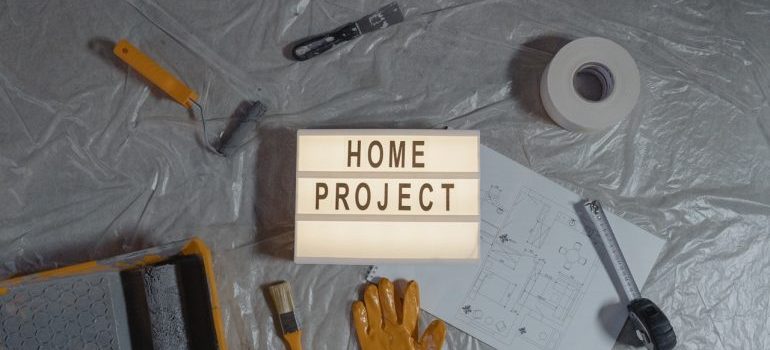 If you just put them in a random box, some moisture is likely to be an issue after a while; leading to long-term damage. So, to do this, we recommend wrapping every single one of your tools in cotton clothing. That way, you won't have to worry about random scratches even if you move the tools around over time. Plus, cotton is a great material for keeping any potential moisture away from your stuff. So, wrap them and then place them inside a toolbox or a sealed plastic container. The latter would be just as good, seeing as no air will get inside.
Wrapping Up
Once you've prepared yourself for storing work tools long-term, make sure to check up on them from time to time; especially the tools that you don't often use for work. Even in perfect storage conditions, there might be something that you've missed.