Guide to unpacking your self storage container
After you have finished moving, you are well aware of how stressful and overwhelming moving can be. Even after you've finished all the detailed tasks that organizing a moving process involves, you are still not done. When the movers relocate you to your desired location, it's now time to settle into your new home. But before you unpack the items from temporary storage Seattle and start decorating your living space and placing your belongings, there are some things you need to take into consideration. We have written this guide to unpacking your self storage container to help you unpack in the easiest and most efficient way possible. So, before you pack, you might want to know about these guidelines.
Most important things to consider before you start unpacking your self storage container
You probably can't wait to finish with the moving tasks and begin your new life in your new home. However, it may pay off in the long run if you take extra time when unpacking your belongings that have been stored. In order to help you to unpack in the best way possible, we formed a chronological step-by-step list. So, to efficiently unpack your stored items you should:
Check all the boxes to see what you are dealing with – doing this right after the company opens the storage for you is essential
Sort your boxes – make an unpacking plan by sorting the boxes that you are going to unpack first
Know what to unpack first – is a crucial thing. It will save you a lot of time and nerves.
Counting your stored possessions should be first on your list
The first thing you should do when the storage company delivers your stored items from heated storage Boise is to check the boxes, pieces of furniture and other belongings you have stored. If you don't have an inventory list at hand a quick count should be your first task. If you have mostly cardboard boxes, it should be easy but if you have miscellaneous items devise a starting system before you go further along.
Sorting your stored boxes can greatly help you while unpacking your self storage container
Of course, it would be very unpractical to take out all of the boxes from door to door storage Seattle before having a sorting plan at place. It is not uncommon to see people tackle the unpacking process in a hurry and without a clear plan. However, it's best that you plan on which items you are going to unpack first and look for those boxes.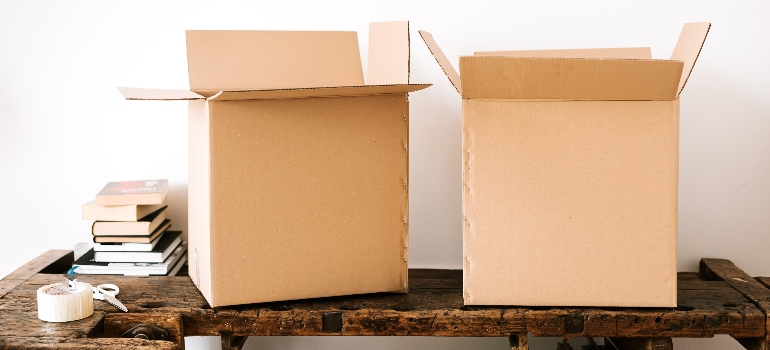 Just like when you were packing up, it will be of great help to develop a system when unpacking your self storage unit. It's never good to just randomly open the boxes. Organize your unpacking process by room and think of the items you are going to need first.
Knowing what to unpack first
By this point, you will realize just how important it is to label your boxes. As we mentioned above, it's best to take out the boxes that you are going to unpack first. But how do you know what's best to unpack first? Luckily, our guide has the answers. For example, it would be good to start with unpacking daily necessities.
Unpack the necessities first
What are you going to need for the first day and the first night in your new home? It will probably be clothes, pillows, mattress and bed sheets, toiletries and of course, come the essential kitchen supplies. It's best to stick to the basics first and not to worry about more complicated tasks like putting together the bed frame or assembling your furniture.
Moving on to unpacking the kitchen
After you finish unpacking the things you need the most, it's best to move on to the kitchen supplies. It would be best to have a fully unpacked and ready-to-use kitchen as soon as possible. You will surely want to have a nice home-cooked meal after all the stress from moving.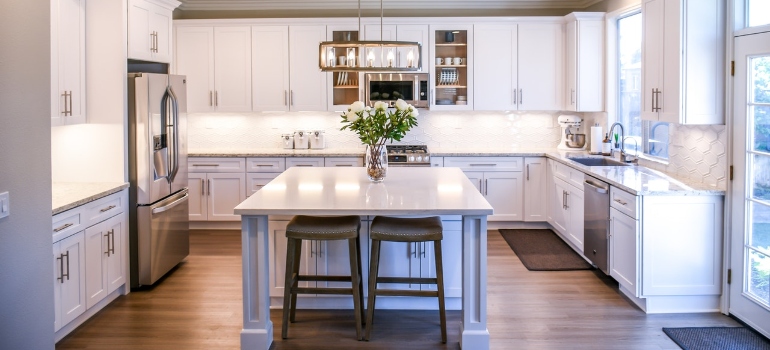 Unpacking the bedrooms and bathrooms
Work on setting up the bedrooms and bathrooms after you finish setting up the kitchen. You probably already took out some towels and toiletries for your first day in the new home, but now it's time to finish up. Start by cleaning the bathroom and then put away all your bathroom items. Next, move to the bedrooms and put your clothes in the closet.
After that, it's time to assemble your furniture. This can be a tricky task and therefore we recommend hiring professionals to do it for you. But if you wish to assemble the furniture yourself, we advise that you take your time to read the instructions if there are any. On the other hand, you can always ask someone to help you with it. Maybe a new neighbor? It would be a good opportunity to meet someone from your new neighborhood.
Save outdoor belongings for last
If you followed our tips and started unpacking your self storage container the way we suggested, all that should be left to unpack are the things that go outside. That is, the belongings you will put either in your garage or your backyard. Most of the items you will put there are not essential and you can unpack them last. You can take all the time you want to unpack them. Hopefully, after reading this article, your unpacking will go smoothly and without any inconveniences.