How self storage helps your home rental endeavors
Are you thinking about renting out your home? Or maybe you are in search of a rental that can meet all your needs? It is possible to make both of these situations much easier in just one step – by getting Newcastle self storage services. If you've been reading our blog carefully, then you already know that having a storage unit comes with many benefits. That's why, in this guide, we are going to mention one more. If you keep reading our article, you will learn how self storage helps your home rental endeavors and makes them way simpler. You will see that renting out a home or finding a rental doesn't have to be stressful and nerve-wracking. In fact, it can be pleasant and problem-free.
Thinking about renting out your place?
For many, renting out a property is one of the best ways for growing wealth. When owning a rental property, you get to make passive income and there are no investments other than the initial one. Of course, you are going to invest a bit in your home and make it look better so that you can find tenants quickly. If the budget allows you, you should opt for a modern and elegant design since it is one of the most popular ones among tenants and tourists who are in search of rentals.
Research things and look for important info about renting properties and how to attract new guests. If you want, you can even opt for placing your home on Airbnb instead of finding someone who will live in your home for a longer period of time. Master home staging with self storage and you will see how quickly you will find new tenants. Plan things the right way and you will start making money in next to no time.
Problems you could face while dealing with tenants
Although owning a property can help you increase your income, it can sometimes be very stressful and full of problems. There's a big chance you will have to deal with most of these problems, especially if you're new to all of this. Here are some of the situations you might find yourself in.
Your belongings might get damaged. You never know what kind of tenants you are going to find. Some can be really messy and ruin your expensive furniture. That's why you should place your valuables in Everett self storage.
Your home might get damaged. Apart from damaging furniture, your home might get damaged as well. Make regular checkups to see if everything is ok in your home.
Some of your items might go missing. This is probably the worst-case scenario but it can happen. Again, store your important furniture and you won't have to worry if someone's going to steal it. This is a perfect example of how self storage helps your home rental endeavors.
Is it true that self storage helps your home rental endeavors?
Whether you choose to get a long-term or temporary storage Seattle, you will see many benefits of doing this. The most important thing we need to point out is that you will keep the stress away from renting out your home. It is up to you whether you will rent out your home furnished or unfurnished, but you need to store all of your important items. This will give you peace of mind and you will feel much better when renting out your home.
Looking for a perfect rental for you and your family?
So, we've seen how self storage helps home renters and landlords. The great thing is that it can also help those who are in search of home rentals. Today, finding rentals is super easy. You can either do it online or in person. There are many housing options so everyone can find a home that meets their needs. Once they find it, all that is left for them is to pack their belongings with quality packing materials and move.
But, should they store some of their belongings before the move?
Problems you could face while on a home hunt
Moving to another place comes with many upsides and some downsides. Below, we've listed some of the problems you could face while moving from one home to the other. Take a look at it and see for yourself why you might need to get a storage unit first.
Your landlord might not allow you to move all of your furniture. This happens all the time. Some landlords want to keep their place just the way they left it.
There might be no room for all of your items in your rental home. Is your new rental already furnished? If so, there might be no room for all of your belongings there. Instead of creating clutter, store some of your belongings.
With more stuff to move, your relocation will be pricier. This is true and you need to keep this in mind if you need to move on a tight budget. Make sure to learn how to manage your money before your relocation.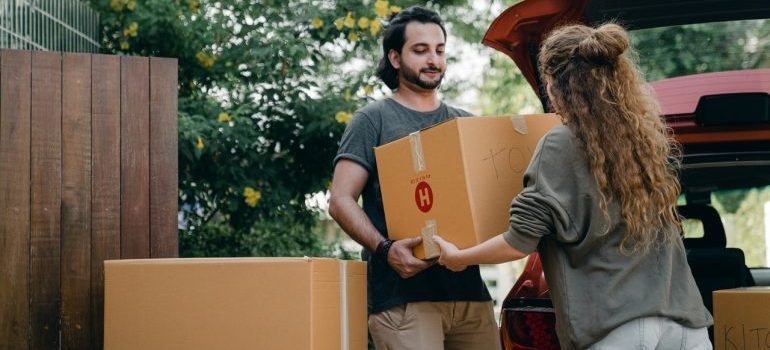 Now you know how self storage helps your home rental endeavors
All of these problems will disappear if you opt for renting a storage unit that meets all your needs. If you are not sure whether you should store one item or not, store it and see in a month whether you did the right thing. Keep in mind that you can always donate extra belongings from self storage in case your storage unit becomes a bit tight and filled with clutter. There are really many options when you have a storage unit. So, it's true that self storage helps your home rental endeavors. What you need to do is weigh the pros and cons of renting one and see whether you are going to get it or not. If you ask us, we say you should go for it!