How to declutter your self storage unit properly
When you rent a storage unit, the easiest thing to do is simply dump all of your items in it and forget about them. After all, that's what a storage unit is there for, right? To make more room in your home, and stash away unwanted items. Sometimes storage is used as a temporary solution while you're moving or renovating your home. But what happens when the amount of stored items get out of hand, and chaos takes over? In times like these, you have to step up, focus, and declutter your self storage unit. Now, for a lot of people, decluttering can be quite intimidating. The number of items to go through and the mess of boxes and tubs just seems endless. But luckily, PortaBox Storage Seattle is here to make things easier for you! With our help, you'll learn how to declutter your storage like a pro!
Before you declutter your self storage unit, make a detailed checklist
Before you do anything, you need to have a game plan in mind. First, decide what you want to do with your storage unit. Do you want to clean it up a bit and make room for new items? Or do you want to completely clear it out and cancel your lease? Whatever the case may be, a good first step is to make a detailed checklist that you can work with. Once you have a list and a timeline in mind, it is time to think about self storage West Seattle and get to work. Our recommendation is to start by removing everything from the unit, and writing down what you have. When a self storage unit becomes overcluttered, it is easy to lose yourself in the sea of boxes. Cataloging the pile helps you get a clear image of what you have, and helps plan the next steps.
Work your way up from the easy tasks
If you want to reach success, you have to start somewhere. Given how overwhelming decluttering your storage unit can be, it is a good idea to start small. By tackling easy tasks first, you will gain the much-needed confidence which will help you push onward. Start with the boxes of clothes you have lying around. Inspect them, and if they're in good condition, donate them to a local charity. Once you sort out a few boxes, you'll feel better about yourself, and the progress will be visible. Storage units and mobile storage containers Seattle are very often used for safekeeping paperwork. If you have a bunch of paperwork, separate it into two piles: keep and recycle. Old magazines and newspapers can immediately go into the recycle pile without much thought. Bills, tax documents, and other personal data should be kept just in case you need them at a later point.
Take your time with bulky items and large boxes
When it comes to decluttering your self storage unit, one of the toughest things to go through are big items. Here, we're talking about large boxes filled with miscellaneous items, or drawers full of clothes. The process of sorting through each and every box can be very draining. And this is exactly why so many people avoid decluttering, to begin with. This is where a good timeline can really help you out. We advise sorting through one large box every hour. If you do this, you'll have a  good way of marking your progress, and you'll remain motivated. Just like with the clothes, you can make keep, trash, and donate piles of clothes for easy processing. Keep in mind that sometimes these tasks can be overwhelming without professional help. Relying on experts will help you overcome psychological hurdles, increase your efficiency, and prevent future decluttering.
Schedule self storage unit decluttering sessions for the future
The most common reason for renting a self storage unit is the inability to let things go. However, this is exactly what leads to your unit becoming cluttered over time. We frequently have a habit of saying "I might need this one day", and then forgetting about the item in question after storing it. Clothes that don't fit us, flickering lamps, and old newspapers. As time passes, the "out of sight, out of mind" mentality takes over. Soon enough, your storage unit is full of junk, and you're back to square one. Sticking to a routine helps avoid bad storage experiences. Even if you think your storage unit isn't that cluttered, don't skip the cleaning session. This way, your storage unit will be clean, neat, and organized at all times.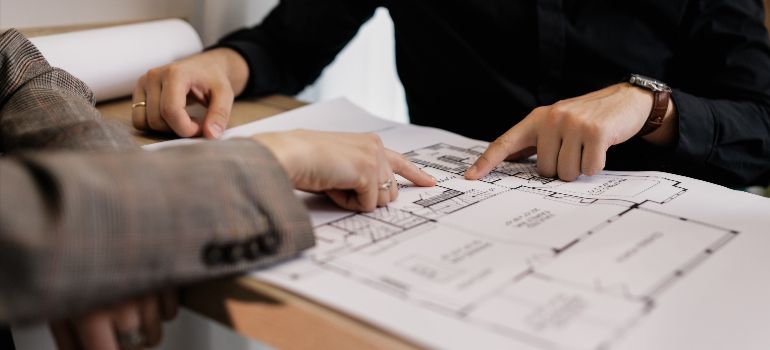 Keep your storage unit organized at all times
Once you completely declutter your self storage unit, your next goal is to make sure it stays that way. As we just mentioned, a lack of organization can quickly lead you back to the starting point. So, once you fully clean out your unit, work on ensuring that it stays organized in the future. Make a detailed inventory list of what you currently have stored, and update it as necessary. Labeling your boxes is another great way of organizing. Once you declutter and repack your items, write down the detailed list of contents of each box or tub. This prevents you from digging through random boxes looking for one specific thing. Lastly, make a detailed map of your storage unit. Separate your items by type or purpose, and regroup them within the unit. Then, mark them on your unit's floor plan, and make sure this diagram is always visible.