How to ensure a smooth move to Bellevue WA
Moving is usually perceived as a very stressful and complicated endeavor – even when you are moving just down the block. So if you are embarking upon a move to Bellevue WA, chances are you are feeling nervous and stressed. But you shouldn't be, because PortaBox Storage is here to help you move with ease. Today, we'd like to cover all the essential tasks that you need to take care of before moving to this city. From picking the right moving date to renting suitable Bellevue self storage and everything in between, we'll try to leave no area uncovered. Let's begin, shall we?
A smooth move to Bellevue WA begins with the right moving date
Sometimes, you won't have the luxury of picking your moving date. There are times when you will be forced to move as soon as possible, be it because you got a new job or have some important obligations at the new location. But if the perfect scenario does happen, and you are able to pick your moving date, approach this task with a lot of caution. You'll want to pick a date when there's a lot of chance for good weather, as well as a date that will save you money on movers, self storage Seattle, and everything in between.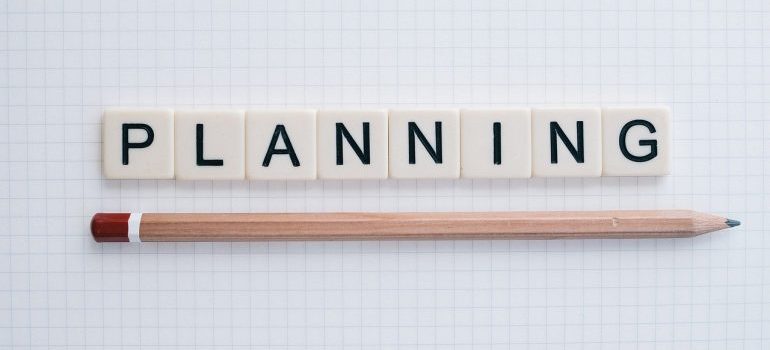 Now, we can't tell you the exact dates to choose from for your move. But we can tell you that summer is considered to be the peak season for moving, and that's when the prices are at their highest. The ideal months for your relocation would be from late September to April, preferably during weekdays. Choose a date during these months and your relocation to Bellevue has a good chance of being affordable, quick, and efficient.
Create a moving budget – and a moving timeline
How are you supposed to know how much you can spend on your relocation if you don't have a number in mind? Creating a moving budget is an essential step for every relocation. Once you get your finances in order, we strongly suggest that you sit down with your family and create a moving timeline. Be as detailed as possible and divide the moving tasks among your moving companions. When everyone knows what their responsibilities are, you will be able to save time while packing, there will be fewer misunderstandings, fewer moving delays, etc. – you get the gist. Only some of the tasks to include in your moving timeline/checklist include:
Transferring utilities
Acquiring the appropriate packing materials
Organizing a farewell party
Finding a new family physician
Transferring school records
As you can see, there are many different tasks to tackle when moving to Bellevue, WA that aren't necessarily directly related to your move. That's why we suggest you get to work on time. Six to eight weeks before the moving date should be enough for you to plan everything and have a smooth move.
Find moving professionals to help you relocate to Bellevue, WA
When moving, you have two options – you can either move in the good old DIY style or hire reputable moving professionals. Of course, if what you want is to have a smooth and stress-free move to Bellevue WA, you have the best chances of achieving that with a relocation company. You don't have to hire the biggest name in the industry just to get access to reliable moving and storage services in your area. But you should look for a few key traits, such as:
Years of experience
A licensed, insured, and bonded company 
A company with plenty of positive moving reviews
Of course, these three traits are just the beginning. There are many other things you might need from your movers, but that will depend on the circumstances of your relocation. Whatever you do, make sure you contact your movers in Bellevue on time. Reputable companies are usually booked weeks, sometimes even months in advance.
Think about your possible need for a storage unit
Moving is oftentimes an unpredictable event. And that's precisely where its difficulty lies. If you aren't sure that everything will go according to schedule, then you might want to think about renting a storage unit in your area. A unit will be some sort of a safety net for you. At least you'll have a safe place where you can store your belongings for the time being. Just think about the type of storage that you need. Will climate-controlled storage be a better option than a regular unit? Only you can know that, as everything depends on what type of items you are storing.
Get rid of any unnecessary items before your move to Bellevue
Like everyone else, you too will be inclined to relocate all of your belongings to the new location. But that's not the best thing to do if you want to have a smooth move. The right course of action is taking some time to declutter your household. Part ways with all unnecessary items and relocate only those belongings that your family really uses. This will make your move to Bellevue WA much quicker, more affordable, and void of any troubles. What more could you ask for?
Once everything is packed, don't forget to label the boxes
You would be surprised to know how many people actually forget to take this step. But labeling your moving boxes should be a mandatory part of your move to Bellevue WA. Why? Because this will make the entire unpacking process simpler and less stressful. You will know right away where your items are, saving you from hours of rummaging through different boxes. In our opinion, this is more than worth taking a few moments to mark a moving box after packing it, don't you think?