How to keep your belongings organized for relocation
Relocating to a new home gives you a lot of new opportunities. However, what you should first pay attention to is the moving process. If it is not organized properly, you will only get anxious and you may not even like your new home at first. So, avoid this from happening and keep your belongings organized for relocation. As a matter of fact, we are going to help you and provide you with some useful tips. Feel free to include them in your moving process and there will be nothing to worry about.
Make sure you start with planning and preparations early enough
Everything will be much easier when you know precisely what you should do and when. So, start making plans as soon as you decide to relocate. When your belongings are in question, you should try to think of all of the options that are on the table. For example, there probably are some items you will throw away. Also, there are items you do not plan on using but are still in great condition. These you should avoid throwing away and, instead, try to find some time and give them away.
People will be grateful and you will have fewer items to pack. However, even if there is still a great number of your belongings you need to relocate, think about storing some of them. Seattle mini storage is at your disposal always. You will know that your items are in a safe place and that they can stay there for as long as you want.
Pack the items you are not going to need for a while
If it is spring or summer, you are certainly not going to need clothes and items you use during winter and vice versa. So, feel free to start by packing items of this kind. Once you pack them, you should put the boxes in a safe place. If it is possible, you can use your attic or your basement. However, if you do not have these or they are not a great choice, you can always rent storage. If you are wondering where to find portable storage containers for rent near me, here is the answer. These boxes are going to safe and secure, and out of your way.
Keep your belongings organized for relocation by proper labeling
Another important thing you should bear in mind is to label the boxes properly. Basically, whenever you pack a box and tape it, make sure you put a label on it. Of course, think about this part beforehand and decide which method you are going to use. You can simply make a list of items that are in a box. Also, you can use color or number methods.
What is important is that you know precisely what can be found in each box once the unpacking part comes. In addition to this, you should also know which boxes are going to be stored. So, once you know the details, you can feel free to put the boxes of your choosing in Newcastle self storage and never worry about them.
A moving checklist is going to be helpful
This is a very important step and you should not avoid taking it. Take some time to focus solely on making a moving checklist. Think about what you want to do with your belongings and when. Write down all of the ideas and you are soon going to make the perfect plan. Once you do this, completing the tasks is going to be much simpler. As a matter of fact, you should also make a packing checklist. You will know which task should be completed next and what to do with a certain item. You will have everything under control and you will know that the tasks are going to be completed on time. Feel free to add storing some of your items to your checklist. Some of the safest temporary storage Seattle offers is always at your disposal.
You can always donate some items
This is the step you should take when you start deciding which items to keep and which to give away. If you go through all of the items at that point, it is great. However, it usually happens that people forget about some items that are in their attic and basement. Later, they do not find the time to handle them the way they want and they end up bringing those items with them.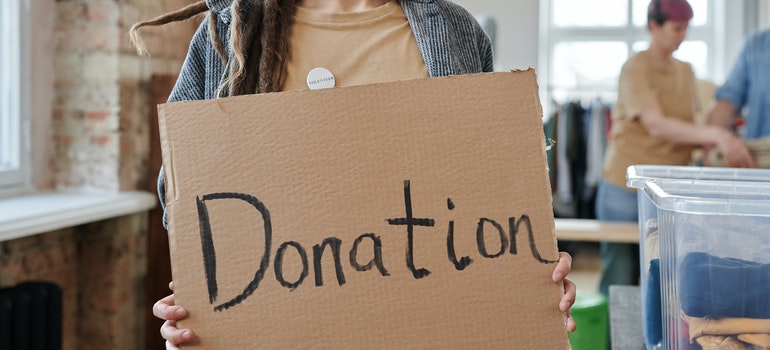 You do not need to be one of them. It is possible to put all of the items of this kind aside and schedule a pickup of your donation. Check the list of items you can donate and notify them when to come and pick them up. It is as simple as it sounds – there will be no need for you to go around trying to find a place where to leave your donation.
These are some of the most important steps you should take in order to keep your belongings organized for relocation. So, what you should do is take some time to think everything through. Try to come up with a detailed plan because, in this way, you will know precisely what to do later. Once the packing part starts, you may not have enough time to think about every single detail. You can even make a packing checklist. Do this before you start completing the tasks and you will know that the entire process is going to run smoothly. Your belongings are going to remain in perfect condition and you will avoid stressing yourself.