How to make moving from Newcastle easier
The moving process, admittedly, can be very tiresome and complicated. There is simply too much to do for it not to be so. However, there are ways how you can make moving from Newcastle easier for you and your family. To start with, you can always hire full services from a moving company and not worry about a thing. But that can be a very costly proposition. The most cost-effective option you have is to utilize a portable storage solution. At Portabox Storage Seattle, we specialize in providing storage options that are tailored to your time and your budget. But in this article, we are going to present you with a couple of tips on how to make the relocation from Newcastle much more manageable.
5 tips on how to make moving from Newcastle easier
Utilize packing services
Rent a portable storage solution
Organize your relocation ahead of time
Donate some of your belongings
Pack an essentials bag for the moving day
While these tips will make the moving process a bit easier, you will still want to ensure that you have enough time on your hands. For example, it is always smart to start searching for a Newcastle self storage facility as soon as you can. By having a set place for your belongings, much of the remainder of the process will be made easier. Also, unless you plan on performing a DIY relocation, you will want to spend some time researching the moving companies in the area.
Choosing a quality moving company
Most people choose to go with a moving company for their relocation. Professional movers make the whole ordeal much easier by taking most of the work upon their shoulders. However, not all moving companies are the same. What you want to do is conduct thorough research of movers in Newcastle, compare their prices, and read their customer reviews. This is a process that can take up quite a bit of your time, too.
It is always best to start searching for moving professionals as soon as you know that you will be moving away from Newcastle. After you find the moving company to take care of your relocation, it is time to look for storage solutions in your new neighborhood. For example, if you are moving to Issaquah, you will be looking for Issaquah self storage solutions. Or you can opt for a more cost-effective solution, portable storage. We will get to that in a bit. But for now, if you want to make your move a lot easier, you really need to consider packing services.
Packing services will make moving from Newcastle easier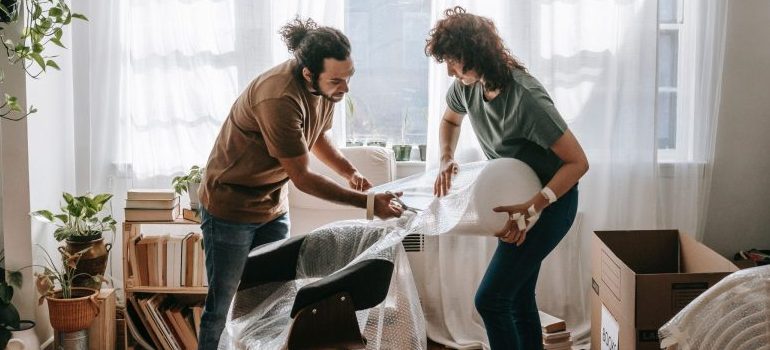 Most moving companies will offer packing services for your relocation. If you want to make it easy on yourself, this is the route to take. The main benefit of these services, aside from the time and energy savings, lies in the top-quality packing materials. Your items will have the best protection available for their journey. Even if you want to do most of the packing on your own, it is in your best interest to obtain such materials. Since these materials on their own can be quite expensive, you may also want to look into an alternative relocation method.
Rent a portable storage solution
If you want to make your relocation both easy and cost-effective, you may want to look into portable storage solutions. This is an extremely easy way to relocate, as you can simply order a PortaBox to your home and pack everything at your own pace. We can also provide you with packing materials of the highest quality, ensuring that your belongings get the maximum available protection.
All that is left is to arrange the pick-up and storage direction, and you will be able to enjoy your new self-storage solution. You can even utilize self storage during winter, to great effect. By having most of your items inside a portable storage unit, you will make it a lot easier to relocate your other belongings. You may even find that you don't need the services of a moving company at all! If that happens to be the case, you will be saving a considerable sum on your Newcastle relocation.
Organize your relocation ahead of time
Whatever you end up choosing, you are going to need to make a relocation plan. This does not only involve the physical transition of your belongings, either. There are so many tasks that you might want to write down in your moving checklist, you will need a way to organize them. By creating a timeline, for example, you will be able to focus your efforts on a few specific days and be much more efficient. Again, having some of your belongings safely tucked away in a portable storage unit is highly beneficial. But for the most part, you will want to sit down and properly plan your relocation. Everything starts with a good plan, after all.
Donate some of your belongings to make moving from Newcastle easier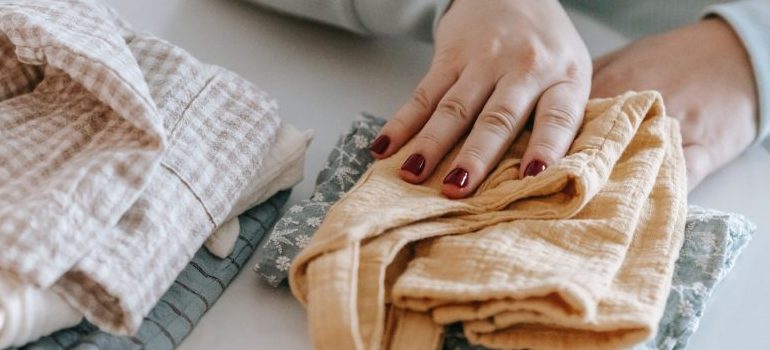 Chances are that you are not going to bring all of your belongings with you to your new home. Therefore, you might want to look into some of the charities that operate within the city of Newcastle. If your items are in good condition, you can expect that they will be able to find a place for them. By reducing the number of items you are taking with you, you will both reduce the overall moving costs and make the relocation a lot easier.
Pack an essentials bag for the moving day
Lastly, you will want to ensure that you have prepared an "essentials" bag for the relocation day. This bag needs to include everything you may need to "survive" a day or two without the rest of your items. While this is a far-fetched scenario, it does happen from time to time. Therefore, pack some toiletries, a change of clothes, an entertainment device or two, and anything that you simply can't imagine living without for even a day. Don't overpack the bag, though, take only the essentials with you. This will make moving from Newcastle easier, no matter what happens.