How to organize tools in your self storage container
Given that tools are so durable and robust, you'd think that placing them in storage isn't a big deal. But the truth is, most tools are very vulnerable, no matter how tough they are. This is especially true with rust, and other types of minor damages which can have a larger effect over time. This is why it is very important to properly organize tools in your self storage container. Efficient storage keeps your tools in perfect condition, but it also helps with the organization while maintaining your unit. Regardless if you're a professional handyman or DIY enthusiast, you'll greatly benefit from placing your tools in Renton self storage. Today, we'll take a look at how to prepare your tools for storing, as well as some tips to make your life easier.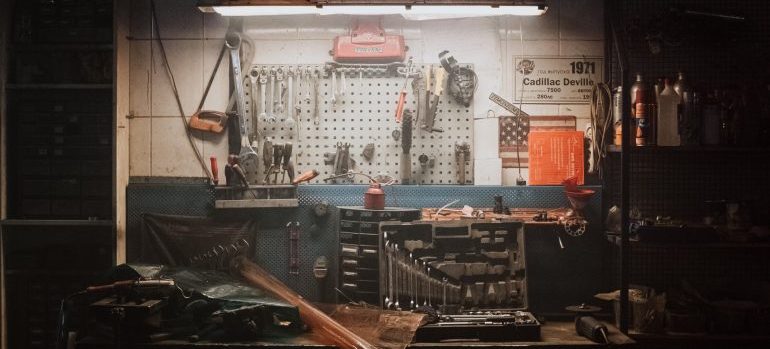 Start with giving your tools a proper cleaning
If you plan on leaving your tools in storage units North Seattle, you want to make sure that they're in good storing condition. You can easily do this with some extra care and proper cleaning. Take your time, and remove any leftover dust, dirt, and grease from your tools in a solution of soapy water. After this, allow them to fully dry, so you avoid plaque spots and potential rusting in the future. It is best to take a piece of cloth and wipe them all off.
For added protection, spray a bit of lubricant on metal surfaces for extra protection. If you have tools with wooden handles, put a bit of sand and linseed oil into a plastic bag, put your tools in, and give everything a good shake. The sand removes any rust and debris with a polish, and the oil will provide a protective coating.
The choice of storage unit is more important thank you think
As far as storing tools, both indoor and outdoor units are acceptable. Outdoor units offer drive-up access, which is good if you want to go through the hassle of transporting your tools personally by car. This is very convenient when you have to move heavy tools, but it also allows you to quickly get what you need, and drive away. However, you should note that outdoor storage units are exposed.
If you have very sensitive machine equipment, you might want to consider portable self storage containers. These types of units are kept inside temperature-controlled business storage Seattle facilities. This ensures that all of your delicate machinery will be perfectly safe for the remainder of its time in storage. Ultimately, the choice of the unit depends on your needs, the type of your tools, and your budget. But no matter what you choose, you can rest assured that your items will be safe with Portabox.
Organize tools in your self storage container to the best of your abilities
Storing your tools is one thing, but organizing it all to maximize your unit space and create a good system is something completely different. Ideally, you want to organize tools in your self storage container the same way you'd do at home. If you know exactly where everything is, you'll have a much easier time finding exactly what you need.
Toolboxes and work cabinets are a great addition to a storage unit if you want to keep track of everything. Just make sure that you store everything safely. Keep in mind that you can very easily misplace or lose tools and hardware in your storage. To solve this, consider small stackable bins for smaller tools. If you label your bins, you will always know what goes where, and where everything is. Hammers, spanners, and wrenches can be hung on a vertical plywood board for access and visibility.
Power tools require special attention and care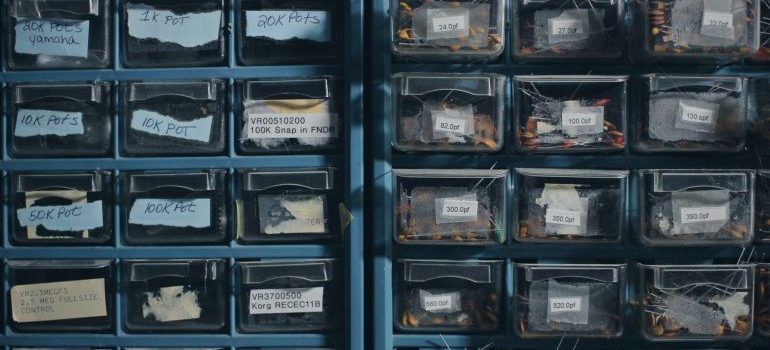 Compared to regular tools, storing power tools needs a bit more preparation. This is mainly because power tools use some form of motor, and in this case, humidity and dust can be detrimental. It doesn't hurt to open your power tools if possible and give their motors a cleaning to get any dust and debris out of the mechanism.
If you have tools that use a fuel-powered engine, you need to be extra careful. If fuel sits in storage long enough, it can actually go bad. This renders it useless and can cause damage to the engine. To counter this, add a bit of fuel stabilizer to the fuel, to ensure longevity and prevent evaporation. Smaller power tools should be kept in their original boxes, as the packaging is made to a perfect fit. If this isn't an option, us a small box with plenty of plastic lining.
Once you organize tools in your self storage container, keep them fully protected
Preparing your tools for storage and organizing them are the two seemingly most important steps of the process. However, after you organize tools in your self storage container, one more question remains, and that is the safety of your stored items. Believe it or not, your tools can get worn out and damaged even if you're not using them. As we've already mentioned, a bit of lubricant or linseed oil will do wonders to keep the rust away.
To keep dust and other debris away, get large plastic tarps and drape them over your tools for more surface protection. If you have paint, caulk, and other construction materials, make sure that everything is sealed tight, to prevent leaks and dangerous fumes. If you want to go the extra mile, your smaller hand tools can be individually wrapped in newspaper and then placed in a crate until you need them again.