How to properly pack family heirlooms for storage
Nothing is more cherished in a household than family heirlooms, often passed down through generations. These items come in all sorts of shapes and sizes, and each tells its own unique, personal story. And just as they are all unique, each is valuable in its own right. Some items, such as rings and bracelets, may have significant monetary value paired with their history. Other items, like photo albums or scrapbooks, probably aren't worth much in terms of money, but carry an immense sentimental value. As you pass them down through the family, their value and importance grow. And this is exactly why you must do everything in your power to protect them. One of the best ways to do so is to place them in Renton self storage, away from endangerment. And that's why we're here today. Join us as we tell you how to pack family heirlooms for storage.
Important family papers require a gentle touch
You might think that pieces of paper will be just fine sitting in a cardboard box in storage. However, in practice, this is anything but true. As far as packing family heirlooms for storage goes, paper items are among the most vulnerable ones and require the most attention. If exposed to too much light, moisture, or heat, they can easily fade away and crumble. So, before you place your documents, old money, or letters in Seattle mini storage, make sure they're prepared. The best way to keep papers safe is to place them in acid-free envelopes or archival folders. If you want to handle them, make sure your hands are completely clean of any oils and lotions or use special cotton gloves.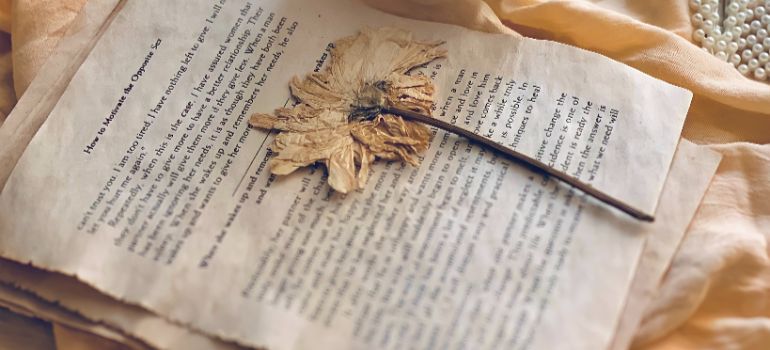 Natural oils coming from the skin can leave permanent stains on paper surfaces and speed up their deterioration. Another way to admire your documents and letters without touching them is to place them into transparent binders or clear sheets. These will allow you to look at them and handle them without coming in direct contact with the delicate paper. Just make sure that the binders you use are also of the acid-free type. If you still want to share your document heirlooms with your family without taking them out of the storage constantly, make a few copies, and hand them out.
Books and scrapbooks can survive for quite a long time in a storage unit
Just like paper documents, books don't really do well around heat and moisture. This makes sense since books are essentially bound pieces of paper. With that in mind, packing them for storage follows a similar pattern. Before packing books for storage, it is important to clean them thoroughly. This is best done with a soft brush or a dry soft cloth which will wipe away any dust or grime that has accumulated over time. It is important to note that the cloth should be absolutely dry because paper can quickly absorb moisture. Once the books are clean, place each book in an individual archival bag, and leave the bag open for air circulation. Then, store your books into a few acid-free boxes. Ideally, the boxes should be on an elevated surface, such as a table or a shelf, and not on the floor.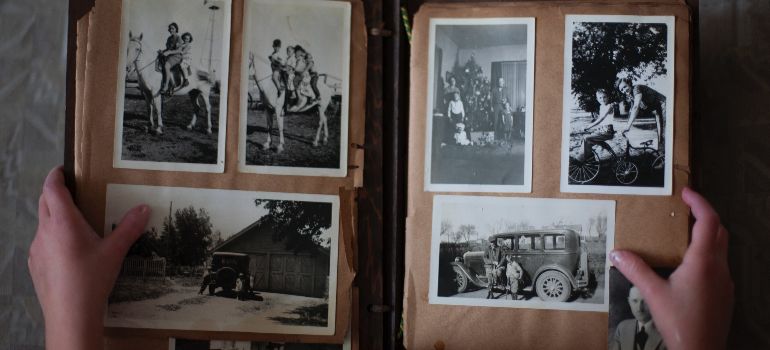 Photo albums and scrapbooks are family heirlooms that require similar steps if you wish to pack them for storage. The big difference comes in the fact that your ancestors probably used whatever paper or glue was available at the time to make them. This makes the situation somewhat difficult, as you must do your best to keep the heirloom intact. If your album or scrapbooks has any metal fasteners or paper clips in it, do your best to remove them as the metal can stain the paper. Alternatively, you can take them to a professional restorer to stabilize their condition and improve longevity. In order to keep everything in place, and prevent the photos from falling off the pages, place a sheet of specialty acid-free paper between each page. Lastly, just like the books, put your albums into individual bags, before placing them in acid-free boxes.
Properly clean family jewels and ornate heirlooms before you pack them
When it comes to preparing jewelry heirlooms for storage, there are a few basic practices around. In most cases, people aren't sure how to approach this, but it is actually quite simple. Before you place your family heirlooms in some of the portable storage units nearby, think of how to preserve them. Do keep in mind that some things like jewelry need special attention and that home methods simply won't work. Toothpaste and bleach, as some sources may suggest, will do nothing for your jewelry except damage the precious metals and their patina. Instead, take them to a reputable jeweler who will do a proper job. Once everything is clean, wrap your silver items in special cloth bags, and keep them separate from other heirlooms. Diamonds and other precious stones should be separately wrapped in archival tissue which will prevent tarnishing. Once your jewels are packed, place them in an acid-free box and seal them properly.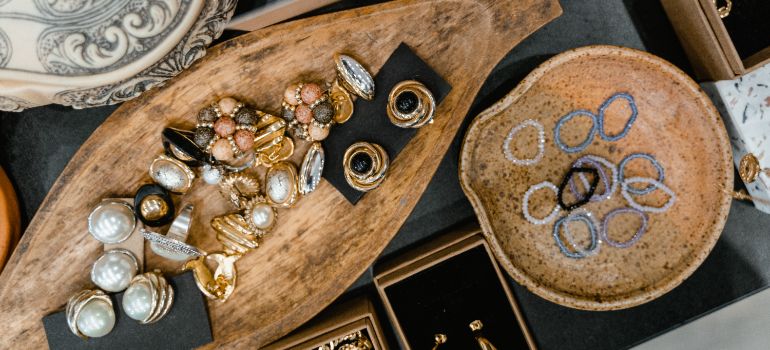 A few added tips on how to pack family heirlooms for storage
Once you pack family heirlooms for storage, you need to ensure they are in optimal conditions at all times. First and foremost, you need to think of security. Given how precious your heirlooms are to you, you want to remove any potential risk of disappearance or theft from occurring. If you give PortaBox Storage a call, you can rest assured that all of your precious possessions will be safe and sound at all times. Since family heirlooms can be delicate, you should never store them in places such as basements or attics. Ideally, you need optimal conditions within the unit, which will perfectly suit the items you intend to store.