How To Store Garden Furniture During The Winter Months
As we are leaving nice weather behind, we must take care of a number of things. One of the things you mustn't forget is to take care of your garden furniture so that you can enjoy your garden next year too. After all, bad weather, rain, and snow can genuinely contribute to the deterioration of your garden furniture. No matter what material is made of. Hence, consider how to store garden furniture during the winter months. Take into account the material of your furniture in order to store it in the best way possible. Certainly, the best solution is to rely on PortaBox Storage Seattle and its capacity to protect your furniture adequately.
Store garden furniture during the winter months using some general tips
First of all, we advise you to find adequate short term storage Seattle and arrange all the details concerning the actual date and terms of using the storage. Of course, you can always store your furniture in a garage or shed or just move it to a sheltered position. With feet off the ground of course. However, if you don't want to risk damaging your garden furniture then a better option is to contact professionals. As a result, your furniture will last longer and it will be good as new. Moreover, when hiring your storage company make sure to find an adequate weatherproof storage unit to ensure better protection.
Your storage should be secure, taking special care of the protection of your items against pests, moisture, and temperature fluctuation. Also, make sure it possesses video surveillance and alarms 24/7. As for the price, check the terms and make sure you rent the appropriate size of storage. It will definitely affect the final price.
Clean your furniture before storing
Expect your garden furniture to be dirty and stained since you are using it every day. Nevertheless, you mustn't store it in that condition. Therefore, clean it thoroughly first before storing it. Use some mild dish detergent with warm water and scrub your furniture using a brush or a sponge. Vacuum if necessary, especially weaker. In case you have cushions scrub and dry them too. After that, they are ready for you to place in some bags and store indoors. Also, dry the pieces completely before you store garden furniture during the winter months. Use clean and dry towels to remove moisture.
The material of your furniture determines the manner of storing
Prior to storage, you must be well-informed about how to treat your furniture to ensure the best protection of your garden furniture during the winter months. Its material will strongly influence the treatment itself. What furniture you may have?
wooden
plastic
rattan or wicker
iron 
aluminum 
Wooden furniture
In case you are a proud owner of wooden furniture, know what to expect from this material. Thus, scrub it with a stiff brush and hot soapy water. Of course, let it dry properly. Otherwise, the lack of air circulation will cause the wood to rot. If possible oil it before placing it in the storage unit. This way, you will definitely prolong its lifetime.
Rattan or wicker garden furniture
When we talk about storage of outdoor furniture during the winter months pay special attention to wicker and rattan furniture. As a matter of fact, it can be quite a challenge because of the weave. To start with, you should remove the dust by vacuuming the furniture first. Then, you can clean it by using hot soapy water and a brush. In order to reach all the nooks and crannies use a toothbrush. Also, you can give it a blast with a high-pressure hose. Only after a thorough cleaning leave it to dry completely and use storage pods in Seattle to safely store it during the winter months.
Plastic furniture
Having plastic furniture may be problematic since different weather conditions may create problems such as leaving stains that can't be removed that easily. Thus, end of summer storage ideas must quite effective. Hence, if certain stains do appear at the end of the summer, use neat bleach to get back the original whiteness. However, test this on small areas first. If not stained, clean it with hot soapy water and a soft cloth. Dry it well before storing it. As with all other garden furniture types, ensure to dry your furniture completely.
Iron furniture
When preparing your items for storage pay special attention to preserving iron garden furniture since it's prone to rust. Thus, clean it carefully and let it dry. Still, if you notice any signs of rust, no matter how small they are, you must remove them. Remove rust by using certain products you can buy in DIY shops. On the other hand, soak the area in white vinegar and rub it with aluminum foil. Then, wash it lightly and dry it. Now you can store it.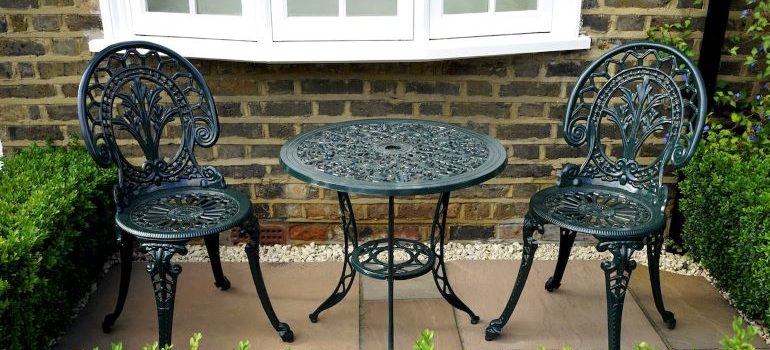 Aluminum furniture
What is good about this type of furniture is that it won't rust. However, it still needs protection over winter months. Hence, clean it with hot soapy water and a soft-bristled brush. After rinsing it you can apply water and vinegar and polish it using a soft cloth.
Preserve your furniture for the next summer
All in all, your garden furniture requires special treatment when the summer months end. In order to preserve it and have it last for a long time make sure to store garden furniture during the winter months. Prepare it well for storage. Of course, bear in mind the material your furniture is made of and treat it cautiously. What matters is to clean and dry it. You can cover it with sofa and chair covers for further protection during storage. However, the most important thing is to opt for the most secure storage company that offers the best protection and ultimate security.