Innovative backyard organization ideas
It's a blessing when you have a backyard you can use for relaxing, gardening, or playing with the kids. However, no matter what you use it for, your backyard will be a lot more pleasurable if you organize it. Organizing your outdoor area isn't as difficult as it might seem, thanks to temporary storage Seattle options you can use. And with these innovative backyard organization ideas, you can transform your garden into a place you can actually enjoy.  
Start with organizing and cleaning out the tool shed
Most houses have a tool shed to keep items like lawn mowers, landscaping tools, and garden planters. It's a convenient and efficient place to store the equipment you need to maintain and beautify your home and backyard. Unfortunately, tool sheds are usually not very well-designed, and easily get quite messy. If that's the case, make a few simple changes to improve your tool shed, like removing the bulky shelves. 
Once you finish, install wall hooks and hang a sturdy bin to store items such as fertilizer and plant spray. Don't forget to declutter your tool shed, and discard broken, useless and old tools. However, if you think you can use some of them later, you don't have to throw them out. Instead, make use of Everett self storage options!
Building an outdoor storage space is one of the innovative backyard organization ideas
Even the most basic materials can be repurposed for do-it-yourself outdoor storage. First, you'll need some old wooden crates you can find at flea markets, grocery shops, or antique stores. After you improve it with a fresh coat of paint, glue some solid plywood on top. If you're not sure how to do it, Pinterest decoration guides can give you some helpful ideas! You can even add caster wheels to this DIY storage box, and move it around as needed. Now you have beautiful storage space for books, garden magazines, or anything you need! Moreover, the container can also function as a side table for beverages or a stand for fresh flowers.
Establish outdoor areas for everyone in your household
Your lovely backyard can rapidly get messy, with tools, lanterns, pots, motorcycles, and BBQ sets just laying around. Luckily, there are plenty of fashionable fixes to get things back in order. Namely, setting up zones is an excellent approach to prevent your backyard from becoming overrun by other people's belongings.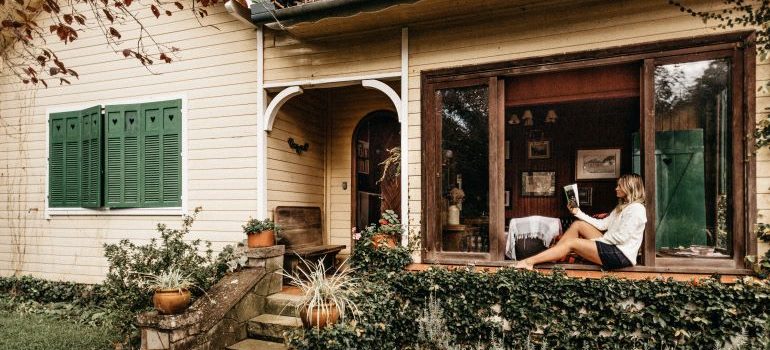 You can store your gardening equipment on a potting bench, or make yourself a nice reading spot on the patio. The shed could be your husband's to use as a secure storage space for his tools and equipment. At the same time, the kids can play with all of their toys in the backyard beside the swing set. Put some items in mobile storage containers Seattle, if you're not sure you have enough backyard space for everything.
Innovative backyard organization ideas also include an outdoor dining area
Who doesn't like to eat outside when the weather is nice and sunny? Still, you need to set up your backyard for eating, whether you only plan to use it for your family, or invite neighbors over. However, make sure to use gravel rather than grass to designate one part of your backyard as a dining area. In comparison to a stone patio, a gravel patio is simpler to install yet accomplishes the same thing.
Some dishes, napkins, and condiments are exclusively appropriate for outdoor use. Store them in a backyard table cart with several cupboards instead of leaving them carelessly near the grill all week. Just make sure you don't forget the risks of DIY storage alternatives! Finally, you could also make a bar out of an old chair that you can pull out when visitors arrive. 
Cinder blocks can do wonders when it comes to organizing your backyard
Construct benches and tables from concrete cinder blocks to create lots of outdoor storage space. The spaces between the blocks' holes are ideal for storing outdoor items. If you don't have a potting bench, it can be really difficult to pot flowers. That's why building a flower pot could be another fantastic project using cinder blocks! It's so simple to construct, and it will look great in your garden! On top of that, furniture made of cinder blocks is more eco-friendly and will last much longer in the rain and cold weather. 
Don't forget to put a garden hose and tools out of sight
Having a large green garden hose just laying around is the fastest way to clutter up a backyard. You can easily get tired of carrying your hose around the backyard to water your plants. That's why it's not uncommon to just leave it in a disorganized pile in the center of your garden. 
Luckily, there is a pretty and simple solution for this problem – just keep your garden hose in an outside planter. You could also use wooden pallets to build a DIY gardening table for your planting pots and watering cans. To liven up the table, mount a nice planted basket on the upper section. Still, make sure to add enough drawers for gardening supplies. 
Ample storage space is crucial in outdoor living spaces for items like gardening equipment, party materials, and other outdoor necessities. You know your own needs best though, so it's always a good idea to organize your backyard on your own. Hopefully, these innovative backyard organization ideas can help you transform your garden into the place of your dreams!