Practical tips for temporary relocations in WA
The appeal of the evergreen state of Washington has grown exponentially in recent years, leading to an influx of temporary residents. If you're one of those relocating for work, study, or another compelling reason, ensuring a hassle-free stay requires meticulous planning. This guide aims to provide you with tips to overcome the challenges of temporary relocations in WA. There are certain considerations and steps that can make your short-term move smoother, and our team at PortaBox Storage Seattle WA is happy to share them.
Who moves temporarily in WA state and why?
Temporary relocations, also known as short-term relocations, can occur for a variety of reasons. From chasing new careers to academic adventures, the causes for packing up and moving temporarily are as varied as they are intriguing. You might recognize some of the most common motivations behind these short-term moves:
Job assignments: Temporary work assignments or projects in a different city or state might necessitate a short-term move. This is common in industries like tech, construction, film, and consulting.
Education: Washington is home to top-tier institutions like the University of Washington and Washington State University, which often attract national and international students. Short courses, summer programs, internships, or exchange programs can lead to students relocating for a few weeks to several months.
Medical treatments: With some of the country's best medical facilities, people often relocate temporarily to WA for specialized treatments and procedures.
Home renovations: Some families or individuals might relocate temporarily while their primary residence undergoes major renovations or repairs.
Training and conferences: Professionals might need to relocate for a few weeks or months to attend training programs, workshops, or conferences that are an essential part of their job or business.
Natural disasters: Events like fires, floods, or other natural disasters might force WA families to relocate temporarily until their homes are restored or deemed safe.
Extended travel: Beyond work or mandatory commitments, Washington State draws in many seeking extended stays, providing an in-depth experience that mere tourism might miss.
Research projects: Academics or professionals might need to relocate temporarily for fieldwork or research projects.
Temporary relocations mean you'll eventually move (back) again soon. So, it's wise to pack light. Consider keeping non-essential items in short-term storage in Seattle or with trusted friends or family.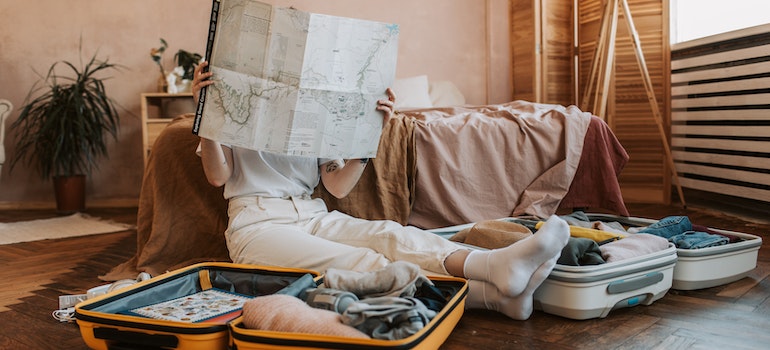 Ensuring seamless temporary relocations in WA state
Finding the right place to live, financial planning, managing belongings, making connections, and integrating – even if it's just for a few months – can set the tone for your entire stay.
Financial foresight
Relocating, even for a short period, brings along a suite of financial considerations. Washington, with its varied cost dynamics across regions, necessitates efficient budgeting. Areas like Bellevue or downtown Seattle might weigh heavier on the pocket, making it essential to get a handle on the living costs, encompassing aspects from housing and utilities to food and local transport. Resources like Numbeo or BestPlaces can be handy in mapping out your expenses.
If you're relocating for work, it's worth inquiring if your company provides packages or stipends for temporary relocations in WA. Such benefits can significantly cushion your budget, but it's vital to be clear on the inclusions, consider possible savings, and plan for any expenses that fall outside this bracket. Amidst this financial juggling, setting aside an emergency fund can act as a reassuring safety net, covering you for unexpected expenses.
Choose the right roof over your head
The ambiance and comfort of your temporary residence can considerably impact your stay. When seeking housing in Washington, it's essential to understand that different locales cater to varying requirements. For instance, the buzzing streets of Seattle pulsate with tech innovation, making it a hotspot for professionals associated with companies like Microsoft or Amazon.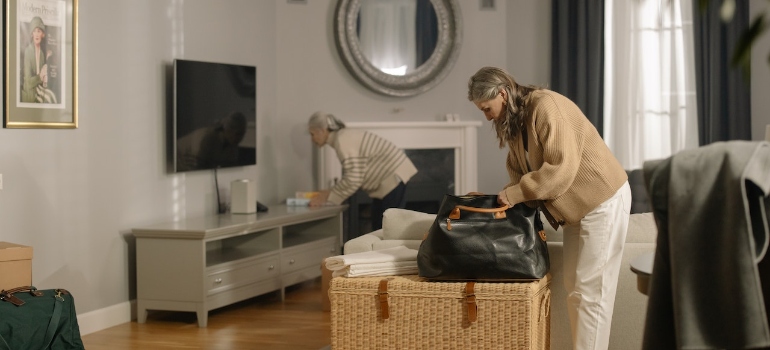 On the flip side, students gearing up for a term at Washington State University might find Pullman's academic ambiance more to their liking. Tools like Zillow or ApartmentList can be immensely helpful in gauging the vibe of different neighborhoods and finding a place that resonates with your purpose of stay.
Apart from location, the kind of housing is also crucial. Serviced apartments and extended-stay hotels, for instance, offer amenities like in-built kitchenettes, laundry services, and consistent Wi-Fi — conveniences that can make your stay comfortable.
Additionally, many universities in Washington offer bulletin boards highlighting off-campus housing or short-term accommodation options for their students. It's also prudent to bear in mind the nature of lease agreements. Given that your stay is temporary, gravitating towards flexible or month-to-month leases can save you from early termination penalties.
Utilize smart storage solutions
Packing for temporary relocation often leaves a dilemma. What to take along and what to leave behind? Here, safe and practical mobile storage containers Seattle providers offer can streamline this process. These companies deliver a container to your doorstep, which you can fill up at your pace.
Once packed, it can either be transported to your new place or kept safely in a storage facility. For those items that you'd like to keep safe but don't necessarily need during your stay, self-storage units are a practical choice. With an array of sizes and even temperature-controlled units, Washington's storage facilities cater to diverse needs.
Blend in like a local
No relocation, however short, is complete without soaking in the local ethos. Washington brims with community events, be it vibrant farmers' markets or festive parades. Such platforms are not just enjoyable but are a conduit to forge connections and understand the local culture better.
For those keen to pursue hobbies or socialize based on interests, platforms like Meetup host a plethora of local groups — from hikers exploring the Cascades to literature aficionados dissecting classics. And while you're on the move, why not do it the local way? Familiarizing yourself with public transit systems like Seattle's King County Metro or Spokane Transit reduces your carbon footprint and also offers you a chance to explore Washington from a local lens.
Make the most of your time in WA
Successfully handling temporary relocations in WA state requires timely research, adaptability, and foresight. Washington's diverse environment and communities offer support and resources to cater to varying needs, whether you're moving for joyful opportunities or facing challenging circumstances. Hence, if you equip yourself with these insights, your transition in the Evergreen State can be smoother and more manageable, allowing you to focus on the priorities that brought you here. So, stay informed and prepared for the journey ahead!