The benefits of using short-term storage when moving offices
Both cases require planning and organization, whether you're moving home or business. Moving a business is even more demanding since you must do everything possible to keep your business running without losing clients. One of the decisions you may consider is using short-term storage when moving offices. You wouldn't believe how portable storage containers Seattle may be of great help during the relocation. Hence, determine what items should be placed in storage units, at least for a while until you settle in your new office space. Most importantly, find the company that offers the best storage services to keep your items well-protected.
Why are you in need of storage in the first place?
To start with, there could be many reasons someone would rely on short-term storage when moving business.
Maybe you are expanding your business.
Or else the end of your lease is approaching.
Moreover, you may be bored running your business from home and need actual office space away from home.
Also, what to do with seasonal stock and a lot of paperwork you must take care of?
Your growing business needs changes.
The time has come to take the next step in running your business. Hence, seize the opportunity. If you already feel you have reached the next level, start making changes and taking the risk. After all, having the possibility to use self storage Shoreline, where your equipment and other stuff will be safe, is something you shouldn't waste. Devote your time to your business while knowing your items are in the right place.
What to do if your home is also your office?
Certain people work from home and develop their businesses. The negative side is that many materials and tools take up a lot of space. Hence, many people use storage units for all the equipment they have no room for anymore. Who knows? You may be ready to rent or buy a new office space, and you will be able to retrieve all the items from your storage unit. Be that as it may, your home will finally be just your home, a place to enjoy with your family after a hard working day at the office.
For renters, short-term storage could be an excellent decision.
If the end of your lease is approaching, you must act fast to consider all the options for the future. Maybe your lease will end, and you won't find a new office space immediately. Or it will need more time to remodel or renovate your new office. With this in mind, storing office furniture is the right solution. Be sure your things are well-protected in a safe and clean environment until you find and settle in a new office space.
Sometimes you are obliged to be using short-term storage when moving offices.
In case your business is related to holidays, decorations, or seasonal products, what are you expected to do at the end of a season or a holiday? Unfortunately, these things get in your way. The same goes for archives, documents, and other paperwork. It's a known fact you must keep different paperwork for years. Though many companies have gone digital, many still use paper. So what happens after deciding to move your office? Using short-term storage when relocating your business is an excellent solution in these situations. Indeed, the good side is that you can access these documents whenever you need them, and you have no worries about their safety.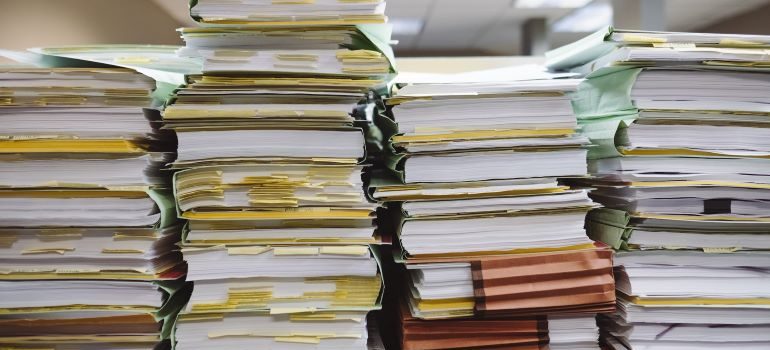 Which office items are most appropriate for storage?
In all these cases, you must decide what to do with a variety of things from your office. Indeed you have something you no longer need. Also, you may want to sort out the items in your new office to have more space. But, on the other hand, you are not sure whether everything will fit in the new space. The main point is to use the storage units smartly and keep your things safe.
Decluttering is one of the first things you must undertake.
Like in homes, your offices are full of items you don't need. The point is that you haven't paid attention to them up to this time. Hence, get rid of the things that are of no use in your office and decrease the costs of the move. As for the other items start packing them adequately and choose the best short-term storage option. Still, consider using your office space smartly by reducing the clutter. Thus, you can store unused furniture, office supplies, and other things that may contribute to having more room and a better-looking office.
Is the new space suitable for all your office items?
When moving your office, finding adequate office space is essential but still sometimes quite challenging. Maybe you'll find a smaller one than your current office or quite the opposite. Therefore, the best idea would be to use short term storage in Seattle. Place your items there while you work on adapting the new office. Then, if there's no space left, let them sime in storage for some time. Then, maybe something will change, and you can retrieve them soon.
Use every way possible to make your business move as easy as possible.
Altogether, using short-term storage when moving offices is an excellent solution in various situations. You can handle other chores while your items are safe in storage. If we talk about safety, you sleep peacefully knowing your office items are well-protected there. After a while, when you settle in your new office, you can determine whether the time has come to retrieve all the items. Or else certain things will remain there until a better business situation occurs. What matters is that you can continue running your business without complications.