The costs of remodeling your home
The time has come to renovate your home. Where to start? What do you need? How much will it cost? So many questions appear and a variety of tasks to complete. One of them is definitely to use portable storage containers Seattle. You need to act fast and come up with numerous solutions. Of course, bear in mind your budget. What matters is to have your things protected and check all the things you plan to do in your house. Always bear in mind the costs of remodeling your home since they will influence your decisions. Especially, nowadays when the costs are growing rapidly.
How to determine the costs of remodeling your home?
Well, basically the average costs are $47,984 since they vary from $17,911 to $78,179. Still, you should know that due to the current financial crisis the expenses related to home renovation have increased significantly. They change almost on daily basis. Therefore, you must be aware of the factors that influence the costs.
size of your home
renovation by room
materials
labor costs
code regulations
permits
Size is crucial in determining the costs
First of all, you must determine the actual size of the space. Of course, only if you plan to renovate your entire home. To tell you the truth, you must be ready to put aside a huge amount of money and start your preparations on time. The costs range from $10 to $60 per square foot.
Still, they can even go to $150 in case your choice of materials and other things are extremely demanding in terms of money and complexity. Moreover, consider renting Lynnwood self storage containers for all your belongings. After all, you need to clear up the space in your home. Not only will it be easier to work on your renovation but also you need to keep your items safe.
Are you renovating room by room?
First, divide rooms into two main categories. The first is related to wet rooms which means these are rooms with water running to them. For instance, your bathroom, kitchen, and utility rooms fall under this category. On the other hand, you have dry rooms such as bedrooms and living rooms. Hence, what is the difference in terms of price? Well, you need more budget for wet rooms. As for dry rooms, they mostly need just painting and flooring. Still, one exception could be the installation of the fireplace which can range between $900 to $3,700. Still, you must bear in mind the necessity of self storage Boise since you need a safe place to keep your things.
Bathroom Renovation
In case you decide to renovate your bathroom you need to prepare for an average price range from $3,000 to $25,000. Still, the wide range of prices depends exclusively on what you plan to renovate exactly, and on the type of cabinets, counters, and fixture you choose. Also, you should know that you can save up to 50% of your budget if you keep your bathroom footprint.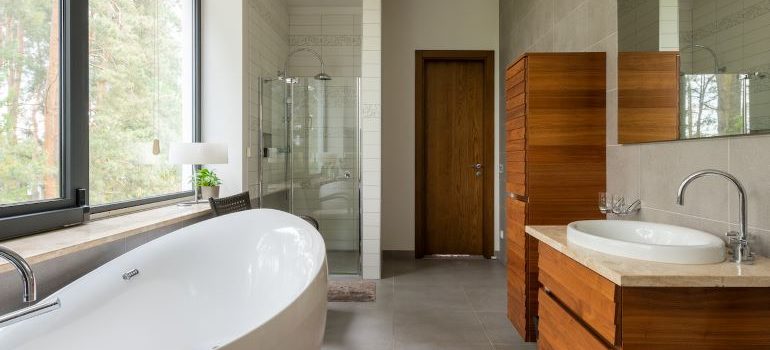 Kitchen Renovation
The average price of kitchen renovation ranges between $5,000 and $65,000. Of course, the price depends on the size of your kitchen, the materials you use, cabinets, and countertops.
Other rooms and the costs of renovation
As for other rooms the home remodeling costs vary from room to room.
living room – $5,000-$10,000
bedroom – $1,500-$5,500
utility room – $6,000 and more
basement – $12,000-$33,000 (it can be quite a massive job)
garage – $3,000-$30,000
Materials can influence the costs significantly
Unfortunately, the price of the materials has gone up over the past year. As a matter of fact, everything is getting more expensive. Why wouldn't the costs of materials be? The costs of lumber, steel, and other siding and building materials are quite higher. One of the reasons is also the disruption of supply chains due to COVID. Therefore, you must start as soon as possible with getting the necessary materials. Be prepared that prices may fluctuate. Moreover, leave enough time for your materials to be ordered and delivered. If you order on time, you will have no problems in case of delays.
What about the costs of labor?
Don't forget you need people remodeling your home. Like in the case of materials, the prices have gone up. Furthermore, there are not enough electricians and plumbers. Moreover, you need to pay for builders, contractors, and other people working on your home.  Thus you need to be prepared for what is coming. Also, remember that you need labor to place your items in storage units. After all, self storage can make home renovation safer in multiple ways.
Code regulations and permits can affect the costs to a high extent
In order to estimate home renovation costs check your local building regulations since they can contribute to costs. Still, these regulations won't affect you in case you renovate smaller spaces. Only larger renovations will be affected and sometimes delays may lead to problems. As for the renovation projects that include additions, electrical, or plumbing work you need permits. Hence, check your local authorities. Be aware that permits range from $400 to $1,800 on average. 
Use your money well and remodel your home according to your wishes
Overall, the costs of remodeling your home will highly influence your decisions. Thus, you must be well-prepared from the very beginning. Take your budget into account. Be ready for price changes. Determine what you plan to renovate and the materials you will use. Furthermore, rest assured that using self storage will be of great help during the renovation. After all, you need your belongings well-protected. On the other hand, it's much easier to renovate when the space is clear. Thus, make a thorough plan and be ready to make your home a better and cozier place.