Tips for maximizing your kitchen workspace
Many people consider the kitchen the most important room in their home. And rightfully so. It's a place for everyone to enjoy. Having delicious meals after a long day is extremely important. Furthermore, most people gather around the kitchen during family time. However, precisely because every member of the family can find himself there, there is always the potential for clutter in the kitchen. People only start noticing clutter when it becomes a rather big issue. If such is the case with you, then asking around for temporary storage Seattle residents usually use might be your best bet to keep everything in order. Luckily for you, we are always more than willing to help. Not only do we offer great storage services, but you can also count on us for advice when you need it. We know the best tips for maximizing your kitchen workspace and we are only here to help.
Be mindful of your surroundings and learn about storage services near you
Having enough room in the kitchen is important. It's one of those rooms in the house that people use most often. Furthermore, it's also one of the rooms with the most potential for messiness. After all, who does the dishes after every meal? Do you wash coffee cups after your friend leaves? Of course, even if you do, there is still a possibility that you have too many appliances, too many glasses, or one too many plates out of place. God forbid you to share the kitchen with roommates instead of family members! If you do, it's even more important that you maximize the space you have available. The best advice, for now, would be to always have a storage unit available in your vicinity. If you live near Kenmore, for example, asking around for Kenmore self storage services would be a smart idea. Be aware of your surroundings!
One of the best tips to maximize your kitchen workspace – don't let the clutter accumulate
Having a messy kitchen is something you can avoid easily. You just need to follow a few simple steps in order to avoid the usual problems concerning the clutter in your kitchen. By doing that you'll be able to maximize your space and take full advantage of your kitchen. Some of the decluttering 101s you can try include:
tossing out garbage regularly

buying minimalist kitchen equipment (cutting board that fits over the sink using a washing machine instead of a sink)

installing racks for pots and cups 

make use of vertical spaces

create a plan where everything goes and stick to it.
Try to stick to your plan
Having a plan which concerns the placement of kitchen appliances can be tricky. Our everyday lives don't often allow for plans. However, if you do notice that the clutter begins to appear, it's important to react in time. If you let it accumulate, you could end up in a world of trouble later. It's always better to be safe than sorry. There are ways to deal with clutter in your home. However, it would be best not to let it come to that.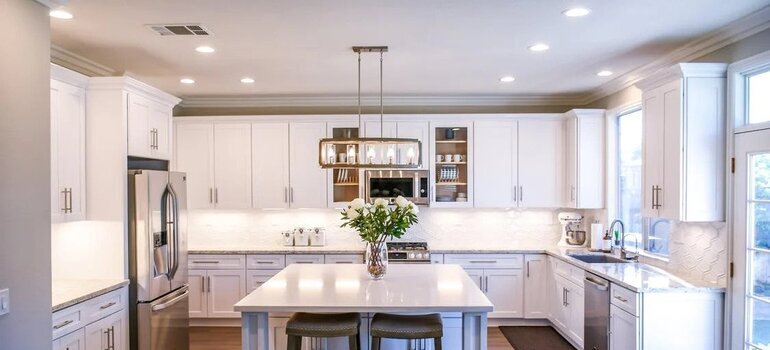 Think outside of the box
One of the best ways to minimize the clutter in your kitchen would be to always keep it as clean as possible. It's not just about creating more space. You need to maintain the state of things. Keeping the kitchen neat and tidy shouldn't be too difficult. One of the first things you should do is line your shelves. Buy protective covers and make sure to use them under your appliances and glasses that have their place on the shelves. You can use colorful covers that match your kitchen or keep it simple in order to maintain the aura of tidiness. Furthermore, it will be much easier for you to clean your kitchen if you have covers on your shelves. Not only will there be less dust lying around, but the paper covers will also keep your shelves dry. Furthermore, you'll have an easier time cleaning everything up.
Adjust the usual tips for maximizing your kitchen workspace to your own needs
How much space you'll have in your kitchen also depends on the size of the room itself. If you have a smaller kitchen, it is that much more important to find ways to maximize the space you do have. Wall-mounted dish ranks and low shelves above the counters could be your saving grace. You could try to find smaller appliances. Nowadays, minimalism is all the rage in the world of interior design. You're bound to find something that could suit you.
Rely on the help of the professional movers
Of course, you might not have the time to run around buying shelves and appliances. If you're in the middle of relocation, for example, and you need to downsize your kitchen pronto, then hiring the help of the professionals might be the best idea. Simply ask around for storage services near your area. Self storage services are getting more and more popular everyday. If you ever need the best self storage Bothell has to offer, we can help you.
Get in touch with us for storage services
Following general tips for maximizing your kitchen workspace can help you lay the groundwork for your kitchen maintenance habits. However, you need to stay consistent. Keep cleaning your kitchen regularly and don't let the dirty dishes accumulate in the sink. That way, you'll be able to notice any room for improvement. Buying new appliances and installing additional shelves won't help much if you don't pay attention to the usual kitchen clutter. Of course, you can always count on us for storage services to keep the clutter at arm's length.