Top mistakes people make when using portable storage
There are plenty of people that use portable storage today. The reasons could be various, from moving and organizing your home, to storing important office documents. However, there is always a risk that your belongings end up damaged just because of the way they are packed. So, there are some rules to follow when packing your belongings. These can be common mistakes people make when using portable storage. You can say that that didn't happen to you, but that doesn't make it impossible. It is possible to avoid them and learn how to properly pack everything. PortaBox Storage Seattle is here to teach you how to get the job done right.
Packing without a plan is one of the mistakes people make when using portable storage
A good organization is a key to success. And that applies everywhere. No matter if it's moving or just organizing your home. This requires a lot of planning ahead. If you pack a container without a proper plan, you are gambling with the future of your stuff. Also, you could maximize the space by stacking items the proper way; especially if you are renting a Seattle mini storage container.
See the list below to get an idea of where should you begin:
Pack the heaviest things first. They can take a lot of weight of things you will eventually put on top of them.
First entering could be also the things that are not in use very often. Underutilized things will be the most difficult to get to once everything is stacked up.
One of the mistakes people make when using portable storage is not disassembling furniture. Take out all the drawers and shelves to avoid things tumbling inside.
Label everything. Imagine you have to open every box to find something you packed unintentionally. You will be happy once you start looking for things.
How to load boxes after packing things for portable storage
You'll be surprised if we tell you that people actually freak out when they open a container after a while. This could be because of the unsuitable packing materials, or just the way the boxes are loaded into the container. You need to ensure the safety of your items. After that, try to prevent damage and maximize the space you have. First, fill every hole. The drawer of the desk or the inside of the sofa you're storing in the container. Also, here are 8 mistakes to avoid when packing boxes for your move or storage. Your goal is the fewest boxes possible. You need to close each and every one of them, but be sure there is no more place inside. That way you will protect your items from tumbling and breaking.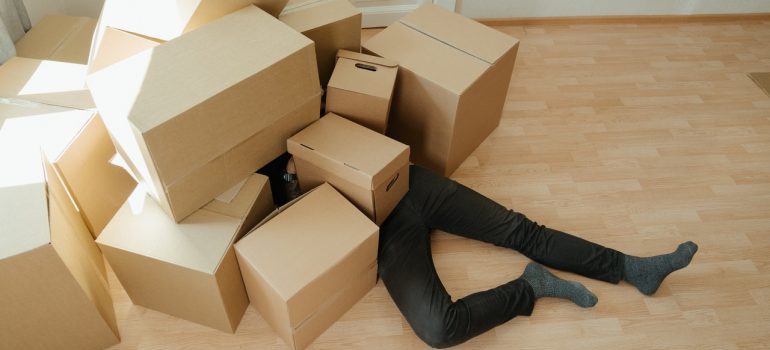 Moreover, remember to distribute the weight accordingly and evenly. Bulky items should be packed both back and front. To achieve this, you will need to create a walkway between boxes and/or furniture. That's why stacking things properly on top of the other is a great way of storing them. You won't need to crawl over boxes. Take note of the weight of the boxes, too. That will help you on which one should go into the Kirkland self-storage container first.
Bonus tip: try to keep the walkway somewhere in the middle of the unit. If you want to place things there, they should be small and light-weighted. That way you won't need to move a lot to access what you need.
Storing inappropriate things is a mistake people make when using portable storage
Even though some things can sound obvious, they occur when not packing carefully. Remember to thoroughly clean all of the things you're about to store. Food leftovers can really spoil everything. It's not just the smell, but the things could develop mold and the damage can be permanent. Be extra careful with things you are sure you want to use in the future. For example, there are a lot of benefits of using self-storage with your hobbies. If you don't plan on visiting the unit frequently, clean and carefully dry every single item before you place it in the box.
Likewise, don't pack your portable storage on a rainy day. It might sound like a good idea, but certain materials can really suffer if stored wet. Mildew equals garbage, so don't risk infecting other of your belongings. If you can't avoid the weather, ensure that all the items are cleaned and dry before you close the door. If not, leave the doors open for a while and you won't have surprises when you come back.
The best way to protect your things when using portable storage
If even one of these mistakes sounds familiar to you, maybe you should go and check your portable storage unit. There is a chance you were packing in a hurry and that your things are being damaged. Also, remember if you used newspaper for packing. The ink can bleed all over things and maybe it's time to save what can be saved. Start packing all over again following our tips.
On the other hand, if you're about to pack things for portable storage, keep in mind all of these things. Use extra padding for fragile items and avoid these mistakes people make when using portable storage. That will keep your objects protected and damage-free. Renting portable storage is still the best solution for decluttering or moving. You will be sure your belongings are safe by following these rules. Your packing will now be smooth as silk.