Ways Portable Storage Containers Help Schools
Who said that portable storage containers can only be used when moving? Let your creativity fly free and always try to think outside of the box. From using them to store seasonal decorations, all the way to tools, books, and fragile china, storage containers can sometimes be a real lifesaver. Whether you rent storage to store away items you will use soon, or those you will need for a special event, it is good to know you have a backup solution. Today, let's talk about all the ways portable storage containers help schools, and how educational institutions can benefit from them.
Storing documents and paperwork
The bigger the school, the more paperwork it will be to store. Even though every school has special areas related to administration, sometimes they become too small. That is when storage units in North Seattle come to the rescue! Since special containers can fit up to 2000 pounds that is a lot of paper. Usually, schools will decide to store older documents that still have to be around for a while. These could be:
Staff records from the entire school
Student records
Staff and students' medical records
Application forms
Inventory paper for students
It is common for staff to make the list and categories for different paperwork and access them again when necessary.
Portable storage containers help schools with inventory and supplies
Every school out there has a lot of inventory that doesn't have to be in classrooms all the time. Places like Kirkland which has 67 schools, often introduce special programs that happen annually or even monthly. Various items used during these events need a safe place to be stored until the time students need them, and storage is the safest and the most affordable option. Kirkland safe storage can take care of:
Textbooks for special programs
Lab equipment for chemistry or biology classrooms
Folding furniture for classrooms
Calipers for practice purposes
Balls and tracks for the gym.
Let's not forget about outdoor items
And once schools decide to organize a road trip that includes hiking or camping, it has to make sure every student has everything they need. Schools in Ballard, Washington can often take their students by the water as Ballard Locks are popular picnic spots. When the time comes, schools in the area can count on Ballard self storage to help them with:
Picnic blankets for the entire school
Camping uniforms for the youngest students
Hiking equipment
Flags for different ages
Sleeping bags and tents
Maps or compasses
Backpacks.
Portable storage containers can help when the time comes for festivals
Almost every school in Washington and the USA celebrates the same festivals and holidays. And no matter what holiday is in question, schools usually have a lot of decorations and inventory that they will use to celebrate with their students.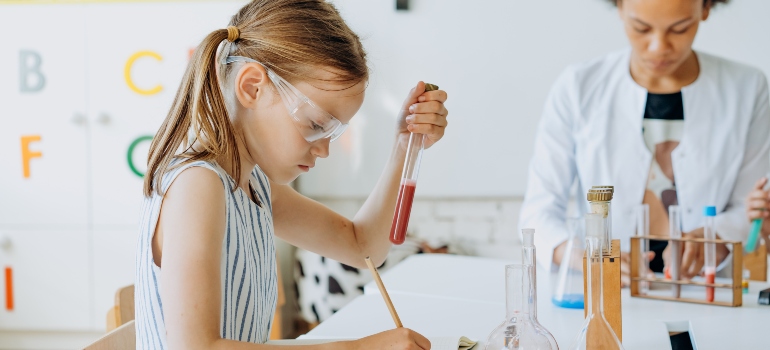 A lot of them will encourage students to make some of these on their own throughout the years. After a while, there will be a lot of them to store once the event is over. To avoid getting rid of them or storing them in school, they usually place some of these items in storage:
Christmas Tree and ornaments
Decorations for Christmas or Easter
Thanksgiving decorations
4th of July decorations
Items and symbols representing the school anniversary or some other important event
Graduation caps and other special clothing items.
Mobile storage containers help schools during renovation works
But sometimes schools will decide to do some renovation work in the middle of the school year. This could be for students' benefit or a necessity that can't wait any longer, and staff has to come up with the best possible solution. Students will have to continue with their programs while workers must begin theirs.
To avoid making a mess in the hallways and distracting students, schools will usually take it slowly and renovate one area of the school at a time.  When the time for this comes portable storage containers can help schools a lot. They also need to find a place where there will store all those items that originally don't belong to a school or should be removed including:
Old classroom furniture that they plan on donating
Tools that are the school's property
Excess material and supplies
New items that the school plans on introducing after the renovation
Other miscellaneous items from classrooms.
Different schools will come up with different ideas
After all, schools are places filled with creative minds on both staff and students' sides. And just like they give the world some of the smartest and most creative people who are ready to deal with world issues, they can also solve those happening right there. Across Washington and places like Issaquah, you will find schools having traditions that no other school practices even though they celebrate the same events as other schools.
And since they usually require certain activities, storage can be used when the time comes. After Halloween, Issaquah self storage will receive school inventory regarding this holiday that can't be replaced because it was made by students.
If you plan on using storage be smart about it
No matter if you are a part of the school staff or a student's parent with a great idea, you can use storage for many clever purposes. Door to door storage in Seattle can be at your service for the majority of the items you have in mind. But make sure you communicate with the storage company first. Keep in mind that not all items are suitable for storage, and their company may refuse your request. You will not be able to store perishable items even though your school may need for them. Knowing how portable storage containers help schools you can use them to improve your studies or work.