What is the best packing material for fragile items?
Transporting items safely from one place to another can be a tough thing to do, especially if they are fragile. Breakables need to be handled with the utmost care in order to survive transportation from point A to point B. So, if your goal is to relocate breakables or just store them in one of Newcastle self storage units, it is essential to pack them the right way. But, here's the thing. Using a proper packing technique alone won't be enough. It is also necessary to use only the best packing material for fragile items.
Do you want to find out which one is considered to be the best one? Or, maybe you need a couple of tips for moving fragile items safely? Read on and you will get all the information you need.
The many challenges of packing and moving breakables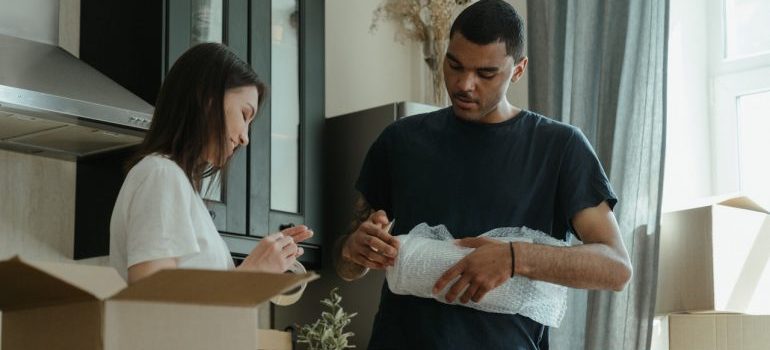 Many people think that fragile items don't require any special preparation before their relocation. But, you know what? The reality is different. You can't just put them in portable storage containers Seattle with no preparation whatsoever and hope for the best. Doing this is a recipe for a disaster. So, what should you do in this situation?
The first thing you will need to do is analyze your breakables. Look for weak spots on all of them. These spots require extra protection and you should keep that in mind when you start packing them. Each item needs to be packed separately and placed in a box with lots of cushioning materials. Don't forget, you need to use only the best packing material for fragile items because that is how you will keep problems away. So, yes, moving breakables is a challenging thing to do but that doesn't mean it is an impossible mission. Follow rules and you will have nothing to worry about.
Packing breakables 101
You probably hear all the time how important it is to have the right packing supplies when packing your belongings for the move or Seattle mini storage. But, a person who has never moved or stored their items won't be able to tell you what makes a packing material the right one or the best one. This is why getting informed ahead of time is a crucial part of any moving or storing process.
The best materials to use for packing fragile items
When it comes to packing breakables, there are many different materials that you can use. But, we need to point out that using only one type of packing materials won't be enough for the safe transportation of breakables. You need to use the combination of the following supplies to get the results you are looking for.
Plastic wrapping. In order to avoid disasters, all of your breakables need to be fully wrapped. Add an extra layer or two just in case. Plastic wrapping will protect those weak spots we've talked about but it will also protect the entire object. That's why many claim plastic wrap is one of the best packing material for fragile items.
Cushioning materials. You can use packing paper and/or foam peanuts to cushion your box. These materials will keep your items in one place and will prevent contents from shifting. To get the best out of them, fill the bottom of your box with packing peanuts, then place your packed item and cover it with the rest of the packing peanuts or paper.
Sturdy boxes. You can't safely transport breakables if you're not using boxes of the highest quality. They need to be sturdy enough to keep all of its contents safe and secure during transportation. Because of this, you should avoid using damaged containers.
Packing tape. This is probably one of our favorite packing materials. With packing tape, you can seal your boxes, make your boxes sturdier, secure wrapping on your items, and do many other things. Having some during the packing process is a must.
Are plastic bins safer than cardboard boxes?
One of the questions we get a lot is whether it is better to use plastic bins or cardboard boxes. Both of these containers come with a set of upsides and downsides. Although plastic bins are sturdier and more durable, they are mostly used for transporting important paperwork. If you are worrying about whether your boxes will be able to keep your items safe simply focus on finding the most quality packing materials. These are the type of containers that are the most reliable.
Some alternatives to traditional materials can also be used for packing fragile items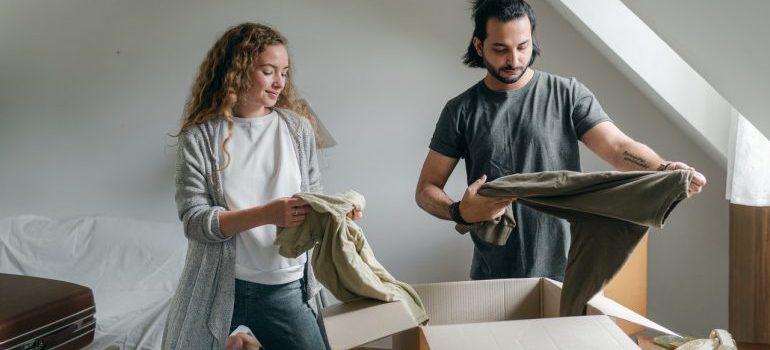 Although alternatives aren't exactly known as the best packing material for breakables, you can still use them. This is a great option for those who want to make packing cost-effective and save a couple of bucks on their move. The great thing about alternative packing materials is that you already have them in your home. For example, you can use blankets, towels, and old sweaters as wrapping or cushioning materials. Simply wrap your items in them and place everything inside the box.
Tips and tricks for simpler packing
There is no doubt that packing is one of the most tiring and challenging parts of relocation and storing. So, if you are not sure you will be able to pack your fragile items properly, hire professional packers. Professionals have a lot of experience and will know how to ensure the safety of your items. You won't have to learn all the packing rules and you will also save a lot of your time.
Instead of spending hours packing your possessions, simply put experts in charge and focus on other things. They will use the best packing material for fragile items and the right packing technique. This is probably the simplest and the most affordable thing you can do when it comes to packing breakables.