7 simple reasons to use portable storage when moving
Although moving can be quite stressful, there certainly are ways to make it less tiring and frustrating. Of course, the ultimate and least painful scenario is the one where you hire a team of movers. They will pack everything for you, move it to your new location, and unpack your boxes in the new home. For those of you who still want to go the DIY route, there are still options that can make your relocation an enjoyable experience. One of the best things you can do is look for portable storage containers for rent near me and simplify your relocation. There are many reasons to use portable storage when moving, and we're here to tell you about a few. It offers safety, but most importantly, convenience. With this combination, your move will be simple and enjoyable. Let's look at the reasons why portable storage is the way to go.
Loading your items into a storage unit couldn't be easier
Ask anyone with prior moving experience, and they'll tell you that loading your items into the truck can be quite difficult. Trying to get your couch out of the home only to be faced with a foot and a half wide ramp can be quite upsetting. With Seattle mini storage, you can forget about these struggles! The container sits on the ground, providing you with a smooth and simple ground-level entry. All you have to do is carry your items inside the container and place them down. No complex maneuvers are required, and your items will be loaded into the storage in no time. In addition to the unmatched simplicity, you also drastically reduce the risk of moving day injuries!
Cost efficiency is one of the main reasons to use portable storage when moving
Compared to hiring a moving company, using a portable storage container is a much less expensive alternative. With a help of a few willing friends, you can move your items to the container at your own pace and organize them however you like. Then, your chosen storage company will send a truck out, collect the unit, and deliver it to the location of your choice. With Bainbridge Island self storage, all you're paying for is the rental and delivery. There are no added costs for a workforce which really helps keep your moving budget in check. On the other hand, certain storage companies offer packing materials for sale. This is also a smart investment because you know that the materials you purchase will be of the highest quality.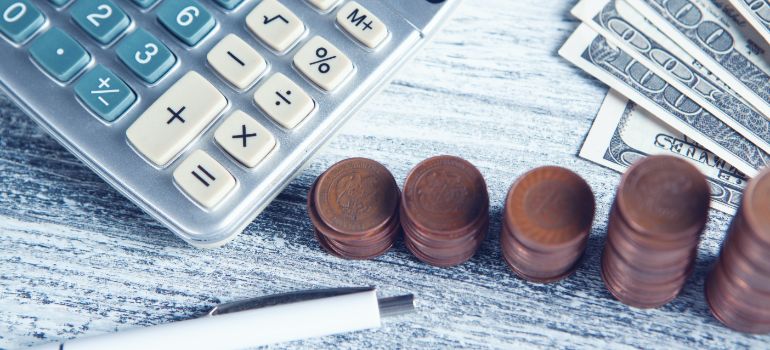 Portable storage makes moving significantly safer
Everyone worries whether or not their precious belongings will make it to their new home in one peace. Well, you no longer have to worry. One of the reasons to use portable storage when moving is the fact your items will remain perfectly safe during transport. The way PortaBox Storage works is very simple! Once the time for shipping arrives, the storage company will send a specialized truck to collect your unit. This will be done with a specialized lift which minimizes shifting and movement of the unit itself and subsequently, everything inside. During transport, this lift secures the container firmly to the flatbed, further reducing movement. This drastically improves the odds of your priceless items arriving at your new dream home intact and pristine.
The flexibility in organizing your relocation is unmatched
Your chosen storage company will present you with various different unit sizes. This allows you to be very flexible and pick the ideal size of the unit for the number of items you have. In most cases, moving companies will charge a flat rate, no matter if you have to move one room or four. And although they have vehicles of different sizes, this rate usually stays the same. But moving containers come in more sizes, each with a different price. This allows you more freedom of choice on your moving day. Better yet, it allows you to move as much or as little as you want whenever you want.
You no longer have to worry about the security of your items
Besides making sure your items remain intact during the move, you also need to make sure they all arrive at the new home. Items often get lost during a relocation, or in the worst-case scenario, stolen. But with the security measures portable storage offers, this is unlikely to happen. Once the container reaches your location, only you will have the key to access it. So, fill it up, lock it, and let your worries go. All of your treasures will be perfectly secure for the duration of the move, waiting for you to unlock the door again and start unpacking.
Move your portable storage container where ever you want!
Trying to get you items to a new home in a different state? Or maybe you have to ship your moving container overseas to a different country? Not a problem! One of the reasons to use portable storage when moving is the ability to deliver them to any location imaginable! Traditional moving companies usually don't have the required logistics and resources for pulling off such a feat. However, portable storage container companies have the capability to send your unit to any location you list. Whether by air, sea, or land, the flexibility of choice is yours. This ability makes moving far more convenient, and faster. So if you have to face a challenging long-distance move, this is definitely the approach to take.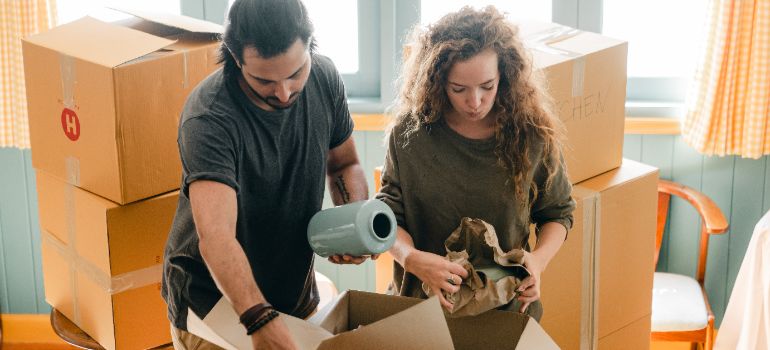 Portable storage allows for moving without worrying about deadlines
One of the biggest problems of every relocation is the high number of deadlines. In some cases, you have to leave your old home before the new one is ready. At other times, you might face unexpected delays just when you thought your new home is ready to move into. During a move, anything can happen, and this is yet one of the reasons to use portable storage when moving. Should you need to leave your current home ahead of schedule, or temporarily put your move on hold, you need to stay in touch with your preferred moving and storage company. For added safety, the company can take the entire unit to their facility and keep it safe, until the time to finalize your relocation comes.