Guide to storing your tailgating equipment
The football season truly is a unique experience. There's nothing like the combined passion of thousands of fans gathering for a common cause. And the roar of the crowds can be truly enchanting. While every group of football fans has its own traditions and customs, there is one that unites them all. And that is tailgating. From thrilling games of cornhole and the blaring music to the delicious food cooked on grills, tailgating truly is an art form. But, once the football season ends, you have to temporarily retire your party gear. And if you want to make sure everything is in good shape for the next season, storing your tailgating equipment has to be done right. We're here to teach you how to prepare everything for portable storage containers Seattle. With our help, you'll be ready to grill like a pro before the first kick-off!
There are many benefits to storing your tailgating equipment
If you want to properly store your tailgating gear, you require convenience and peace of mind. And relying on a storage unit is the best way to get both. It doesn't matter if you need short term storage Seattle which will keep your items safe between weekly games, or a long term solution between seasons. A good storage unit can provide you with the flexibility and safety you require. And, even though it seems like it's easier to store everything in your garage or shed, this isn't the best solution. Tailgating equipment can be quite bulky, and it quickly takes up a lot of space. Because of this, it is far better to use a storage unit. This way, you're leaving your garage available for the tools you use more frequently, such as vehicles and lawn equipment.
Organize your storage unit to create room for your gear
Placing your tailgate gear into storage conserves valuable space at home, as we've already established. And if there's a big game coming up, you need to get everything out of your unit quickly. This is why it is very important to properly organize your Newcastle self storage. If you create a dedicated space for your equipment, you'll have an easier time managing all of your items, and nothing will get mixed up. Usually, a regular storage unit has enough space for at least one shelf. This allows you to use vertical space, and clear out room at ground level for your coolers and grill. By using clear plastic bins, you can safely store your utensils, grill equipment, and power cables. Doing so allows you to know exactly where everything is, so you can quickly grab what you need and make it to the stadium in time for the game!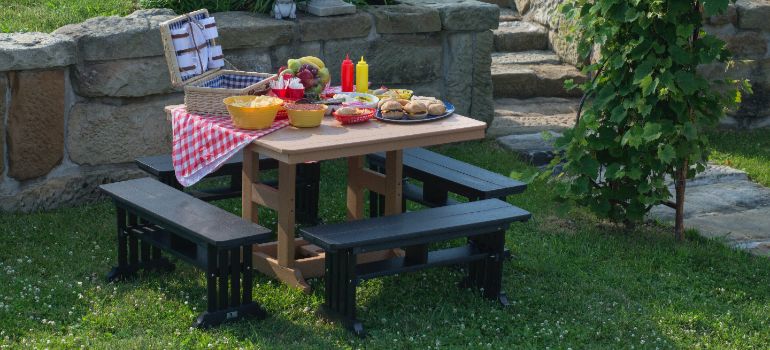 How to prepare your tailgating equipment for storing
Before you store your tailgating equipment, you need to make sure it is ready for the process. This is very important if you want to ensure the longevity of your equipment. When properly stored, your tailgate gear is safe from rust, mold, and pests. So, let's go through some of the crucial items required for tailgating, and how you can prepare them for their time in storage.
Your coolers can be very susceptible to mold
If you don't thoroughly clean and dry out your coolers, mold can quickly take a hold of them. This is the last thing you want since you'll be using them to store foods and drinks for your fellow tailgaters. This is why it is very important to maintain cleanliness, and ensure that any accumulated water sitting at the bottom is removed before leaving your cooler in an enclosed space.
Before storing your tailgating cooler, wash it with a mixture of warm water, mild detergent, and baking soda. This simple disinfectant is great for clearing out bacteria and getting rid of any nasty odors. If your cooler already has signs of mold, use a heavy-duty mixture of bleach, baking soda, and dish soap, and scrub thoroughly. Once you wash your coolers, leave them to dry for a few hours. Lastly, wipe them down thoroughly with a dry washcloth before placing them in storage.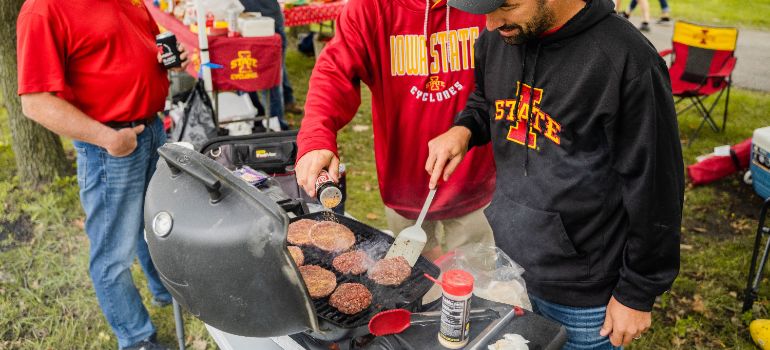 The grill is the main part of your tailgating equipment
Nothing is more important in your tailgating loadout than the mighty grill. Once the last hotdogs and hamburgers are seared to perfection, it is time to properly clean your grill, before storing it with the rest of your tailgating equipment. The first thing to do is make sure that all of the grease and food particles are removed from the grates. The best way to do this is to heat your grill and let it run at high heat for about 20 minutes. This effectively incinerates food debris, making them easier to clean off. When the grill cools, scrub the grates with soap and water, or let them sit for a while in a heavy-duty commercial degreasing mixture. If your grill runs on propane, remember that the tank shouldn't be stored in your basement or storage. It is safer to place it in your shed, away from your home.
Properly clean the tables and chairs
Tailgating can often be messy, and cause your furniture to accumulate a variety of crumbs, sauces, and spilled liquids. If you leave any food particles on your tables and chairs before storing them, rodents and insects could quickly appear. And this is why, once again, cleanliness is a must when storing your tailgating equipment. To prepare your furniture for storing, wipe down everything with a mix of soap, vinegar, and warm water. This acidic solution will do wonders for removing stains, without eating away at the plastic surface. If your chairs and tables have any metal parts, the vinegar solution can easily take care of oxidation, preventing rust. Of course, as with everything else, you need to let your items properly dry before storing them. To make sure your party furniture stays protected from dust, we advise wrapping everything in plastic sheets secured by duct tape.