His and hers self storage – a key to a balanced marriage
You've fallen in love with your partner's intelligence, humor, understanding, and you came into marriage loving all of those things. But, what about his insanely expensive golf equipment? Her bags and shoes? His book collection? All her clothes? Well, these items entered your life as soon as you said "I do". Although there's nothing wrong with having them, you'll run out of space in your home quickly if you don't plan these things properly. But don't worry if this situation seems almost too familiar. There's a simple solution to this problem – getting his and hers self storage.
This concept is really easy and comes with many benefits. The most important one? It will balance out your marriage since you won't have to battle over space anymore.
Battling over space is nothing new in married life
Many couples claim that the key to a happy marriage lies in space. Having enough space and privacy in a relationship is healthy and important for keeping the relationship strong. But, what many couples don't realize is that providing your partner with some extra space doesn't mean you should just let them have and enjoy their alone time. This means that your partner needs to have enough space in your home as well.
Merging two homes into one is not as simple as it might sound. It needs to be planned thoroughly so that both partners are happy and have enough space for all of their belongings. The same rule stands when you get self storage Shoreline. If the storage unit is not big enough for everything you plan to store, get two of them.
By doing this, you will spend almost the same amount but you will be much happier. In the following text, you will learn more about his and hers self storage.
His and hers self storage – Creating more space with ease
With his and hers storage unit, many problems can be avoided. This revolutionary concept will help you and your partner get the most out of your self storage Boise. The idea behind it is very simple – married couples are sharing a big portion of their lives. But sometimes, this can be a bit too much to handle. 
Every individual needs to have their own space, as well as have some items that are just theirs. Couples don't need to share everything, especially storage units. They should get to do what they want with their belongings. And, the same goes both for you and your partner.
There's no need for compromises
The great thing about his and hers self storage is that there's no need for making compromises. You get to decide what items you are going to keep and store in your storage unit. The same goes for your partner. Even if you are still not sure whether you are going to keep all of your items, you can get a temporary storage Seattle and see after some period of time whether you need to get rid of some items or not.
It would be a good idea to make an inventory list just to keep an eye on every item you store. In addition to this, you can declutter your storage unit from time to time and donate the items you don't need anymore. This is something you and your partner can do together.
Benefits of his and hers self storage
We have already mentioned many benefits of opting for his and hers storage facility. But, let's take a look at other benefits that are worth mentioning.
Freedom for you and your partner. If you and your partner decide to have separate storage units, you will have much more freedom. You will be able to use self storage with your hobby, and store items that mean a lot to you even if they are not usable anymore. You won't have to get rid of some of your items just so your partner can fit their stuff in the same unit.
Expanding home without spending a fortune on it. If both you and your partner store all of those things that don't have to be in your home all the time, you will maximize your living space. Your home will look bigger, you will feel much better in it, and you will resolve your marriage conflicts.
Making more room for items both of you can use. Apart from expanding your living space, you will also make more room for the items that both of you want to have in your home. You can get a billiard, make a reading nook, or get that home bar you always wanted to have.
How to start with his and hers self storage concept?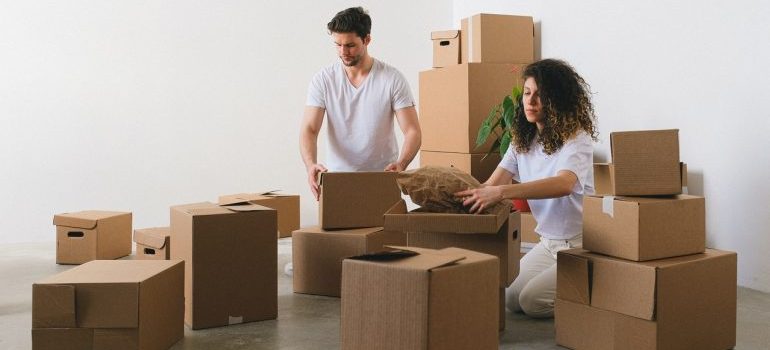 So what do you think about this concept? Sounds good, right? This is why more and more couples are deciding to embrace this concept. But how to get started?
Well, you need to find the right storage units. We already told you that you should create an inventory list. This will tell you how big your storage unit needs to be. Talk to a professional and let them help you find storage units that suit you and your partner.
After finding a storage facility, you can create a packing checklist and gather all packing materials. Every item you plan to store needs to be clean and dry. This is how you can be sure that they won't get damaged while they are inside the storage facility. Pack everything carefully and make sure to handle breakables with extra care.
Last but not least – help your partner. Although you have two different storage facilities, you are in this together. Help each other and plan everything together. This is a must for embracing his and hers self storage concept.