How to create an open concept floor plan
Lately, open concept living has become quite the trend, and it doesn't intend to slow down any time soon. Turn on your TV, and you'll hear the words "open concept floor plan" very frequently. Followed by images of people tearing their walls down to open up the home. If your home is still divided into dedicated rooms, like a kitchen for cooking, and a dining room for eating only, it is time to modernize with the help of PortaBox Storage Seattle. In this text, we'll explore how you can create an open concept floor plan, and how it can benefit you.
The benefits of utilizing an open concept floor plan
Today's lifestyle, living, and entertainment have all shifted in a more informal direction. With that said, the idea of a formal home no longer fits our narrative. This means that we need to modernize our homes, and one of the best ways is with an open floor living plan. Besides being aesthetically pleasing, it can benefit you in many other ways, such as:
More space in your home without modifying the home's footprint and foundations.
Allows more natural light to flow into the living area.
Lets you move freely through the home.
Lets you enjoy your living space to the fullest.
So, if you're not sure where to begin with your remodeling adventure, here are a few crucial steps that will lead you to success.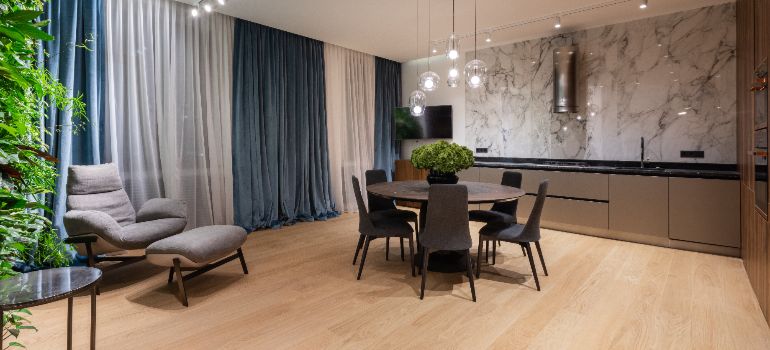 Carefully plan out how you'll create an open concept floor plan
Planning how you'll approach the project is the first step toward success. If you want to open up your living space, take some time to think about what exactly your goal is, and how you want it to look. Think about your needs when it comes to living space. You also need to keep the size of your furniture in mind, as well as the number of people that will occupy the space. If you have some pieces of furniture that don't match your design ideas, you can move them to Issaquah self storage. For example, you need to have a gap of at least 4 feet between the kitchen counter and the dining room table. This will allow everyone to comfortable walk between the two and pull out their chairs easily. If you have a larger room, increase the gap to 6 feet in order to keep everything proportional.
Once you figure out the rough size of each space, decide which spaces need to be adjacent to each other. As you would imagine, these are called adjacencies. One of the obvious adjacencies is placing a dining table close to the kitchen, for easy serving. But at the same time, you need to think about your lifestyle and organization needs. Will the table be close to the kitchen for comfortable seating, or further away in order to serve as a workspace? Think about the eventual changes to outlets, doors, columns, or windows you'll have to make. Will you need mobile storage containers Seattle for the duration of your renovation? Lastly, be aware of existing plumbing, wiring, and gas lines. If you move these, your construction costs may increase.
Linear or axial home layout?
One of the most important factors in your home design is deciding if your organization will be linear or axial. These terms sound complicated, but it is actually very simple. A linear layout arranges spaces in your home in a straight line. This makes the linear home layout a very flexible choice. You can be as creative as you want in terms of the size and shape of your spaces, so long as they link to each other in a straight line. An axial arrangement, on the other hand, has two or more key points in the home, such as a kitchen on one side, and a dining room on the other. The path between them is the axial space which plays a huge role in the design element and the definition of space. Just remember that every travel path requires at least three feet of room for optimal traffic.
Refine your open floor plan with the help of a design-build contractor
Even though gaining the necessary education is important for this project, you can still benefit greatly from working with a design-build contractor. They can inspect your home, examine your research, suggest ways to make the renovation more efficient, and see whether or not there are any issues that need to be addressed. These issues may include electrical lines which need rerouting, or load-bearing walls which require adjustments. Once the whole plan is finalized, the contractor will start removing walls to open up space. Of course, the floor and the ceiling will be patched and painted where necessary before the work continues. You can also consult with your contractor about widening the windows or adding skylights to let more light in. Additionally, you can create a better connection to the outdoors by installing slider doors or French doors.
Your designer may also suggest other options, such as raising the ceiling or remodeling the staircases. When you set out to create an open concept floor plan, your available storage room may suffer. When you knock down walls or widen the windows, you remove the space where cabinets and closets once existed. This is where you need to start thinking about clever storage solutions and inventory management apps. With the help of your designer, you can work out interesting and tasteful ways to include storage in your new living space. They can help you think outside the box, by creating a walk-in pantry or remodeling your garage to support storage room lost during construction.