How to stage your Seattle office for sale
When it comes to selling a home, staging means a lot, and brings many benefits with it. With a properly staged home, you drastically increase your chance to sell it quickly. Staging helps potential buyers to get a better idea of how the space can be used and highlights the features of your property. The very same can be done with commercial spaces and offices. In fact, staging is even more important when it comes to selling an office. But just how do you stage your Seattle office for sale? This is the question PortaBox Storage Seattle is here to answer for you today. A well-staged office can spend up to 75% less time on the market, and bring a higher profit by up to 20%. If you want to make an amazing office sale, rely on our handy staging tips!
Natural light is your best friend
People often imagine offices as drab and boring workspaces, often full of dull neon lights. This is exactly why you should take advantage of natural light and ventilation as much as you possibly can. When a space has plenty of natural light, the productivity of people in it drastically increases. Furthermore, good ventilation helps people with drowsiness and reduces the risk of building-wide illness. So, do your best to free up the space around your windows, and let in as much natural light as possible. You can place any items which are blocking natural light in our on demand storage Seattle for safekeeping. When you're arranging your office for sale, it is very important to consider both the size and the layout of your space, in order to maximize good light and ventilation.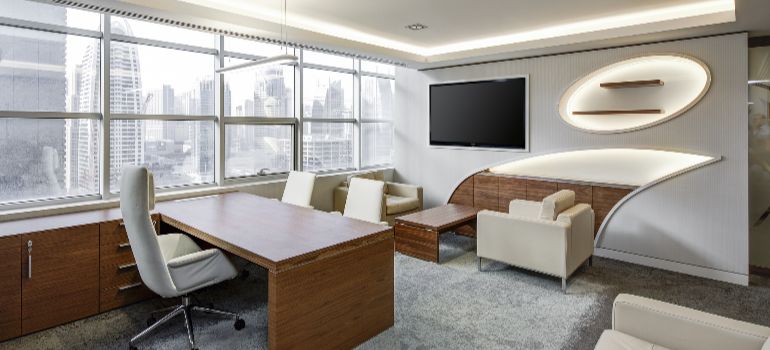 Besides natural light, you also need to think about artificial lighting as well. If you want to properly stage your office, you need to have a variety of lighting options available. A good combination of lights sets the tone of your space, making it more inviting. In addition, lighting greatly helps bring highlights to specific places and features in your office. This helps anyone spending time in it get a better idea of what they're looking at. For example, light fixtures which emit a warm glow make objects in the room appear larger. This makes the objects look bigger, and much more luxurious than they would under fluorescent lights. If you place recessed lights behind plants and furniture, you can create a look that is natural, inviting, and professional. Do keep in mind, however, that your choice of lights needs to match the overall office theme.
Stage your Seattle office for sale with a good choice of furniture
Purchasing and maintaining an office space is certainly expensive. With that in mind, it is important to get the most out of your investment. One of the ways to do this is by choosing furniture that is both practical and stylish. When picking furniture pieces for your Seattle office, think about the purpose of your space. If it is primarily used for business meetings, you need furniture that is comfortable, spacious, and sleek. But if your office serves a more informal purpose, such as computer work, then a more relaxed and colorful choice. Also, remember that furniture wears down over time, which is why replacing it can do a world of good. Your old furniture can stay in our business storage Seattle until you find a new use for it. If you put in new pieces of furnishing, your potential buyers will surely notice it.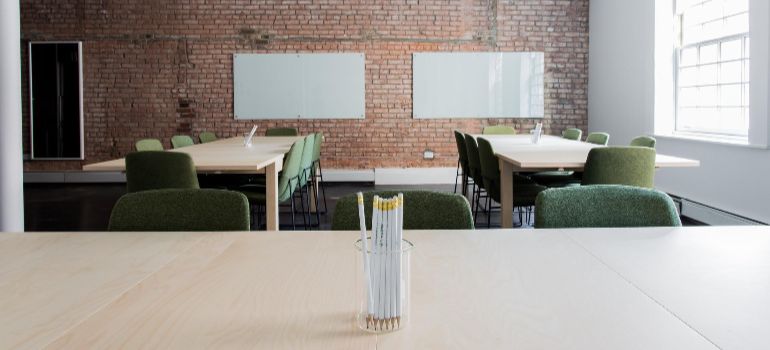 A bright color scheme makes your office more inviting
One of the most important decisions to make when staging your Seattle office for sale is picking a bright and inviting color scheme. A good color palette helps energize the space, highlight the office accents, and make the entire space more inviting and user-friendly. Furthermore, a colorful and clean space can boost productivity. When picking colors, think about the surrounding environment as well as the needs of the office space itself. For example, if you're selling or making brightly colored products, you want to avoid colors that are common in natural environments, like blue or green. On the other hand, if your office space has wood floors, you need to choose colors that will contrast with the flooring, creating a more polished look. The best thing to do is discuss your choice of colors with an interior designer or decorator. Expert advice will guarantee success, and ensure a well-staged office.
Utilize art pieces that reflect the brand of your Seattle Office
Artwork can leave a huge impact on both your entire office space, as well as potential buyers. If you want to make sure your office spends little time on the market, and ensure a good sale, consider the benefits of adding artwork to the work environment. Start by figuring out what type of artwork best reflects your brand. If you're selling products related to nature, for example, use art pieces that feature flora and fauna. If you're in the tech world, use modern art concepts featuring technology and innovation. Make sure that all artworks compliment each other and create an appealing flow throughout the office space. You can emphasize your displays even further by incorporating different lighting settings.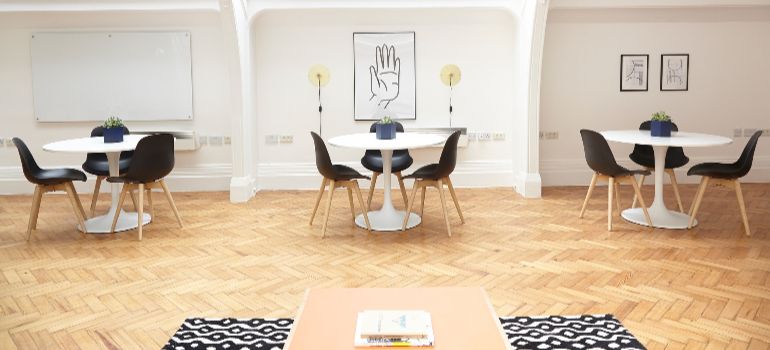 Add conference rooms and offices to improve and stage your Seattle office
Investing in your business requires that you carefully consider the features it owns, and how they can work in your favor when trying to stage your Seattle office for sale. And this doesn't just apply to the layout of your office, but any design your potential buyer decides to create. One such feature is the rooms people will spend their time in. Conference rooms are a great place to bring clients and employees together. They give off a professional feeling and inspire people to discuss and collaborate. If you want to impress serious buyers, systematically store some of your inventory and create personal offices. They're a great isolated workspace for top executives, which allows them to work in peace and fully focus on their tasks. Regardless if you're redesigning your Seattle office or building it from scratch, these spaces will help you get the most out of your investment.