Ultimate guide for downsizing your Seattle home
Downsizing a home comes with many benefits but it can also be overwhelming. No matter how much we hate living in clutter, getting rid of stuff makes us feel anxious. We say to ourselves how we want to free up more room while at the same time finding excuses for keeping all our belongings. So, if you were thinking that you are the only one struggling with the contradictory notion of downsizing, know that you are not alone. We all go through these phases at least once in our lifetime. So, if you are thinking about downsizing your Seattle home, this is the guide just for you. Keep reading and you will learn how to turn downsizing into a process that is simple, quick, and stress-free.
Why downsize your Seattle home, to begin with?
Although living large was once quite popular, it seems to no longer be as appealing. Sure, people are still buying huge homes but instead of filling them with tons of furniture, many are adopting the minimalist lifestyle. In addition to this, many choose to switch their big mansions for smaller homes.
The great thing about this is that tiny homes are forcing us to get rid of the stuff we're not using anymore. Since there's not enough room for old and new items, we need to decide whether we'll clear the space or drown in clutter. Option A definitely sounds like the logical choice. Plus – you don't even have to get rid of your items completely. You can rent out one of our quality storage units North Seattle and keep your belongings safe there for a while.
Still not sure about the upsides?
If you are still not sure whether downsizing your Seattle home is the right thing to do, let us elaborate further. Here are some of the benefits of downsizing that will show you why so many people choose to move into smaller homes:
Downsizing to a smaller home is cost-effective.
Maintaining a smaller home is easier.
You get to embrace a new, less stressful lifestyle. 
Moving to a smaller home instills a cozy feeling of happiness. 
Lastly, you will figure out which items truly matter to you. When downsizing, you need to prioritize the necessary items over the ones that aren't. You will need to get rid of unnecessary stuff, place the most commonly stored things inside a storage unit, and move the rest of your items into your new home.
Simple tips and tricks for a quick residential downsizing
Having listed the benefits of downsizing your Seattle home, let's see how you can do that hassle-free. Read on to learn how to find the perfect home, declutter, find door-to-door storage Seattle, and earn a couple of bucks in the process.
Determine your personal needs and find a home to fit those needs perfectly
Moving to a smaller home can be daunting. If you're used to living in a big home and having tons of stuff, you'll probably need some time to adjust to the change. But here's the thing. Downsizing doesn't mean you should move into the smallest piece of property you find. Instead, you need to determine your needs, figure out what you want, and then look for the perfect home.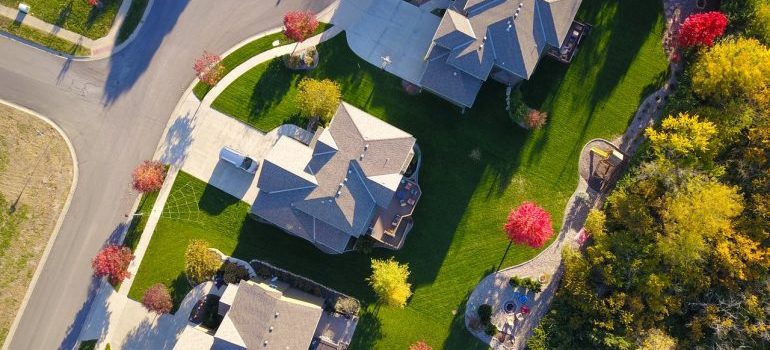 Do you have kids? Do you plan to have them in the near future? Are you in the habit of relocating often? These are only some of the questions you will need to ask yourself to find the perfect home. This will also help you determine how big or how small your home should be. Don't just downsize – be realistic in choosing the right size.
Look for storage units nearby
Since you will be moving into a smaller home, you should google terms such as "portable storage containers for rent near me". It's better to get a storage unit that's closer to your home. You will be able to check on it often and you won't lose time and money on it. Be on the lookout, however – there are many storage facilities out there. So, you will need to determine which one is the right one for you. Companies such as ours offer a universal self storage container that is not only portable but also saves you the trouble of having to drive or measure the size you need.
Start decluttering
One of the many reasons why people rent storage units is because they want to make more room in their homes. If you want to avoid this, then you should declutter and get rid of the items you no longer use. Decluttering is an essential part of downsizing your Seattle home so be sure not to skip it.
Many people think that decluttering needs to last long and be overwhelming. But don't worry. That's not true. We are here to tell you how to declutter your home easily. To avoid getting overwhelmed and stay organized, you should declutter room by room:
Start with this task ahead of time and you won't have to rush.
Go through all of your belongings.
Make an inventory list and see whether you really need all of them.
Some of the first things you need to separate are the duplicates and the stuff you're not using anymore. To make this process simpler, create three piles – one for the stuff you're keeping, the second one for the items you're throwing away, and the third one for the items you're going to give away or donate.
In case you want to refill your budget, consider selling some of your stuff. You don't even have to organize a yard sale! Instead of organizing a sale, you can simply try selling your items online on eBay or similar websites.
Ready for downsizing your Seattle home?
Follow the steps we've mentioned in this article and take a look at our other guides. And, in case you find yourself in need of a quality storage unit, reach out to us. Your goods will be safe and secure in our storage facilities.