How self storage benefits commercial property managers
Many people tend to underestimate the role of a commercial property manager. Some simply don't understand where the need for property managers comes from. The truth is that commercial property managers have an important role. They are in charge of maintenance, inspections, handling repairs, and many other, important tasks. And because they are a part of so many activities, many commercial property managers have realized that storage can be of great use and make their job way simpler. This article touches on the importance that these individuals play in the world of self storage. So, if you want to learn more about this profession and how self-storage benefits commercial property managers, make sure to keep reading!
What are commercial property managers responsible for?
On the surface, having a property manager might seem like an additional and unnecessary cost. This why many choose to self-manage their properties. However, they soon realize this isn't as simple as they thought. Property managers save time and money. Also, they can introduce some really cool improvements that the inexperienced ones wouldn't think of. Before we proceed to explain how storage units North Seattle can benefit commercial property managers, let's talk a bit more about this profession and find out what are their responsibilities.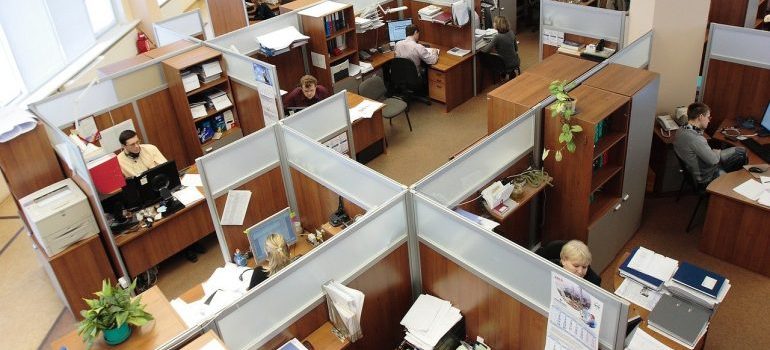 Let's say you have just bought a commercial investment property, for example, an office building. Your goal will be to start making an income as soon as possible. But, to do so, you will need some good property management. Commercial property managers have huge responsibilities and duties that you, as an investor, won't be able to carry out on your own. Even though every commercial property manager has different duties, we wrote a general overview of their duties.
Building maintenance. Commercial property managers are responsible for keeping the property in safe and good conditions. They do routine inspections and carry out any repairs.
Collecting rent. This is one of the most important roles of commercial property managers. They need to set the correct rental amount and collect it.
Creating and managing leasing agreements. Because of this duty, it is important to have a property manager with experience.
Advising on legal matters. By hiring a professional who can advise you on legal matters, you will stay away from costly errors.
Supervising property staff. Larger properties may have additional staff. Property managers will ensure these employees are carrying out their duties.
So, how can self-storage benefit commercial property managers?
Now that we have listed the main roles and duties, let's see how Kenmore self storage benefits commercial property managers. To be honest, there are many reasons why one property manager would want to use self-storage. The list just goes on and on! But, instead of writing a ten-page article, we focused on the three most important self-storage benefits.
Acquiring additional space
Whether you are a property manager, freelancer, or you are a part of another industry, self-storage will give you the extra space you need. In many cases, property managers don't have their offices or have a small working place. And, having that many responsibilities comes with having many records. So, instead of creating piles of paper in their office, property managers can simply store their records offsite. Based on the importance of their documents and how long they need to keep them, they should opt for either short term or long term storage.
Saving money
In some states, it is allowed to use storage units as your office space. So, instead of spending a fortune on office rent, you can simply get a self-storage! But, aren't storage facilities as pricey as office rent? Well, one of the common myths about self storage is that these solutions have to be pricey. And, even though there are companies that offer expensive storage services, that doesn't mean that every company is the same.
There are different types of storage units and they come at different rates. What you can do is create a working budget before you start your search for the storage option that works for you. This way, you will avoid spending more than you have planned. Not to mention you will also find a storage unit that meets all your requirements.
Keeping things organized
Since we are talking about how self-storage benefits commercial property managers, we simply have to mention this benefit. Storage units help you keep things and your life organized. Once you choose between different types of storage and move your records and other important stuff, you will get rid of clutter. After this, the only goal is to keep things organized and clean self-storage often. Make sure you know where all your stuff is packed. As soon as you declutter your office, you will see that you will be more productive and efficient.
How can commercial property managers find the right self-storage for their needs?
As you can see, self-storage benefits commercial property managers in many different ways. But how can they know which Redmond self storage is the right one for their needs? Keep in mind that you can always ask our pros to help you with your search. You can tell us about your needs and we will find the right storage. Also, you can ask yourself the following questions:
For how long do you need self-storage?
Do you need to store some sensitive items?
Are there any items that need to be kept at a specific temperature?
How big is your budget?
Do you want an indoor or outdoor storage?
If you have answered all of these questions, reach out to us! Feel free to ask us anything that interests you. We will gladly provide you with the information you need. Also, we can tell you a bit more about how self-storage benefits commercial property managers. You only have to ask.