How to optimize space in your first Everett apartment
Living in Everett, WA, with its scenic views and robust community, can be a dream come true. But like any urban dwelling, the challenge often lies in making the most of limited apartment space. Our PortaBox Storage WA experts know from experience that every square inch counts. So, whether you've got a studio or a one-bedroom apartment, here's how you can optimize space in your first Everett apartment and make it feel more spacious and organized.

Multi-functional furniture: A practical approach to small-space living
In urban settings where space is at a premium, choosing the right furniture is crucial. Sofa beds and futons are popular choices for a reason: their dual functionality allows them to act as seating during the day and convert to beds at night. If you're one of Everett's residents without the luxury of a guest room or are space-conscious, this flexibility is invaluable. These furniture pieces efficiently utilize limited space without compromising on comfort, proving especially useful for unexpected guests or compact living quarters.
Nesting tables, often overlooked, are another asset in space-saving design. These compact tables are designed to fit one another, making them particularly useful in tight situations. When you need more surface area, you can separate them, and when your priority is open space, simply stack them. Their design promotes adaptability, allowing you, Everett homeowners, to modify room setups quickly in response to your changing needs.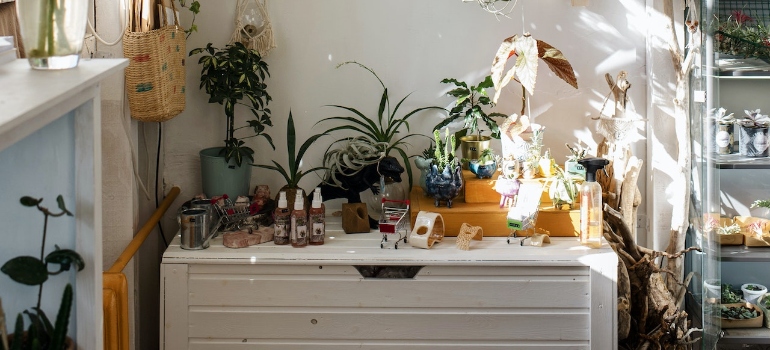 Storage ottomans offer another innovative solution. Beyond providing a comfortable spot to relax, they have built-in storage compartments. Instead of letting items like remotes, books, or small electronics clutter up a living space, these items can be stashed inside an ottoman. By integrating storage into seating, these pieces minimize clutter, helping keep small spaces tidy and organized.
Leveraging height in Everett apartments
In urban homes like those in Everett, it's not uncommon to find apartments with high ceilings. While this architectural choice brings a sense of airiness, it also provides an opportunity to utilize vertical space effectively. Floating shelves, for instance, are not just aesthetic enhancements but strategic storage solutions. Mounted on walls, they transform dead space into storage hubs where you can arrange books, plant pots, or a variety of decorative items.
Meanwhile, kitchens and bathrooms, often the most congested rooms in Everett apartments, can benefit immensely from wall-mounted racks. In kitchens, these racks can be a handy spot for pots, pans, or frequently used utensils, ensuring they are easily accessible while freeing up cabinet space. Bathrooms can see similar advantages. Wall-mounted racks or holders can be used for towels, toiletries, or even jewelry, reducing countertop clutter and ensuring items are neatly organized.
Light and color: Crafting spatial illusions
The aesthetics of a room can significantly influence its perceived size. One of the primary tools at Everett homeowner's disposal is the color palette. Light colors, particularly whites and pastels, have a reflective quality. If you use them on walls, furniture, or decor, they will amplify natural light, making rooms feel airy and more expansive than they are. These shades help blur the boundaries of a space, making it seem less constricted.
Mirrors take this concept of reflection a step further. When positioned correctly, perhaps opposite a window or a light source, mirrors can double the amount of light in a room. This will brighten your space and also make your rooms appear larger, creating an illusion of depth.
Lastly, the placement of curtains can subtly influence perception. Hanging curtains from a point closer to the ceiling, instead of just above the window frame, draws the eyes upward. This elongates the look of the windows and gives rooms a taller appearance, capitalizing on the height and maximizing the feeling of space.
Getting the benefits of off-site storage solutions
In the quest to maximize space, many locals turn to off-site Everett self storage solutions. Here's why they can be a game-changer:
Seasonal Storage: Rotate items based on the season. Store your winter gear during summer and vice versa, ensuring only relevant items occupy space at home.
Rarely Used Items: For belongings you only use once in a while – like camping equipment or festive decorations – off-site storage can be invaluable.
Safety: Many storage facilities offer temperature-controlled units, keeping your items safe from extreme temperatures or pests.
Flexibility: As your needs change, you can easily upgrade or downsize your storage unit. This adaptability means you can easily optimize space in your first Everett apartment and always have just the right amount of space.
Decluttering: An off-site storage unit can be an interim solution when you're decluttering. Store items you're unsure about, and if, after a few months, you don't miss them, it might be time to donate or sell.
Moving & Transition: If you're between apartments or planning a big move, short term storage Seattle solutions can ease the transition, providing a space to keep your belongings till you're settled.
Peace of Mind: Knowing that your items are safe, organized, and accessible yet not cluttering your living space can be a huge relief. It offers the best of both worlds: a spacious apartment and the assurance that your belongings are within reach when needed.
Incorporating off-site storage into your space-maximization strategy can be the key to enjoying a clutter-free, serene living space in your new Everett home.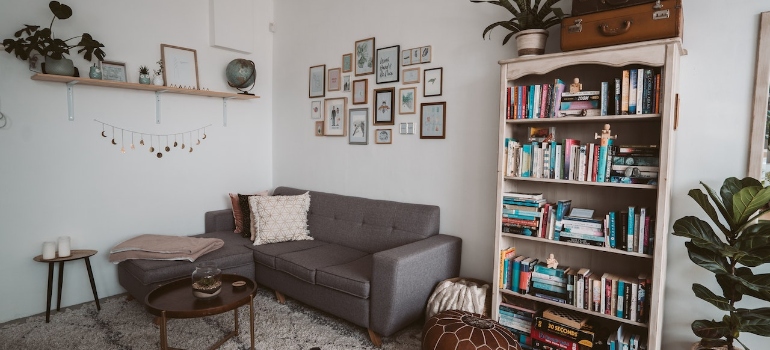 Where to look for inspiration?
Finding the best ways to maximize space in your Everett apartment often starts with seeking inspiration from various sources.
Participate in local events: Some neighborhoods or communities may organize open house events or apartment showcase days. Show up to gather ideas and interact with residents who have a knack for space utilization.
Curate your feed: On platforms like Pinterest or Instagram, follow home decor and interior design profiles or hashtags, such as #SmallSpaceLiving or #ApartmentHacks, to consistently receive a stream of inspiration.
Interactive platforms: Websites like Houzz offer not just visuals but also articles, discussions, and feedback from users. Engage on such platforms and get a deeper understanding of space-saving techniques and products.
Virtual Workshops & Webinars: Often, interior designers or home organizing experts host online workshops. Participate in these to get professional advice, watch demonstrations, and ask questions specific to your needs.
Remember, inspiration to optimize space in your first Everett apartment is all around. Gathering ideas and mixing them to fit your personal style can result in a uniquely arranged living space!